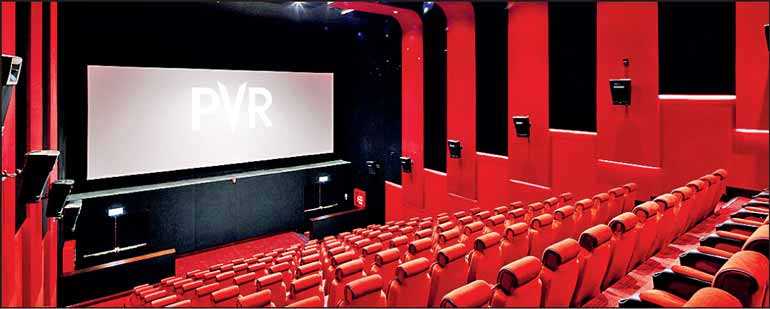 ---
Unveils PVR Lanka with exclusive cinema formats – PVR LUXE and PVR PlayHouse
PVR Cinemas, the largest and most premium film exhibition company in India announced its foray into the Sri Lankan markets with the opening of PVR Lanka at One Galle Face Mall, Colombo. PVR, in collaboration with the Shangri-La Group has introduced Colombo's biggest entertainment destination with the launch of the new 9-screen property.

Redefining the movie viewing experience; PVR Lanka has introduced premium formats like PVR LUXE – a luxury cinema format and PVR PlayHouse – a dedicated auditorium for children and their parents. Designed with contemporary flair blended with local influences and enabled with technological excellence, PVR aims to introduce the epitome of modern cinema in Sri Lanka.

Speaking on the launch, PVR Ltd. Joint Managing Director Sanjeev Kumar Bijli said, "We feel very happy to be able to bring PVR's offerings to Sri Lanka. The market dynamic in Sri Lanka is very similar to that of India. This helped us design our product with ease. The love for Indian content – both local and Bollywood – is huge here. We are aiming to offer a rich and diverse experience to the cine buffs."

The integration of modern décor with intricate design adds to the grandeur of the new multiplex. An exquisitely designed bespoke lounge is created for our LUXE audience. Accompanied with gastronomic extravaganza and best-in-class hospitality services in plush and luxurious seating arrangements – PVR Lanka stands as a one-stop entertainment destination with refined experiences.

He further added, "Our endeavour was to introduce new and modern cinema formats to offer a holistic entertainment experience to the audience here. We are very confident we will be successful in offering unique experiences to people."

The property spreads across two levels with an area of 38,454 sq. ft. and a seating accommodation of 1,176 audiences. The property is integrated with modern in- theatrical technological solutions for superior cinematic experience and digital solutions for an enhanced customer experience. PVR Lanka is designed to offer an exhilarating outdoor entertainment experience to the movie patrons.

PVR Lanka Ltd. Director Renaud Palliere said, "Entering Colombo with one of PVR's most premium and modern cinema concept is an exciting opportunity for us. Located at such a landmark property; extending a rich bouquet of retail offerings, this latest PVR multiplex is designed to provide movie goers of the region with an enthralling experience. We look forward to offer the creativity and talents of the Sri Lankan, Indian and international entertainment industry an unparalleled stage for the enjoyment of Colombo's avid movie goers."

PVR is the largest film exhibition company in India and has a total screen count of 809 screens at 171 properties in 70 cities.