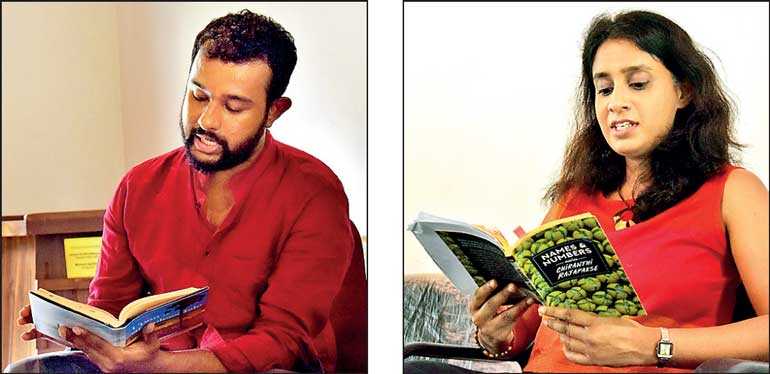 On 19 January, a literary forum quite brashly titled 'New Ink' unfolded at the auditorium of the Sri Lanka Federation of University Women. Publicised as being 'independently organised', the showcase consisted of readings and conversations, focusing on new work published in English across the calendar year, and issues contemporary to cinema and art. In all, New Ink brought together 20 writers, academics and critics, with a reasonable audience of literary enthusiasts.

The readings presented a blend of established and emerging writers – both, with recently launched work – while a third segment featured four writers who are set to have their work published in the immediate future. The house was greeted by readings from their work by Andrew Fidel Fernando ('Upon a Sleepless Isle'), Chathushkie Jayasinghe ('The Moonchild'), Chiranthi Rajapakshe ('Names and Numbers'), Mandulee Mendis ('Me in My Saree') and Zeneefa Zaneer. Award-winning poet Dilantha Gunawardena read from one of his manuscripts, while Lawanya Wijesekara shared from a cross-section of her published and to-be-published work. Looking at the future, New Ink also facilitated the poetry of Shezmina Cuttilan, Tinaz Amit, and Ruchini Abayakoon: whose work is in final-edit stage, pre-publication.



Of three main discussions hosted by the event, writers Ayathurai Santhan, Rathika Pathmanathan and Visakesa Chandrasekaram conversed with Tinaz Amit on the challenges and motivations for those writing among memory, lived experience and fiction. Hosted by Trudy Herft, a panel dedicated to the memory and legacy of the late Jean Arasanayagam and Carl Muller was insightful for the ideas and opinions shared by academics Harshana Rambukwella and Crystal Baines. This was followed by the launch of a memorial anthology as a tribute to Jean Arasanayagam titled 'Jean's', which is edited by Vihanga Perera and collates the work of twenty poets.

Perhaps, the most explosive panel of the day was the one attended by veteran cinematographers Vishnu Vasu and Parakrama Jayasinghe, and emerging short film maker Roshan Edward on as to 'what ails the moving picture?' In this discussion, Vishnu expressed alarm over the growing culture of touchy nationalist intolerance as a stumbling block to the industry, while Parakrama viewed with apprehension the 'left ideology' – which seeped into Sri Lankan film through the 70s and 80s – becoming a fashionable refuge and end to two generations of film makers.

The forum featured a rich blend and refreshing diversity of voices, which also included Sri Lankan-resident Bhutanese poet Dechen Yoesel Choden who read from her recent collection 'Calm in Chaos'. New Ink was partnered by PawPrint Publishers, Colombo, who were responsible for the offsetting of part of the incurred logistical expenditure.