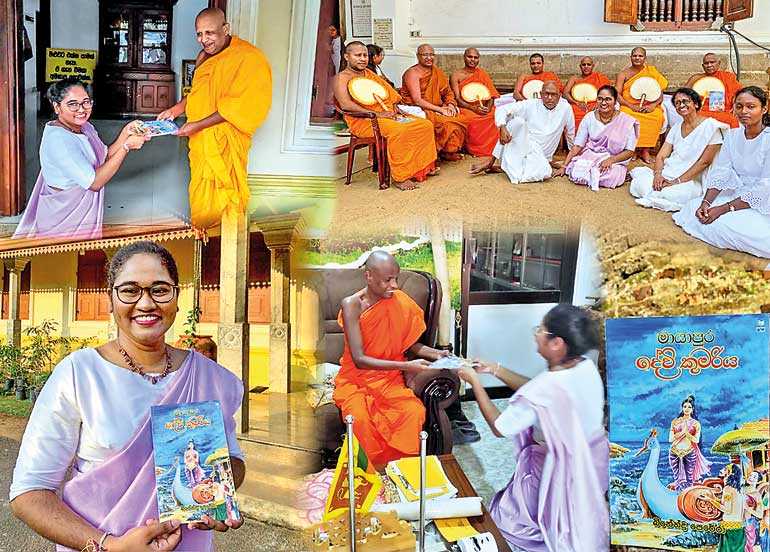 'Mayapura Devi Kumariya', written by Binendri Perera, was launched recently at Anuradhapura Bomaluwa Temple.

The first copy of the book was offered to Atamasthanadhipathi and Chief Sanghanayaka North Central Province, Saddharma Jothika most Ven. Dr. Pallegama Sirisumana Dhammarakkitha Sirinivasa Nayaka Thero, by the writer and the book was offered to the Atamasthana Viharadhikari Theros including the Chief Priest, Nuwarakalawiya Region and Viharadhikari of Ruwanweli Maha Chaithyaramaya, Ven. Pallegama Hemarathana Nayaka Thero and the Theros of Udamaluwa Temple.

Adhikarana Sangha Nayaka of the North Central Region and Viharadhikari of Lankaramaya, Ven. Relapanawe Dhammajothi Nayaka Thero, Viharadhikari of Abhayagiriya and the Dean of Pali and Buddhist Department of Sri Lanka Bikshu University, Dr. Ven. Kallanchiye Rathanasiri Nayaka Thero, Viharadhikari of Thuparamaya, Ven. Kahalle Gnanindra Nayaka Thero, the Theros of Udamaluwa Temple, including Ven. Moragolle Sirirathana Thero, Ven. Pahalathalawe Sumanasiri Thero and Ven. Kanubichchiye Rathanajothi Thero and Ven. Gangodawila Santhamanasa Thero of Kandy Ulpathkanda Forest Monastery, have bestowed blessings upon the gathering.

The book, Mayapura Devi Kumariya, published by Surasa Publishers, is a historical novel written based on the childhood of Queen Viharamaha Devi, a legend of the history of Sri Lanka. The famous novelist, Soma Jayakody, in her forward to the book, states as follows: "The Viharamahadevi is a venerated and glorious queen who has added colour to our history. … But (what) Binendri Perera brings forth to us is not the story of that glorious mother. She vividly elaborates how Viharamahadevi has respected her parents as a young royal daughter and sacrificed her life bravely to save the citizens of the country from a great catastrophe in a manner which invites the sympathy of the reader… This is a remarkable evidence for the vibrant imagination and talent of the writer."

This book is the sixth of the writer's literary works and 'Thun Niwunnu' and 'Rangini Jalawa', 'Thun Niwunnu' and 'Prabala Aloka Shalawa', 'Nuwanakkari', 'Binithi' and 'Meth Warsha' are the other books written by her. Binendri Perera is a lecturer at the Law Faculty of University of Colombo.