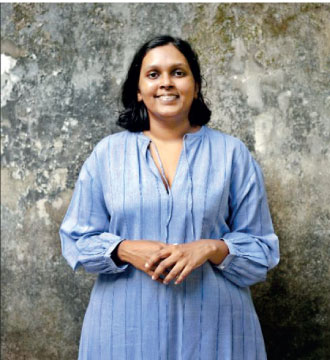 Pramodha Weerasekera
---
Museum of Modern and Contemporary Art Sri Lanka (MMCA Sri Lanka) Assistant Curator of Education and Public Programs Pramodha Weerasekera will be speaking at the conference 'Beyond Theory: Mapping Feminist Practices in the Contemporary' organised by the Museum of Art and Photography (MAP) in Bangalore, India.

The conference will be held on 24–25 March 2023, and Weerasekera has been invited to participate in a panel about curatorial practices in South Asia, which will be held on 24 March.

The conference will be held in conjunction with an exhibition titled "Visible/Invisible: Representation of Women in Art through the MAP collection". The focus of the conference will be on feminist practices in visual arts, and Weerasekera will speak about a feminist approach to public programmes at museums.

"I am excited to be part of a panel of emerging professionals in the South Asian art community at this conference. While we often think of Public Programmes at a museum as just executing an event, it is much more, as it involves spurring conversations among participants. This requires dedicated creative thinking about the artworks on display as well as the intended audience. I think MAP has taken a significant step towards thinking about programming at arts organisations through a feminist lens," noted Weerasekera.

The subject matter of her talk will be the conversations Weerasekera has initiated among participants of Gallery Talks, Workshops, and Special Performances at the MMCA Sri Lanka, about themes related to living a feminist life every day. Central among them will be the conversations she facilitated on divorce and family law, the stigma around menstruation, as well as women's labour as a contribution towards the economy, at the public programmes hosted by the MMCA Sri Lanka in relation to Women's Day 2022. Weerasekera will also touch upon the feminist approach taken towards the Gallery Talks relating to the artworks of George Keyt (1901–1993), Nelun Harasgama (b. 1959), and Janani Cooray (b. 1974) that are on display in Rotation 3 of MMCA Sri Lanka's exhibition titled 'Encounters'.

Weerasekera will be speaking alongside Srajana Kalkini (based in Chennai, India) and Veeranganakumari Solanki (based in India).