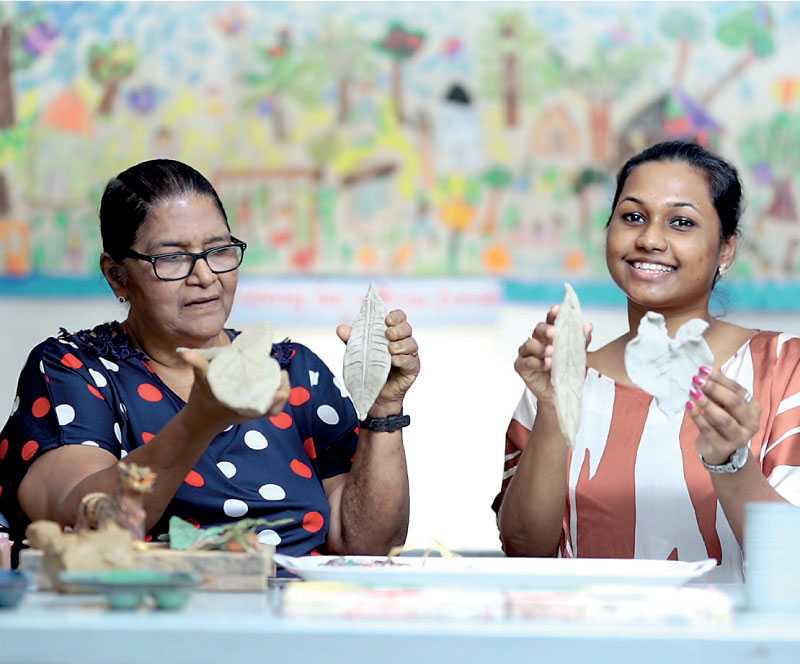 Leaf painting and clay making with the Cora Abraham Art School
---
Kala Pola – Sri Lanka's annual art fair showcasing and promoting visual art – went online for the first time in its 28-year history on srilankanartgallery.com/kalapola on 21 February. The event showcases over 4,000 works by over 200 artists ranging from senior artists to amateur/student artists.

Kala Pola has provided unique opportunities for painters and sculptors to showcase and market their creations to increasing audiences each year since its launch in 1993. Presented by The George Keyt Foundation in association with the John Keells Group, Kala Pola has grown to become an event not to be missed in Colombo's annual cultural calendar. Due to restrictions on large scale gatherings following the COVID pandemic, the organisers sought to mitigate the health and safety concerns of the event which in recent years has drawn upwards of 30,000 people for the one-day event. Hence it was decided to host Kala Pola virtually this year as a month-long event from 21 February to 21 March 2021.

Kala Pola 2021 is hosted within www.srilankanartgallery.com, a platform previously developed by John Keells Foundation (the CSR entity of the John Keells Group) to supplement the traditionally one-day Kala Pola event, by creating a space for Sri Lankan artists to display their work on a digital platform throughout the year. Kala Pola 2021 also welcomed Nations Trust (NTB) as its Banking Partner and hosted NTB's Private Banking customers to an exclusive preview of the online event on 20 February, one-day prior to opening for the general public.

The online format echoes the physical format with the website putting the artist and buyer in contact to discuss, understand and negotiate individual transactions. The online event has also opened up a global platform for the event, enabling Sri Lankan artists residing overseas to enter their work while allowing buyers overseas to contact the artists and make direct purchases.

John Keells Foundation has also organised four fringe events to be featured during the online event to better engage collectors, artists, kids and art lovers as a whole. The features are 'A Collector's Guide – Start and build your own Art collection', two panel discussions on 'Digital Transformation in the Art Industry' and 'Do Artists have a Place?' featuring art experts and senior artists respectively and a workshop for kids on leaf painting and clay making with the Cora Abraham Art school, all of which will be streamed live on the Kala Pola Facebook page.

The key objective of Kala Pola for the organisers – the George Keyt Foundation and the John Keells Group – is to develop sustainable livelihoods for Sri Lankan artists, build learning and networking opportunities available to artists and to enhance knowledge and appreciation for original art within the public. Over the past 27 years Kala Pola has enabled artists to build a steady clientele beyond the immediate sales during the event and has created sustainable market opportunities over time. While the event also facilitates learning and interaction among artists it has also become a reputed means of popularising the appreciation and patronising of visual art by the general public over the years.

At a time when many local artists have been affected by the ongoing COVID-19 pandemic, The George Keyt Foundation together with the John Keells Group remain committed to supporting and promoting Sri Lankan artists and hope that the online edition will further these objectives by showcasing the work of local artists to an international audience during the month-long event.

Arts and Culture is one of the six focus areas of John Keells Foundation – the CSR entity of John Keells Holdings PLC (JKH), a company listed in the Colombo Stock Exchange operating over 70 companies in seven diverse industry sectors. With a history of over 150 years, John Keells Group provides employment to over 14,000 persons and has been ranked as Sri Lanka's 'Most Respected Entity' for the last 15 years by LMD Magazine. Whilst being a full member of the World Economic Forum and a Participant of the UN Global Compact, JKH drives its CSR vision of 'Empowering the Nation for Tomorrow' through John Keells Foundation and through the social entrepreneurship initiative, 'Plasticcycle', which is a catalyst in significantly reducing plastic pollution in Sri Lanka.