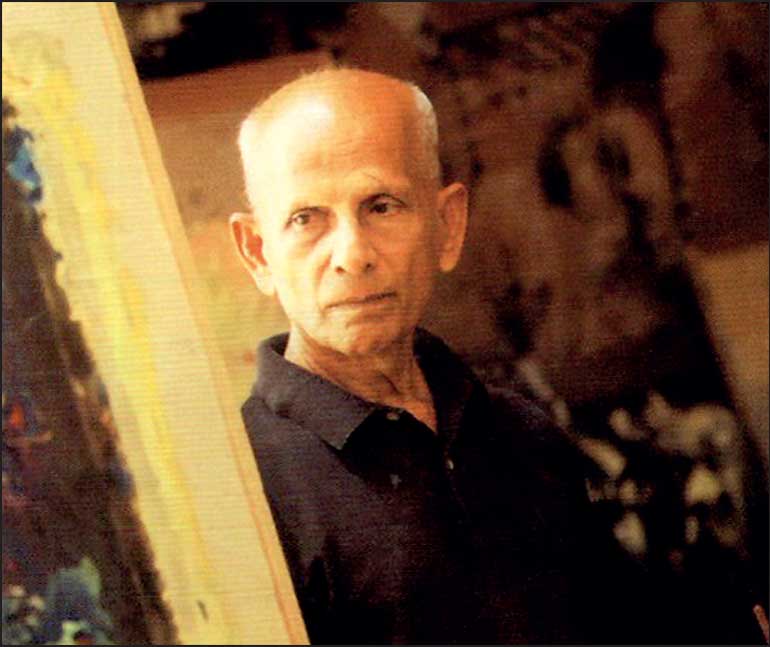 Dr. H.A. Karunaratne
---
The Government of Japan this week announced the conferment of 'The Order of the Rising Sun, Gold and Silver Rays' on renowned artist Dr. H.A. Karunaratne for his distinguished contribution to promoting mutual understanding and friendship between Japan and Sri Lanka through the essence of art.

Dr. Karunaratne's soulful relations with Japan began in 1959, when he was admitted to the Tokyo National University of Fine Arts and Music under the Japanese Government Scholarship. While studying the technique of printing, such as woodcut, etching and lithograph at the most acclaimed art institute in Japan, Dr Karunaratne was exposed to Zen Buddhism wherein dwells the heart of Japanese beauty, and pursued the aesthetic idiom characterised by the subtle usage of colors and hues.

Dr. Karunaratne's beautiful creations reflect his deep respect for Japanese culture and people, and his long journey of soul-searching symbolises the journey of spirituality between Japan and Sri Lanka, which share the common faith of Buddhism.

The Embassy of Japan sincerely appreciates Dr. Karunaratne's invaluable contribution to connecting the hearts of the two peoples with the expression of beautiful harmony on canvasses, and extends its heartfelt congratulations on the auspicious conferment of the Order of the Rising Sun.

Next year, Japan and Sri Lanka will mark the 70th anniversary of the establishment of diplomatic relations. The Embassy wishes to celebrate this milestone by reminiscing the heartwarming history of our bilateral relations, which has been further enriched by Dr. Karunaratne's spiritual quest of the world of colors.

'The Order of the Rising Sun' is the highest order conferred by the Government of Japan, in the name of the Emperor, on individuals who have made distinguished achievements in the international relations, promotion of Japanese culture, among others.