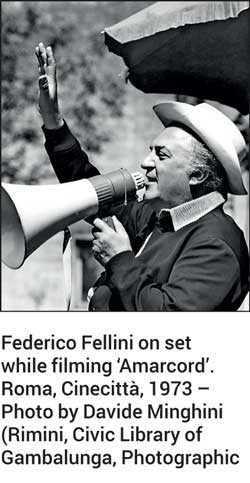 Modern cinema wouldn't be the same without the Italian filmmaker Federico Fellini. To this day, his filmmaking techniques have shaped entire movements in cinema, and influenced some of the greatest filmmakers of our time. His style of visual storytelling was distinct and revolutionary, that the expression Felliniesque is still relevant in today's cinematic narration.

Born in 1920 in the seaside town of Rimini, Fellini started his career as he moved to Rome in the 1930s. Beginning as a cartoonist and writer for magazines and radio stations, Fellini got his first taste for filmmaking as a screenwriter for Roberto Rossellini's Neorealist classic 'Roma, città aperta'. His work on this film would earn him his first Oscar nomination. Since then, he would become one of Italy's most prolific screenwriters. Eventually, he would make his debut as a director with 'Luci del varietà' in 1950, but he would only find commercial and critical success with his film 'I vitelloni' in 1953.

With a distinct enough style to define the post-war cinematic movement, Fellini's artistic vision always involved "looking at reality with an honest eye – but any kind of reality; not just social reality, but also spiritual reality, metaphysical reality, anything man has inside him".

His films would depict the seedy side of show business or the monotonous routines of everyday life. He would feature foolish protagonists and study human nature. His style was so unique in its use of dreamlike and hallucinatory imagery superimposed over ordinary situations. Even his use of music as a part of character treatment added an extra layer of detail to his films and is a result of his collaborations with the famous Italian composer, Nino Rota.

Over the course of his vast career, Fellini's most notable works stand out even amongst today's cinematic masterpieces. 'I vitelloni' (1953) depicts the boredom of provincial life and reflects Fellini's own childhood in Rimini. 'La Strada' or 'The Road', his 1954 classic depicts the story of Gelsomina, a young woman sold to a circus strongman and treated cruelly. Fellini's wife, Giulietta Masina would often feature in his films and she plays the role of Gelsomina. She would complement his dreamlike style and had the "gift of evoking a kind of waking dream quite spontaneously, as if it were taking place quite outside her own consciousness".

The film would win the Oscar for Best Foreign Film, and Nina Rota's theme song would become a hit. 'Il bidone' (1955) featured a gang of con men impersonating priests in order to rob a priesthood. 'Le notti di Cabiria' or 'The Nights of Cabiria' again starred Masina as a good-natured Roman prostitute and went on to win the Oscar for Best Foreign Film again.

'La Dolce Vita' or 'The Sweet Life' features the story of a writer who abandons his literary ambitions to become a gossip columnist and reporter on the activities of the self-indulgent aristocracy around Via Veneto. The film was condemned by The Vatican for its depictions of a hedonistic lifestyle but gained Fellini and international audience beyond the reach of his art house productions.

The film also popularised three terms in the English language: Felliniesque to describe quirkiness or bizarreness in a director's style, Paparazzi to describe the celebrity-stalking photographers after the character in the film named Paparazzo, and La Dolce Vita, the title of the film itself to describe a shallow materialistic lifestyle. The film was awarded the Palme d'Or at the Cannes Film Festival. Fellini would also win two more Oscars for Best Foreign Film for '8 1/2', a story of a troubled director struggling with creative stagnation struggling to release a new film, and 'Amarcord', a story of a young boy and his friends living in a seaside town and observing the eccentric behaviours of the people around them.

Less famous abroad, because of some sexual explicit scenes, but culturally very important is the movie Satyricon, based on the novel of the ancient Roman writer Petronius Arbiter. In this movie, Fellini uses characters to describe human vices, dreams and ambitions and they are described with a modern psychoanalytical approach. This movie is amongst the most introspective and psychological of his work, together with la Dolce Vita. The human condition is analysed without generosity and all the characters show a modern existential and religious anxiety.

A lot of Federico Fellini's works contain a part of his personal story, as seen on films like 'I vitelloni' and 'Amarcord' which is set at provincial seaside towns, much like the one he grew up in. The title of the film '8 1/2' is the number of films Fellini had directed, and the story focuses on a director and reflects some of his own struggles. "All art is autobiographical. The pearl is the oyster's autobiography" says Fellini. In his complex observations of human nature, many of his influences are drawn from the work of Carl Jung on psychoanalytic theory.

Federico Fellini's introspective way to present a sub text under the description of his characters has undoubtedly shaped the path of cinema to what it is today. His influence has inspired directors like Martin Scorsese, Woody Allen, Francis Ford Coppola, David Lynch, Tim Burton, Spike Lee and many more, and his style and technique has produced a vast body of work with complex characters, stunning visuals, moving music and intricate stories to inspire generations to come.