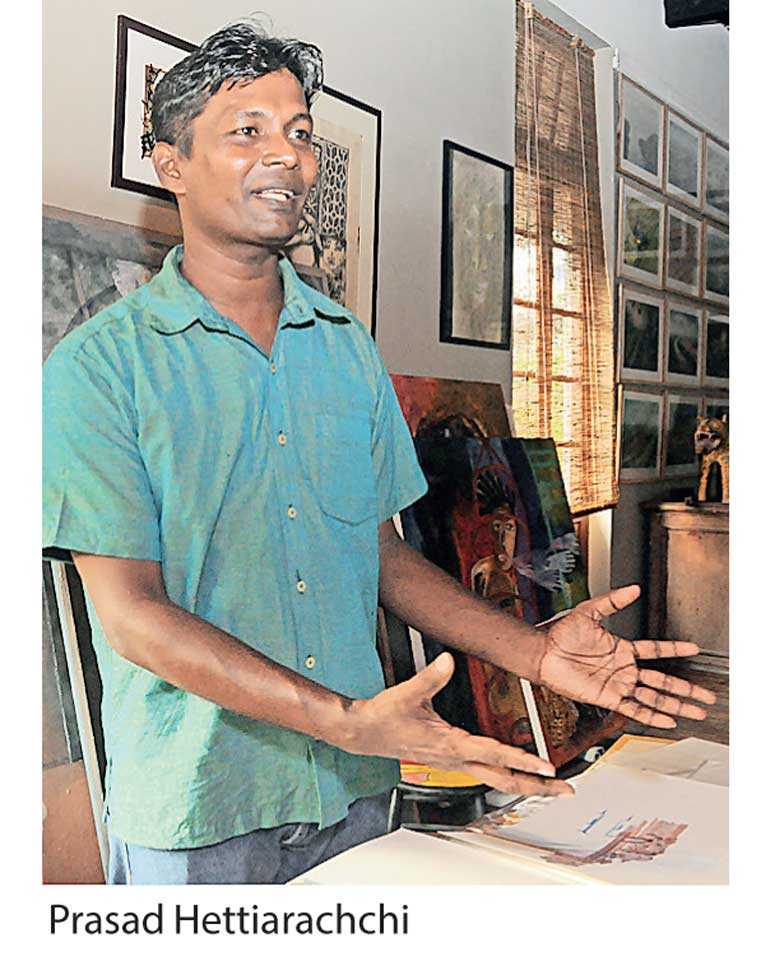 Text and pix by Gitika Talukdar

Prasad Hettiarachchi's new collection of paintings is on exhibit from today (11 May) till 3 June at Barefoot Gallery, with 20 paintings on display.

The artist tried to expose his feelings and emotions about the present era of fastest growing development of the city and the lifestyle of the people of Colombo. With the help of water colour and gouache paint he is trying to interpret with miniature art, which is specially focused on painting with engraving the sculptures that takes you to the medieval ages of history.

Artist Prasad Hettiarachchi said: "In a post war era, development has received certain dominance. Even though the majority is partially in favour of development, it has varying connotations to different social groups. The contemporary large=scale development projects have failed to equally disseminate the expected outcomes to every group and it has become an experience of losing values, income, mutual relationships and shelters to lower and lower middle social classes. What I feel is that is a time of deep emotions about dislocation and the possibility of facing risks if one becomes rootless.

"My drawings which I have given the name of 'Exclusion' focus on the loss of social relationships and their connection with the environment. Consequently, the emptiness risen in an individual or in a group leads them to rely on imaginary worlds, which give them a sense of belonging and to succumb into a rootless existence filled with struggles."

Hettiarachchi, born and brought up in Rajagiriya in a lower middle class family, wants to portray the tremendous infrastructural change and lifestyle of people who are living in Colombo. Hettiarachchi always wanted to become an artist and his role model is his father who himself was a craft artist.

Hettiarachchi doesn't have any formal art degree but he has completed one foundation course in Archaeology from the University of Kelaniya. His talent is inherent, a gift from his father. He started painting at the age of 11 when he was in Class 6 and won many competitions and awards.

His first solo exhibition was in 2014 titled 'An Unbelievable Taste' and in 2015 he displayed some of his work under the same title. This is his third solo art exhibition and is showing at Barefoot Gallery. The exhibition is open to the public from today (11 May) from 10 a.m. to 7 p.m.