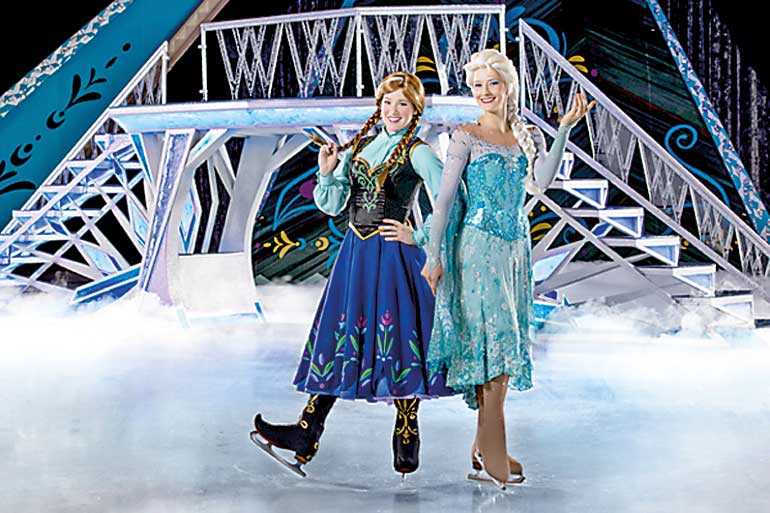 Feld Entertainment, Inc., the worldwide leader in producing live touring family entertainment, is set to bring the Academy Award winning film, Disney's Frozen, to life on ice for the first time in Abu Dhabi this year.

The Disney On Ice presents Frozen show will be the first event to take place at Etihad Arena on Yas Bay and is set to go live on 15 to 18 April this year.

The entire original tale will be brought to life in this spectacular production, capturing the dynamic story between two royal sisters, Anna and Elsa. Anna, a girl with an extraordinary heart, embarks on an epic journey to find her sister, the magical Elsa, who is determined to remain secluded as she finally feels free to test the limits of her powers. Rugged mountain man Kristoff, his loyal reindeer Sven, the lovable and hilarious snowman Olaf and the mystical trolls help Anna along the way in this story about love conquering fear.

Audiences will get to sing along to their favourite musical masterpieces such as 'Let it Go', 'Do You Want to Build a Snowman?' and 'Fixer Upper'.

The spectacular show announcement comes after the recently signed strategic agreement between the Department of Culture and Tourism – Abu Dhabi (DCT Abu Dhabi), Miral, Abu Dhabi's creator of destinations, and Sportainment Entertainment & Sports (SES Live) as part of the emirate's Accelerator Programme – Ghadan 21.

"DCT Abu Dhabi is committed to providing its residents and visitors with extraordinary experiences. As a global household name and one of the world's best live entertainment showcases, Disney on Ice is undoubtedly one of the most exciting additions to the emirate's portfolio in recent years. We are proud of the partnership we have established with SES Live, which is set to bring even more phenomenal additions to Abu Dhabi's offerings of family entertainment attractions; further cementing the emirate's position as a global leader in tourism," said Ali Hassan Al Shaiba, acting executive director of Tourism and Marketing at DCT Abu Dhabi.

Nouf Al Boushelaibi, acting head of Destination Management Department at Miral, commented: "We are excited to be adding the internationally acclaimed show, Disney On Ice's Frozen, to Yas Island's events calendar, and look forward to welcoming families to the show at the upcoming Etihad Arena. This addition will further boost our various entertainment offerings on the Island and support us in positioning it as a top global destination for entertainment and leisure." Ali Haidary, founder and CEO of Sport & Entertainment Solutions (SES Live), commented: "As a leading entertainment provider, we are honoured to be the exclusive promoter of Disney On Ice in the Middle East for the fifth time in a row. We are excited to deliver a new experience and showcase Disney's magical shows."

Steven Armstrong, Feld Entertainment's regional vice president of Europe, Middle East and Africa commented: "We are very much looking forward to entertaining thousands of families in Abu Dhabi and the UAE with Disney On Ice."

In Disney On Ice presents Frozen, Mickey Mouse and Minnie Mouse take the audience through the magical story based in Arendelle, with special appearances by beloved Disney princesses and favourite characters from Disney and Pixar's Toy Story and Finding Nemo and Disney's The Lion King, who come together to prove that true love is the greatest power of all.

Director Patty Vincent said: "Our goal is to showcase these heartwarming characters in a way that allows the audience to cheer and sing along throughout this emotional journey."

To create a completely immersive experience for the audience, the set design will encompass the space from the ice surface up through the air, drawing everyone into the story and closer to the characters. Families will feel that they are trekking up to the North Mountains with Anna, Kristoff and Sven, and they will tangibly experience the storm inside Elsa. Elsa's magic will be enhanced by state-of-the art special effects while her emotions will be conveyed through powerful skating.

Tickets for Disney On Ice presents Frozen are on sale. Family Packs are available. For more information and to book your tickets visit Disneyoniceme.com.