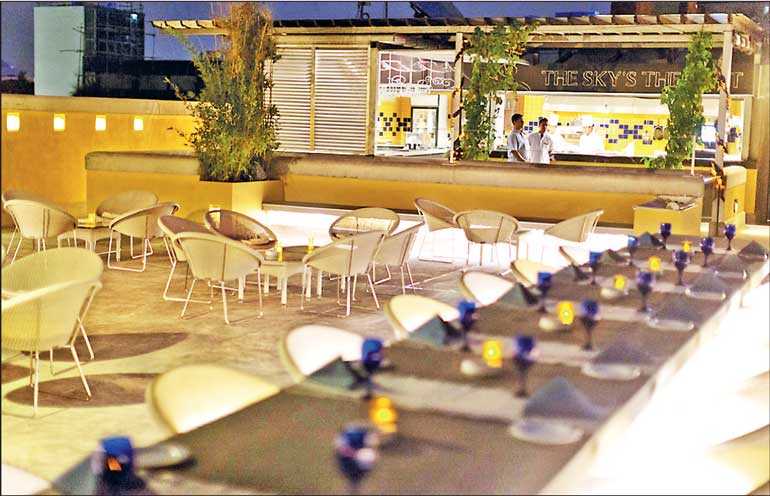 ---
If you're looking to spend an incredible evening under the stars at a great bar with the hottest cocktails in the buzzing city of Colombo, look no further. Perched on a rooftop with a fantastic city view and amazing ambience, Colombo Court Hotel & Spa's Cloud Café has got you covered with everything you need. Recognised as one of the best rooftop bars in Colombo this year with outstanding ratings on food, beverage and ambience, Cloud Café is the hot spot to enjoy an unforgettable night with your friends and loved ones.

The unique alfresco bar – Cloud Café, has a remarkable and rustic ambience that will instantly lighten your mood to enjoy a memorable evening. The setting is spacious and contemporary with sleek tables and aesthetically placed comfy couches. Surrounded by Colombo's iconic skyscrapers and twinkling night lights, you can gaze under the stars on the well-lit rooftop terrace whilst indulging in mouthwatering food, delicious beverages and lively entertainment.

The charming bar is one of those rare places that will spoil you with an exciting selection of delightful food – from starters, pizzas, paninis, pasta, burgers, wraps, sandwiches, succulently cooked meat, deliciously prepared sea-food delights to heavenly tasting desserts, fruit juices, tea, coffee and milkshakes that satisfy the sweet tooth of yours. It doesn't stop there! Cloud Café is not only a go-to place to enjoy a light Friday evening with great live music, but also the best place to host private events and special get-togethers to your liking!

CCH ensures that your work, social or family gathering is personalised to suit your precise requirements at one of Colombo's most chic rooftop bars. The rooftop bar draws a crowd beyond boundaries and provides a lively atmosphere with great discounts during the HAPPY HOUR on alcoholic beverages and mocktails. So, why wait? Grab your favourite drink and relax at Cloud Café's welcoming atmosphere with your friends this evening!

Colombo Court Hotel & Spa is the ultimate urban getaway amidst the lively city of Colombo where contemporary design meets rustic charm to give you the best holiday experience of both worlds. As one of Colombo's best-kept secrets, it offers a unique lifestyle experience of sustainable holidaying with an array of end-to-end exclusive facilities. The bright and earthy toned air-conditioned rooms with wood accents feature flat-screen TVs, plush beds, free Wi-Fi, safes, minibars, tea and coffeemakers and much more.

Upgraded rooms and lavish suites have more opulent facilities including added seating areas and balconies that open up to spectacular views. Other hotel amenities include an Italian bistro, a cocktail bar in addition to a laid-back wine and tapas bar and much more. Colombo Court Hotel & Spa also has a plunge pool, a spa and a gym whilst offering free parking, laundry service and of course, beach access to all its guests!

Colombo Court Hotel & Spa continues to deliver the true essence of the paradise island via its refined sustainable and nature-friendly hospitality to all its loyal patrons. The brand embodies a passion for inspired living and promises a holistic eco-luxury experience whilst maintaining exceptional standards in the hospitality industry.