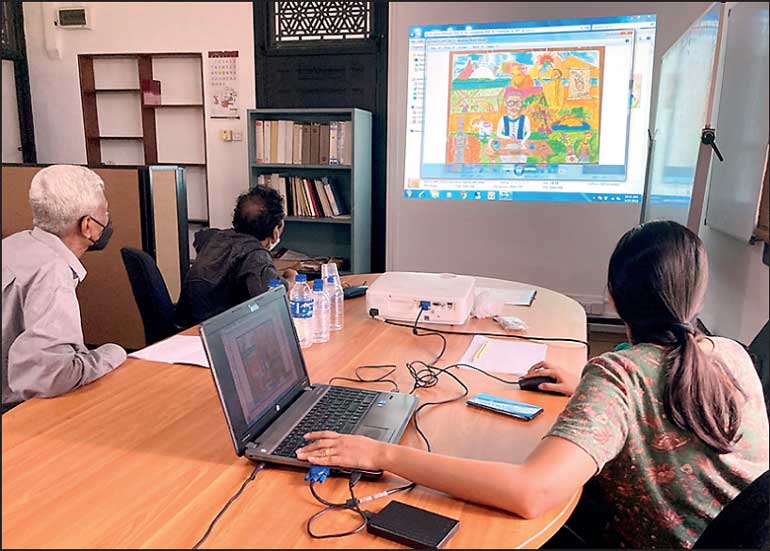 Ceylinco Life has received an overwhelming 70,000 entries for its 'Sihina Sithuwam' country-wide children's art and essay competition, in the form of inspirational words, colourful brushstrokes and pencil shadings that evoke hope for the future despite the bleak situation in the country.

Each unique drawing and essay was submitted under the theme 'Your dream when you grow up' via the exclusive 'Sihina Sithuwam' web portal or to a Ceylinco Life branch. Although the participant children were mostly confined to their homes during the pandemic and subsequent crises, their imagination and aspirations inspired their creative submissions, the company said.

Among the works of art were depictions of engineers, teachers, doctors and even a future NASA astronaut, an ambassador representing Sri Lanka, and a Minister of Education for the country. In a similar vein, the essays carried motivational quotes about overcoming obstacles against all odds and achieving dreams that will make the future better.

While Ceylinco Life has presented certificates of participation to every child who has made a submission for the competition, it is currently in the process of finalising the 362 winning entries in three age groups and making arrangements for an awards presentation ceremony that will be held shortly. There will also be a virtual exhibition with the winning drawings on display for the public to view online, the company said.

Inspired by the aspirational dreams of the contestants, Ceylinco Life has created an animated video montage that combines a number of submissions with the narration that motivates the public to not give up the struggle in order to support these children to achieve their dreams for the future. The video that was published on Ceylinco Life's social media channels has received over to 870,000 views and continues to reach a wide audience.

Sihina Sithuwam was open to children between the ages of four and 15, in three groups, and invited participants to submit their drawings or essays written in Sinhala, Tamil or English between 1 February and 30 April. Each child was entitled to a single entry under one of three age groups: Ages 4-7, Ages 8-11, and Ages 12-15. While the art competition was open to all categories, essay entries were accepted from children in the two older age groups.

The first-place winners of each category, language and age group will be presented Rs. 30,000 in cash, while every second and third-placed entry will win Rs. 20,000 and Rs. 10,000 respectively. In addition, 25 child artists will win district prizes, and consolation prizes will be presented to exceptional essay and art submissions. Sihina Sithuwam was an activation under Ceylinco Life's 2022 edition of Life Insurance Week (LIW) initiative which took place between 11 and 17 February, during which Ceylinco Life propagated its messaging about the importance of life insurance and its benefits via digital platforms.