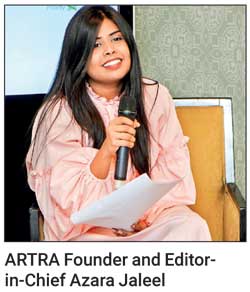 An iconic artist, imaginative in nature and spirited in mind who could not be stifled into a particular genre of artistic expression. The currency notes Laki Senanayake designed in the late 1970s for the Sri Lankan Central Bank of indigenous fauna and flora, batiks for the boardroom of the British Chartered Accountants Head Office in London, the silver plaited brass chandelier at the Parliament House are some of his most significant artistic works of which the most acclaimed is the sculptural staircase at the Jetwing Lighthouse Hotel in Galle.
ARTRA Magazine's forthcoming edition, 'The Works of Laki Senanayake' will be launched on 4 and 5 March in grandiose fashion, through a one-of-a-kind art experiential festival at Jetwing Lighthouse Hotel in Galle.

Whilst this special edition will explore the life and work of the artist who gained momentum with his sculptures, figurines and drawings together with the celebrated Geoffrey Bawa, Barbara Sansoni, Ena de Silva and Ulrik Plesner at the firm Edward Reids and Begg since the 1950s, the two-day festival shall reconnoitre the persona of the artist and the significance of his works through a riveting and dynamic program that includes art talks, art tours and art exhibits led by revered art personalities.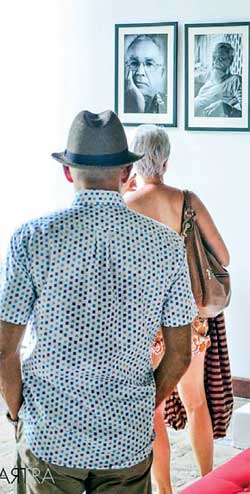 This highly anticipated Launch and Art Experiential Festival will bring together some of the most renowned local artists and architects including architect and academic Ismeth Raheem, who worked very closely with Geoffrey Bawa and Laki Senanayake on many architectural projects that have shaped the uniqueness of Sri Lanka's hospitality sector, C. Anjalendran, the living legend who is a spirited modernist who draws from Sri Lanka's rich vernacular traditions in his authentic approach to architecture, Dominic Sansoni, esteemed artist and celebrated photographer who is the Director of Barefoot Gallery, that represented Laki along with Michael Meyler, the author of the Sri Lankan English Dictionary who has thoroughly researched upon Laki's currency notes. These art personalities were instrumental in contributing to ARTRA's Laki Senanayake Edition along with David Robson (Brighton, UK) revered academic, architect and writer who was instrumental in many important architectural publications and Mintaka Senanayake, the daughter of Laki Senanayake and sole heir to the Family Collection.

The launch and festival is an opportunity for art lovers and enthusiasts to come together and experience not only the artistic world of Laki Senanayake, but also understand the role of art in enriching daily lives and spaces while celebrating the rich heritage of Sri Lankan art in a one-of-a-kind, unique art festival.

"The vision behind the Art Experiential Festival is to garner larger reach and consumption for Sri Lankan modern and contemporary art whilst also shedding light to the role it can play in sharing the story of Sri Lanka, from inimitable and inventive personal standpoints, which are certainly more invigorating and perceptive than those of the conventional. We are very excited to launch Art Tourism, together with Jetwing Hotels, SriLankan Airlines and Sri Lanka Travel and Promotions Bureau through this festival as we collectively work towards celebrating ingenious works of local artists to attract the attention of cultural tourists and the support of the Sri Lankan diaspora in building and strengthening Sri Lanka's art economy, that we believe can contribute to our country's cultural assets," shared ARTRA Founder and Editor-in-Chief Azara Jaleel.

Along with a stupendous set of art talks, tours and exhibits, the festival will also curate special luncheons and dinners of culinary delights over riveting art conversations in celebration of interdisciplinary artistic flairs. The ARTRA Festival is a ticketed two-day festival, open to both locals and tourists, of which both the program and tickets will be unveiled soon.

Established in 2012, ARTRA is an art house that publishes Sri Lanka's Exclusive Modern and Contemporary Art Magazine and provides art services including art experiential evenings and events for art lovers, collectors, investors and corporates. ARTRA collaborates with leading local and international art and corporate partners to ensure the growth of the local art industry.

Azara Jaleel, Founder and Editor-in-Chief was recognised by the British Council for contributing to Sri Lanka's creative economy in 2021 through ARTRA in the Contemporary Art Sector and for steering the growth of an untapped industry in Sri Lanka by Echelon Cosmopolitan Magazine to name a few. Having published over 63 editions of ARTRA Magazine, the publication has transformed into a collectible for its pioneering content and unpublished works of revered artists of which ARTRA's Works of Laki Senanayake Edition and Art Experiential Festival set to take place on 4 and 5 March is its largest manifestation of an edition, yet.
To pre-order your copy of ARTRA's Laki Senanayake Edition you may call +94 77 5701891.