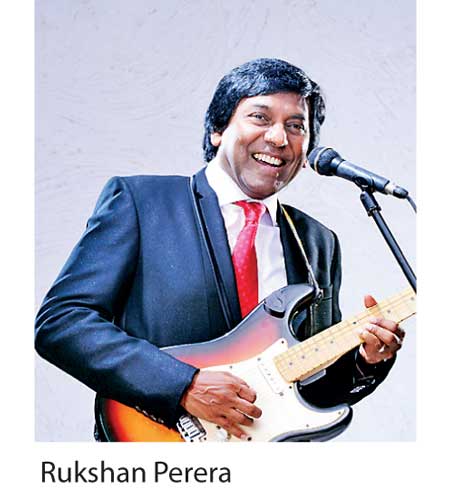 Rukshan Perera has over and over again has showcased his unique musical talents on stage – his jazz scatting, unreal two part whistle in harmony, playing multiple instruments on stage, jazzing up classical music, acapella arrangements, writing unusual compositions – tribute songs for world leaders, using Sri Lankan nursery rhymes to emulate Bohemian Rhapsody, powerful lyrics to bring awareness on social issues – peace and harmony, education, freedom, environment, health, abused children, differently abled children, and of course not forgetting the fun songs to entertain an audience, and putting up a grand show! All this coming from one musician is somewhat unusual – but that is why he is called "Man of Many Tones"!

Rukshan is preparing for his annual concert for the eighth straight year (Rukshan Perera Live in Concert VIII) to be held at Bishop's College Auditorium on 21 January, and the tickets are now out at Bishop's College and Fashion Optics on Flower Road.

Rukshan's concerts are always for a deserving cause, and this year all proceeds will go to the Rotary Club of Colombo Metropolitan for children's projects – supporting differently abled children, abused children, mentally handicapped children and a brand new Rotary project to teach children ethics and values using a new generation of Nursery Rhymes.

Rukshan will sing and entertain the audience together with The De Lanerolle Brothers, Soundarie David Rodrigo, Clifford Richards, Choro Calibre, Colombo Brass ensemble, Jananath, Melanie Bibile and others. Two of Rukshan's compositions that won the Gold at the Asia Pacific Choir Games this year will also be showcased.

Last year Rukshan launched his third DVD of originals which is selling at Torana Liberty Plaza, Yamaha on Buller's road, Barefoot in Bambalapitiya and Fashion Optics on Flower Road. If you haven't listened to his new DVD as yet, it's time to get the DVD before coming for the concert.

Get your tickets early and enjoy the concert while helping the less fortunate children through Rotary. For more information call 0773057220 or 0770073684.