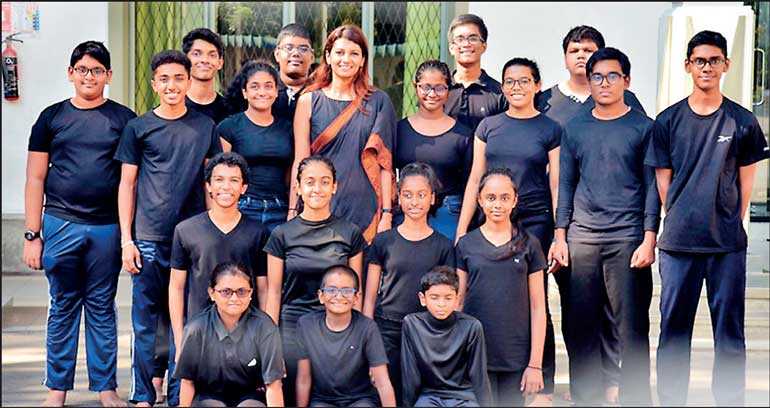 ---
'A Doll's House' by the Stafford International School Drama Society will go on the boards at The Stables, Park Street Mews on 8 and 9 February at 7.30 p.m.

Michelle Herft, the head of performing arts at Stafford, is no newcomer to the world of stage plays. As the directress, her interpretation of the pro-feminist classic, A Doll's House by Norwegian playwright Henrik Ibsen, is to take centre stage and explore the trials and tribulation of being a woman.

Herft felt that A Doll's House would be the ideal stage play to celebrate Stafford International School's 60 years in the world of education. "It is ideal time that children understand the importance of the gender equality in this day of age and how fortunate they are to be born past most of the challenges that women had to face back in the day," Herft says.

A Doll's House entails the story of Nora Helmer (played by Meth Abeysinghe and Rayanka Jayawardane), the wife of the newly promoted bank manager Torvald Helmer (played by Ashvin Arsakularatne and Aqeel Fouzi), who is extorted by Torvald's soon to be sacked employee Nils Krogstad (played by Agbo Pethiyagoda and Siyath Anandasiri).

Accordingly, the riveting tale unfolds into betrayal and tragedy as Nora has to choose between protecting herself or Torvald because of her thoughtful crime.

According to Meth Abyesinghe and Rayanka Jayawardane, playing Nora Helmer was a challenge that required days of preparation. Portraying the child-like innocence while underneath lies a clever and loyal woman was something Abeysinghe and Jayawardane found challenging and exciting. Both Abeysinghe and Jayawardane felt fortunate that during this day of age women were able to voice out and stand on their own unlike Nora Helmer whose good intentions were scrutinised and vilified.

"Nora Helmer's character is so complex that it required special study to portray her (Nora) in a positive light," explained Meth Abeysinghe who plays Nora Helmer.

Playing Torvald Helmer is no walk in the park chimes in Arsakularatne and Fowzi. Portraying a cruel and narcissistic man came as a surprise challenge to both Arsakularatne and Fowzi as they are both thoughtful people in real life. They both believe that Torvald's reaction to Nora's thoughtfulness was uncalled for and his inability to be understanding even towards the end of the play shows the true colours of a patriarchal society.

Ashvin Arsakularatne who plays Torvald Helmer explains: "It was hard to believe that men from back in the day would be so cruel, unforgiving and narcissistic towards a woman's actions despite her actions been morally just."

Pethiyagoda pointed out that while Krogstad comes off as an extremely aggressive character willing to reach extreme heights in pursuing revenge as the play progresses, Krogstad sobers down to a more understanding individual thanks to a love interest that crosses his path. Pethiyagoda further stresses that Krogstad is not a bad guy but someone who rises to the challenge when faced with adversity.

Diren Gunasekera and Randil De Zoysa play the role of Doctor Rank, a jovial friend of the Helmer's who eventually proposes his love for Nora on his deathbed. Mukaram Jameel and Bhupesh Selvanayagam portray Ivar. Osheen Martus plays Emily Helmer and Hiruni Rubasinghe plays the character of the nurse. Chithru Gunawardena plays the role of the butler while Gayendra Kuruppu plays the porter. Sinthuriy Bahlendran, Thisagi Jayasekara, and Kaishoriy Bahlendran play Mrs. Linde.

It is important to remember that the play is set during a time when a woman's place in society was quite limited and her actions always questioned however positive they may be. Her ability to make a living on her own is always dependent on a male figure very much similar to Nora's situation. A Doll's House explores these themes on female identity, betrayal, and dependence.

With rehearsals stretching out into hours, the cast has a tough job of portraying the sufferings Nora has to undergo for her thoughtful doing. The dedicated students of Stafford are hard at work trying to retell the story of Nora Helmer.

Get your tickets for the remarkable retelling of Nora Helmer's tragic story of independence.