Company to deploy Sri Lanka's first fully integrated 'Rapid Charging Points' for electric vehicles
Bringing to light the significance of embracing sustainable energy and giving the best of products and services to the nation as a result, Sunrise Engineering Ltd., a pioneer in the solar power systems was recently awarded with the contract for the country's largest commercial solar installation to date.

This installation, which has been dubbed to be implemented in the capacity of close to one megawatt through net metering to the national electricity grid, would be the largest of its kind to ever have been set up in Sri Lanka. The location being Canowin Arcade Welipenna would envisage installations occurring on both sides of the locations on the Southern expressway and has been scheduled to be completed by March 2016.

The technology that has been set to be utilised for this purpose is being manufactured specifically from Germany. Sunrise Engineering had initially proposed the project to Canowin Hotels & Spa's Ltd. who had in turn gone through the credentials and the great potential that the project would bring and have given Sunrise Engineering the go-ahead to commence the set up at Canowin Arcade.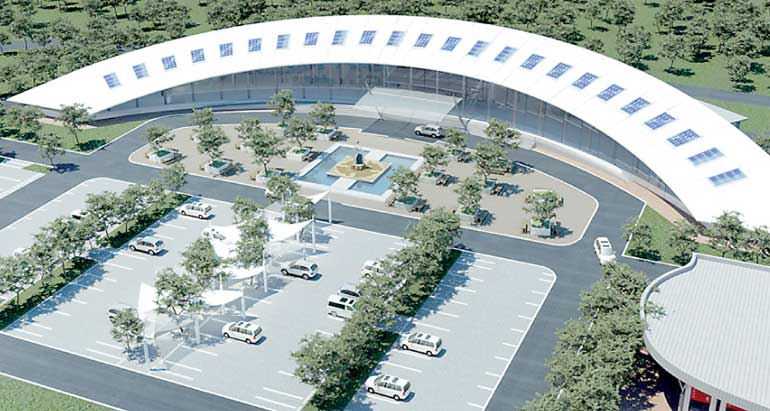 Proposed commercial solar power systems at Canowin Arcade Welipenna
Canowin Arcade is managed by Canowin Hotels & Spas Ltd. and is located on either side of the 44 km mile post in Welipanna on the Southern Expressway. The premises have been regarded as the first ever green rest area in Asia. This is an essential rest stop for commuters travelling along the expressway. Each rest area consists of rest rooms, restaurants, supermarkets, bank ATM machines, clothing stores, first aid and vehicle parking. The fuel stations and service stations are also due to commence functioning in the near future.

On a secondary note, another initiative that Sunrise Engineering has taken up is their collaborative efforts with Ceylon Electricity Board for the purpose of installing Sri Lanka's first fully integrated 'Rapid Charging' Network point at strategic locations around Sri Lanka towards the charging of Electric vehicles (EV). Sunrise Engineering, as a company, strives to highlight the significance of embracing renewable energy integrated Rapid Charging whilst moving forward with the landmark project with Canowin.

The concept of Rapid Charging would enable electric cars to be fully charged (80%) in 15 minutes. From a broader spectrum, the world's leading innovative entities in rapid charging technology have partnered exclusively in the implementation of EVPOINT.

Commenting on this next gen initiative that Sunrise Engineering has taken up, Sunrise Engineering Ltd. Executive Director Damith Maiarachchi, elaborated the great potential that Sri Lanka attains in the future of enhancing sustainable approaches as well as educating the public about the significance of utilising quality, safe and secure re-charging elements when it comes to dealing with Electric Vehicles.

Today a major barrier to an increasing e-mobility factor and one of the main obstacles to a greater EV adoption comes from perceived 'range anxiety' in the absence of an appropriate EV re-charging infrastructure in the country. EV-driver's anxiety is particularly acute when drivers are low on battery charge and unsure of where they can get a charge to reach their next destination. The lack of charging stations creates a negative mindset in EV drivers to carefully plan their destinations and routes to ensure that dead batteries don't strand them.

EVPOINT Network is aimed at addressing this critical need and provide an intelligent re-charging solution for all types of EV's when they are out an about on the road.

The first batch of rapid charging points 'Veefil' and 'Rapture' are manufactured by Tritium in Australia and Circontrol S.A in Spain has also been scheduled to be implemented around the beginning of 2016. These intelligent, multi-standard, fully integrated, Re-charging points will be available 24/7 at decisive locations under the preliminary stage of this project.

"We want to give Sri Lanka the best in technology and innovation. These intelligent Re-chargers which will be manufactured and imported is fully certified and encompasses all relevant global regulatory criteria that would ensure quality over quantity. Bringing down the world's most advanced innovation to Sri Lanka, we at Sunrise Engineering believe in emphasising 'EVPOINT' Countries First Fully Integrated, unmanned 'Rapid Charger Network' towards enhancing e-mobility in Sri Lanka in the long run," Maiarachchi said.

Sunrise Engineering is committed towards carbon free, renewable and green energy production which is a global consent as almost everyone today is moving towards renewable energy and e-mobility. Collectively to date, the company has implemented and installed close to one megawatt of power to the country's national grid. Their next move in setting this landmark solar installation at Canowin and setting EVPOINT the rapid charger network will pave the way for Sri Lanka to move towards de-carbonised, sustainable, cleaner cities in the future. e-wis, Mobitel, BMW, are some of the key strategic alliance partners of EVPOINT said Steve Wijanayake the Director Marketing.