LAUGFS Petroleum team at the award ceremony
---
Sri Lanka's first solar-powered fuel station in Pepiliyana by LAUGFS Southern Petroleum was recently awarded a Silver Rating Certification under the GREEN SL Rating System for Built Environment at the Annual Green Building Awards 2018.
The awards ceremony was organised by the Green Building Council of Sri Lanka, to recognise organisations that incorporate sustainable practices and green building concepts into their buildings.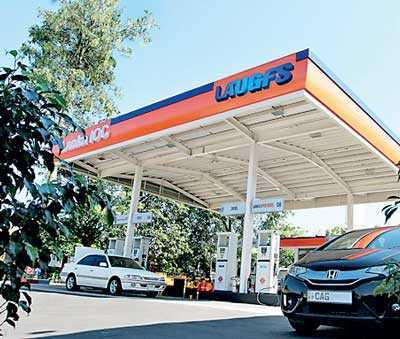 The new Pepiliyana fuel filling station
Commenting on this achievement LAUGFS Southern Petroleum Director/Chief Executive Officer Mahesh A. Weerasena stated: "LAUGFS Petroleum designed this iconic solar rooftop with the aim of reducing our dependency on the National Grid and minimising our environmental impact. Our newest fuel station in Pepiliyana has been built adhering to international benchmarks and strong environmental practices, and we are delighted to be recognised for our efforts by the Green Building Council of Sri Lanka (GBCSL). The LAUGFS fuel station at Pepiliyana will serve as a benchmark in the petroleum retailing industry not just in Sri Lanka, but in Asia as well."

The company has invested in a 25 KW solar-panelled roof for its new LAUGFS fuel station, which is expected to generate over 3,000 KWH per month as an annual average, enabling it to reduce the fuel station's dependency on non-renewable energy sources for electricity. It will also contribute to the National Grid with the additional energy generated.

In addition to this, the company has also implemented a number of other initiatives as part of its efforts to inbuild sustainable practices across its operations. The fuel station optimises its water usage with rain water harvesting, which is utilised for various purposes including cleaning solar panels and garden maintenance. In addition to this, measures have also been taken to minimise any emissions at the station with a vapour recovery system.

Since inception, LAUGFS has operated with a strong focus on minimising its environment footprint. This has also been embedded into its business strategy, with LAUGFS extending into industries such as renewable energy and vehicle emission testing. Last year, the company also initiated a group-wide project to install solar PV systems on the rooftops of all possible premises of LAUGFS businesses. This latest iconic solar-powered fuel station by LAUGFS Southern Petroleum at Pepiliyana comes as another such initiative to achieve operational excellence through strong environmental practices. LAUGFS Petroleum, a fully owned subsidiary of LAUGFS Holdings, serves around 25,000 customers island-wide through its broad network of fuel filling stations. It operates with a strong focus on pioneering and setting benchmarks within the industry and was the first to introduce NFC technology for petroleum retailing in the country. The company provides a range of fuels including Xtra Premium 95 Euro 4 Standard, Petrol 92 Octane, Lanka Super Diesel, Lanka Auto Diesel as well as Auto Gas.

LAUGFS is one of the largest diversified business conglomerates and a trusted name in Sri Lanka. Founded in 1995, LAUGFS today has expanded across 20 industries in Sri Lanka and overseas, establishing a strong presence as a leader and pioneer in the power and energy, retail, industrial, services, leisure and logistics sectors. With over 4,000 employees and an annual turnover exceeding Rs. 37 billion, LAUGFS continues to expand and empower millions as a trusted Sri Lankan brand.