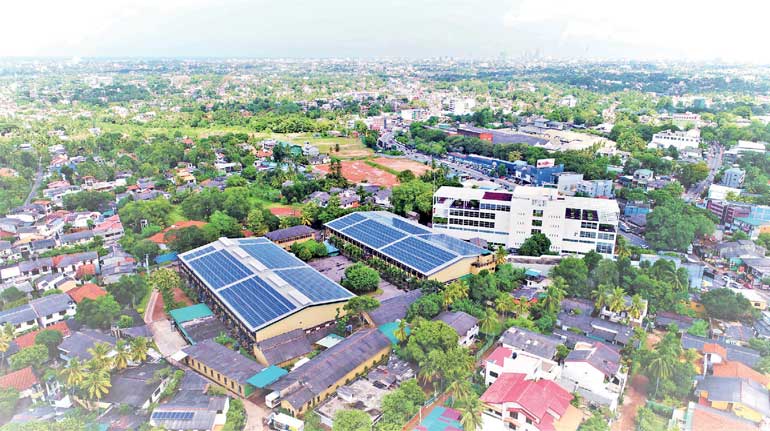 Solar power is the most abundant renewable energy source available on earth. Given the country's close proximity to the equator, Sri Lanka is ideally situated to benefit from this gift of nature. While the cost of investment in setting up solar power plants remains high, the environmental and long-term benefits offset the cost in comparison to conventional energy generation methods. Eng.Channa Silva, Head of Project Management who specialises in photovoltaic and solar energy of J Lanka Technologies, shared his experience about setting up and managing ground-mounted solar Photovoltaic (PV) power plants and the role that EPC (Engineering, Procurement and Construction) consultants can play in achieving the government's ambition to generate 100% renewable energy in Sri Lanka by 2050. Following are excerpts:
Q: Switching to solar power from more conventional energy sources requires heavy investment. In your experience what are the incentives for taking this decisive step?

A: At the moment, there are two key methods to profit from solar power plants in Sri Lanka. One is through the sale of energy while the other option is to use savings accruedfrom the national grid.Even though the initial cost is high, individual homes and businesses alike stand to benefit from the long-term value generation. Two of the direst benefits are the reduction or in some cases the elimination of electricity bills and tax credits or refunds. Moreover, once you install solar panels, the resale value of your property improves significantly.

Other non-monetary advantageous include the fact that solar panels contribute to extending the longevity of your roof by protecting it from natural elements such as rain. As solar panels absorb the heat from sunlight to generate power, the temperature of your house will remain low. The cumulative value of these advantages strongly outweighs the initial cost, not to mention the obvious environmental benefits.


Q: Can you explain in layman's terms what a solar PV power system/plant is and how it works?

A: Solar PV power system/plantssupply power at the utility level. For example if a home owner installsPV solar panels at his or her residence, the power generated can either be supplied to the national grid for a fee or the residents can use the electricity generated to power their homes and offset the electricity bill. Photovoltaic (PV) modulesconvert light directly into electricity. The phenomenon that is used is called photoelectric which allows particles of light (sunlight) to emit electrons, thus generating power. I'd like to add that the operating and maintenance cost of PV panels are relatively low when compared to other renewable energy systems.


Q: What is the most convenient and straightforward approach that an individual or a company that seek to install such a system can adopt?

A:I would recommend them to take the EPC route. EPC approach allows you to combine the aspects of Engineering, procurement and construction into one seamless project. In other words, you can hire a single company with the right expertise to design your system, procure the equipment and construct the site. The company will also look into the long-term management and maintenance of your solar PV power system/plant. An experienced EPC company will have the necessary knowledge and networking power to get your project built for an acceptable price and on schedule.


Q: Why should a company or an individual consider the EPC approach instead of distributing each aspect of the process to different firms?

A:It is true that PV plants require minimal maintenance when compared to other technologies. Nevertheless, PV plants require a comprehensive operations and management program to ensure the viability of the entire project and maximise the lifetime of the plant in its entirety as well as individual components. A competent EPC company can guarantee the sustainability of your solar PV system and for someone with limited knowledge about the subject; a single contact point is advantageous over the hassle of coordinating with several entities.


Q: What is the lifetime of a typical solar power plant?

A:Typically, the lifetime of a solar power plant is estimated to be 25 years. However, solar power plants can run beyond 25 years while producing a lower output. In Sri Lanka the typical agreement period between a consumer and a solar power plant service provider tends to be 20 years. As the technology is relatively new, there isn't a lot of data to determine the exact lifespan of aPV plant. Nevertheless, industry experts are confidentthat thesolar panels installed today will continue to run even after 30 years.


Q: What criteria should a consumer consider when selecting a company to install and manage a solar power plant? Why should a customer select JLanka?

A:I would recommend that they select an experienced player with ample expertise in the industry. JLankaTechnologies possess the necessary criteria including a well-distributed regional office network comprised of operations and maintenance staff that can provide excellent support to successfully complete and manage current and future projects.Moreover, we have cordial and long-term relations with reputed suppliers such as Trina Solar a tier 1 company and Solar Edge which is renowned as the most innovative inverter technology partner in the industry. The company also has an experienced engineering team with over 2,500 engineering designs per annum.


Q: How prepared are you as an industry player for the 1MW x 90 projects ground-mounted solar PV tender bidding?

A:I can confidently say that given our successful tender submission for the 1MW x 60 projects in (June 2017) we are fairly certain of our chances. I would like to assure our investors that as a result of our industry expertise, technological insights and the industry relations we have nurtured over the years,JLankaTechnologies has submitted numerous proposal successfully and we will continue to do so in the near future as well.


Q: What would you like to add in conclusion?

A:JLankaTechnologies is clearly a market leader in solar technology in the country with particular emphasis in the roof top market. To date, we have completed over 3,000 domestic/commercial projects and surpassed the 22MW of total installed capacity.Renewable energy is so much more than a business venture; in fact it is a necessary global movement. Fortunately, Sri Lanka is ideally situated to leverage on the advantages of solar power generation. As a pioneering solar power expert, we are mindful of our responsibility to share our experience and add momentum to the solar movement to succeed in the near future.

Operation and maintenance of ground-mounted solar PV power plants require specific technological knowledge as it is a relatively new technology. The advantages of switching solar power clearly outweighthe initial cost and industry experts remain optimisticabout the long-term benefits. Consumers, be they individuals, corporates or larger entities are better off with selecting an'EPC company' to handle their projects as such companies often possess the expertise, technological know-how and the network backing to effectively install and maintain ground-mounted solar PV power plants.