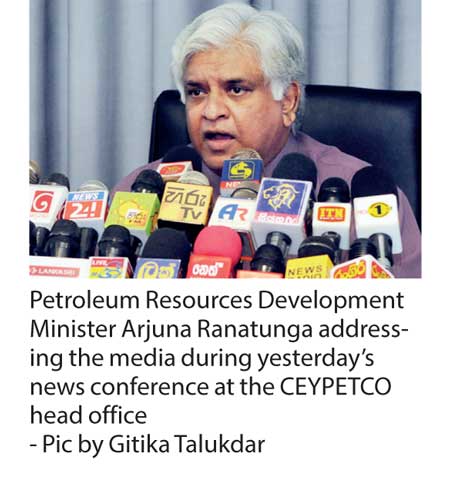 Kerosene consumption has increased from 138,505 kilolitres in 2014 to 198,090 kilolitres in 2017
24 cases reported last year of illegal sale of subsidised kerosene for heavy vehicles and factories
Kerosene subsidy borne by Govt. last year was Rs. 5.4 billion
Minister says he might consider providing kerosene without a subsidy for commercial purposes in future
By Charumini de Silva

Petroleum Resources Development Minister Arjuna Ranatunga yesterday warned of revoking the licences of fuel stations that were illegally selling subsidised kerosene for use in heavy vehicles and industrial purposes.

According to a study conducted by the ministry, the consumption of kerosene had increased drastically during the past three years from 138,505 kilolitres in 2014 to 198,090 kilolitres in 2017, which was not due to real demand but was a result of corrupt businessmen misusing the subsidised kerosene for heavy vehicles and industrial purposes.

"Generally, when 98% of the houses are connected to the national grid and fisheries boasts an upgrade to diesel engines there should be a clear reduction in the kerosene consumption, but it had increased significantly," the Minister told journalists in Colombo yesterday.

He said that as low-income communities use kerosene to a great extent, all governments from time to time have been issuing kerosene to people as a subsidised product.

Accordingly, the current concessionary price of a litre of kerosene is Rs. 44 and the subsidy on that behalf is Rs. 27.53. Even though this subsidy is borne by the Government for the Ceylon Petroleum Corporation (CPC), for last year the kerosene subsidy was around Rs. 5.4 billion.

Ranatunga said there were 24 cases reported in 2017 where kerosene was illegally sold to operators of buses and trucks who mix it with diesel to run their vehicles.

Taking these factors into account, the Minister said they had now got Cabinet approval to revoke the licence of fuel stations if any dealer was involved with the illegal mixing of fuel or providing assistance to any other illegal activity linked to kerosene.

"We took this decision taking three factors into consideration - whether it was unfair to use the subsidised kerosene given to the poor, the environmental pollution it was causing and the damage it (use of kerosene) causes to public transportation vehicles," he added.

In extreme cases he said they would look for regulations to consider seizing the businesses of fuel station owners caught illegally selling kerosene.

When asked if the industries and heavy vehicle operators would want to have kerosene for long-term use, he said that then regulations had to be amended from scratch as the vehicle registrations were also being handled according to fuel type.

"As a next option we might consider giving out kerosene for commercial purposes. However, if it is for commercial purposes, it would be not include the subsidy," Ranatunga said.

There are two types of kerosene sold in the island, Lanka Kerosene and Industrial Kerosene. Industrial Kerosene is colourless and used in factories. Lanka Kerosene is red in colour and sold to low-income households.