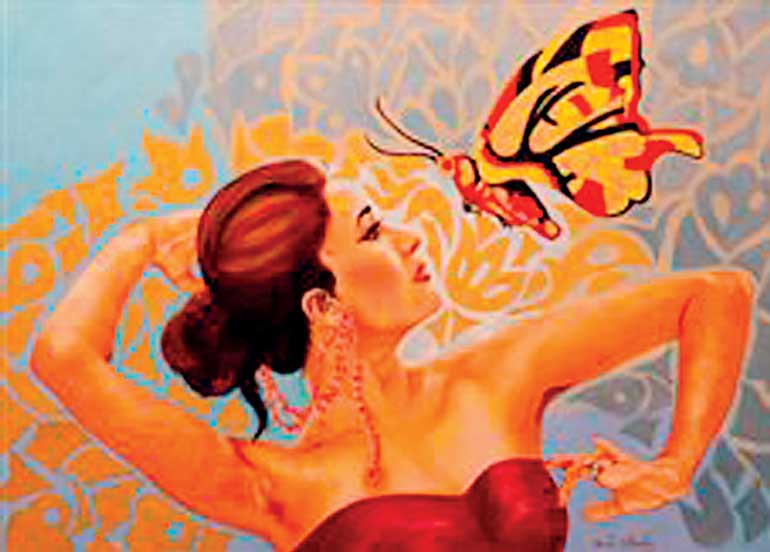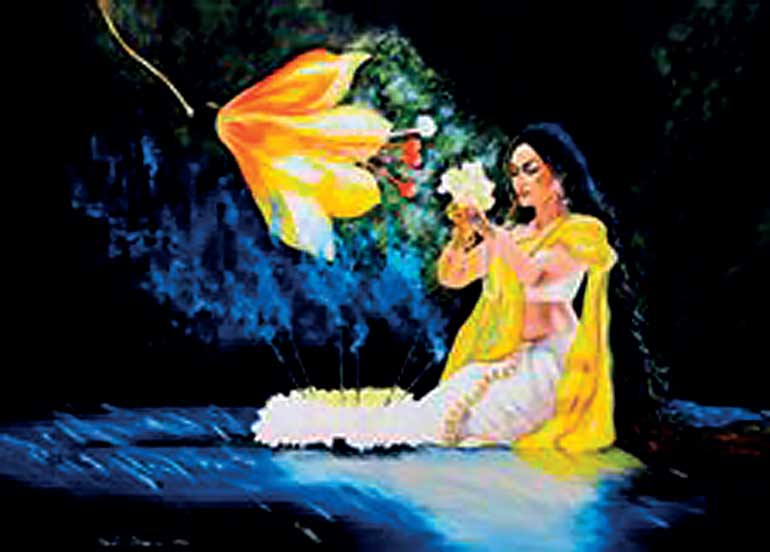 By Gayathri Kothalawala An artist is a creative soul that views the world through different eyes and, for some; this translates into a passion to transfer these views on a canvas. Himali Delapala, fashion designer and lecturer at Raffles Design Institute, Colombo, is one such artist. Recently, she became the first Sri Lankan artist to be selected to exhibit her work at the prestigious 36th Art Expo in New York. Delapala described New York as one of the world's biggest platform for artists as the city attracts the best talent in the world, and she is delighted to have stepped into this world.
As an artist, she prefers to work with oil, painting realistic drawings but, she noted: "I am still in search of my place as an artist." As with many multi-talented artists, she does not like to restrict herself to one particular medium or style since 'expression' comes in many forms. Nevertheless, Delapala's passion for art is best translated via portraiture. "It's an amazing way to create a legacy," she said. "Unlike a photograph, a portrait is a lasting method to preserve family history for future generations," she noted as she outlined her dream to introduce a trend for portraiture in Sri Lanka.
She maintains that portraiture is a largely neglected area in Sri Lanka that appears to be currently driven towards abstract art. With overseas study in London and years of experience here and overseas as a fashion designer and a lecturer, she hopes to 'bring the Sri Lankan people to have faith in portraiture'.
Unlike the portrait artists of old that required lengthy regular sittings, Delapala bases her work on photographs that are carefully and meticulously shot along with detailed interviews that help her to capture the 'essence' of the subject. This, she maintains, is fundamental for capturing, on canvas, who the person is rather than what they looked like at one moment in time. Delapala is not new to Sri Lankan artists and has exhibited work before, notably in 2008 at an art exhibition titled 'Souls'. She received a National Award for one of her works 'Portrait of Thisa Hami', former leader of the Vedda tribe that now belongs to the art collection at Temple Trees. Her relationship with Raffles, grooming the next generation of Sri Lankan fashion designers goes back some six years yet, despite her busy schedule, her aspiration to become an artist in her own right has not dimmed.
As a lecturer, she has to constantly update herself on the ever changing fashion industry in order to set a better example for her students. In an age, where the youth grows up nearly dependent upon technology and social media, she seeks to draw students into various methods of expression in order to stimulate their natural creativity. With her work exhibited in New York, Delapala has received further invitations for other exhibits in countries such as Italy and Dubai.
This is a challenge since working in oils is a time consuming process that requires a period of four months in order to complete a painting. Through her work, however, she hopes to continue to represent Sri Lanka and to promote portraiture among those who are interested. She is always open to commissions and can be found through her website: http://www. himalidelapala.com or by email at [email protected] gmail.com.