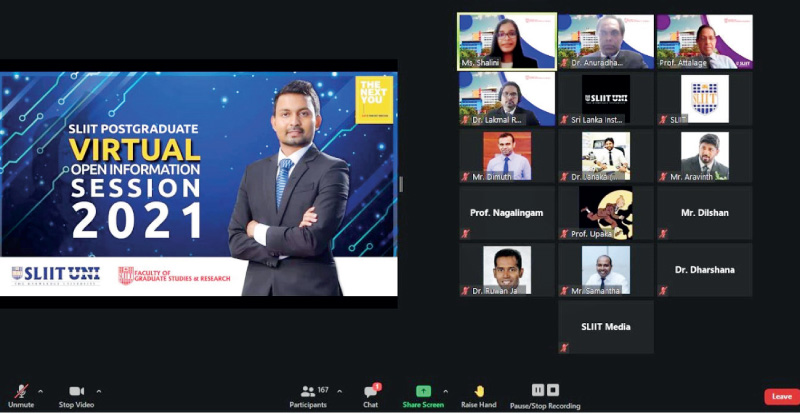 SLIIT Postgraduate Virtual Open Day 2021 Main Session
---
SLIIT Postgraduate students are recognised locally as well as globally for their professionalism and leadership. Many graduates have become renowned CEOs in leading companies and leading professionals in their domains in Sri Lanka.

The SLIIT Postgraduate programs are designed to produce graduates with strong analytical, critical thinking research and innovative and communication skills to serve our nation and beyond.

Tailored to provide all the required information on the current MSc, MBA, MPhil, and PhD Programs, SLIIT hosted a Postgraduate Virtual Open Day 2021 on 12 June. The Dean of the Faculty of Graduate Studies and Research, Academic Coordinators participated in this important event together with prospective candidates.

The Open Day held via Zoom provided an ideal platform for candidates to gain information about the programs from the faculties though interactive discussions in view of making informed decisions about their path of lifelong learning. In addition, they were also able to take advantage of open day discounts, virtual tours, etc.

SLIIT's Postgraduate programs of MSc, MBA degree options are designed to enhance candidates' career prospects and help positioning themselves with differentiating capabilities. Further the research-based MPhil and PhD degrees enable the candidates to work on research topics in providing innovative solutions in current thrust areas for competitive novelty. All these degrees are approved by the University Grants Commission and the Ministry of Higher Education.

SLIIT offers MSc and Postgraduate Diploma and Masters in Information Technology, Information Management, Information Systems, Information Technology specialising in Cyber Security, Information Technology specialising in Enterprise Application Development, a Master of Business Administration (MBA) and also Master of Philosophy (MPhil), and Doctor of Philosophy (PhD) as research-based degrees in Computing and in Engineering domains.

The SLIIT postgraduate degrees are coordinated and administered by the Faculty of Graduate Studies and Research which has been successful in creating a rewarding learning and research environment to students and with staff dedicated to excellence.

A highly qualified team of academics comprised of 75 PhDs degree holders from top-end universities around the world form part of the 300-strong academic staff together with industry professional with sound academic background. Many lecturers have experience not only in academia but also in research and innovation, business perspective working in an environment with quality assurance and monitoring mechanisms of international standards.

These postgraduate diplomas serve as an exit qualification for the MSc degree programs. Additionally, the MSc and MBA degree programs are regularly updated capturing the dynamics of the marketplace and broadening its horizons on academic research and innovation.

Candidates who have completed their Bachelor's degrees and/or with a recognised professional qualification with adequate experience in the relevant subject area are eligible to follow these programs.

Candidates who had joined the program during the Postgraduate Open Day were able to obtain a 15% discount from the total course fee. Furthermore, a 20% discount for corporate group registrations (minimum four members per group from the same corporate) was applicable. The 10% discount valid for SLIIT Alumni who register for any program was also applied.

Further information on the next intake for postgraduate degrees can obtained from SLIT's MSc and MBA coordinators, 0777 6050 77/ 076 497 1716) or by visiting www.sliit.lk/gradute-studies-research.