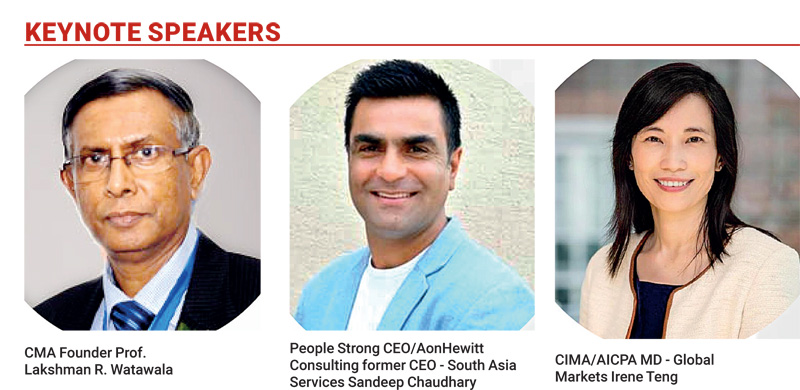 ---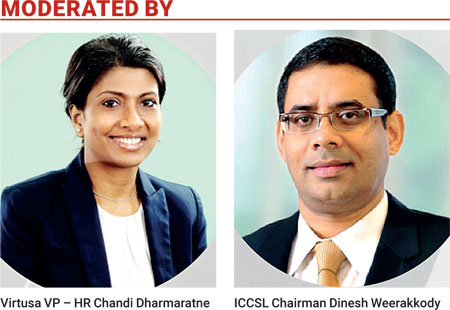 Talent is at the heart of economic transformation. Considering this, how can organisations facilitate this transformation and support and equip their talent for the current competitive environment? With the exigencies of the pandemic contrasted with the global opportunities and increased cross-border trade offered by the breakdown of location-based limitations, where does Sri Lanka stand?

The 'Youth Labour Market Assessment' conducted by Verite showed poor school to work transition, leading to unemployment. In order to address these challenges, the International Chamber of Commerce, Sri Lanka (ICCSL) organised a webinar on 'The Role of Education, Skills and HR for Lanka's Success'. ICCSL was supported in this by CA Sri Lanka, HRCornucopia, Job Enrich., PIBT, hSenid, CareerMe, DM Business and Daily FT.

Sandeep Chaudhary, CEO of People Strong, who serves as advisor to the Government of India on HR, shared his forthright view as regards what he has observed in South Asia, describing the need to transform 'people's relationship with work and the workplace, and even with each other', shifting the focus to what is essential for serving the customer effectively. This change reinforces the importance of trust, as the organisations that move into a true people-first paradigm, solving for reskilling, hiring and growth through empathy, resilience and empowerment, will be the ones to thrive.

He urged companies not to search for a post-COVID world, but to learn from what has helped them to survive, saying that 85% of the measures adopted during the pandemic already existed. Going forward, he noted, technology will replace office infrastructure, challenging HR's competence in adapting to technology and taking it to every aspect of serving employees.

Chaudary also referred to 'creating environments' and benefiting from the experience communicated to the emerging community by 'senior leaders' in management and those in the world of work. He opined that the same is required for Sri Lanka too, to succeed. For the workforce, while there are qualifications, there is also the need for skills. The quality and the management of programmes within learning institutions demands attention, as well as a 'student orientation'.

The student who is striving for obtaining a qualification, might also need to enter the 'new social compact' and be inspired with an 'entrepreneurial thirst' as 'outcome-nation' – outcome + automation will compel employees (and their managers) to focus on outcomes over hours worked. HR must then step into its role as a facilitator, enabling collaboration and coordination, hand-in-hand with the augmentation of technology, to play to the strategies the organisation devises for its success.

AICPA/CIMA Managing Director, Global Markets Irene Teng, speaking from Malaysia, drew the point that there is a need to learn continuously to be continuously relevant. This is not merely academic, but rather, it has to do with skills. There is a new educational model, one which focuses on 'experiential learning'. This is not learning that is confined to a classroom, but must extend beyond the classroom and be conducted with a 'future focus'. Students need now to be even more equipped toward achieving 'global citizenship'.

The top 10 skills needed can be acquired in several ways without being bound by academic qualifications alone. The university model is changing to the more outcomes-focused lifetime learning approach. Among these, 'financial self-management' will be an important element to be included in the training curricula. She noted that CIMA had made great strides in addressing many of these requirements.

CMA Sri Lanka Founder Professor Lakshman R. Watawala, also referring to education with a view to producing the right people for the future, frankly admitted that a change is vitally necessary in higher education for value creation. Too much talk and very little action with regard to skills development has been notable. He advocates that the private sector be far more involved in education, but observed that there is need of a clear action plan. To fill the education gap in higher education, the private sector has to be included in setting up the right space and opportunity to train people with job-oriented professional skills/training. Governments just cannot do that. "But ask the private sector," said the Professor, "and they will definitely invest in such, because they need it for their own survival." Watawala stressed the need for 'practical experience', meaning that the university system needs to adjust to the emerging realities by including curricula that actually equip students to be employable.

Irene Teng also endorsed the point, saying, "Relevance is about keeping pace with changes. Being equipped with a qualification is of itself of little value, since there has to be life-long learning in the emerging reality in the workplace." Echoing a similar sentiment, Sandeep Chaudhary spoke further of the need for including an employability quotient. More than learning, there has to be problem solving capacity inculcated in the learners. The panel of the moderated discussion were: Ravi Peiris, Senior Specialist, South Asia, for ILO; Mahesh Nanayakkara, Managing Director and CEO, Citizen's Development Business Finance PLC; N. Ahmedali, Founder, HR Cornucopia South Asia and Former Vice President HR for GSK South Asia; P. Dwarakanath, Former Chairman, GSK Consumer Health Care and Director Professional Skills Council of India; Sujeewa Rajapakse, Chairman, People's Bank and Managing Partner of BDO Partners; Mahesha Ranasoma, CEO, Global Rubber Industries; Prakhar Tripathi, Director Human Capital Advisory Services, Deloitte; Chitral Amarasiri, International HR Specialist; Justin Brunskell, Senior Lecturer, University of Greenwich, UK; Surani Amerasinghe, Head of HR, Lion Brewery; Isuru Gunasekera, Chief People Officer, John Keells Holdings; Kaushal Mendis, HR Director, Pizza Hut and Taco Bell; Isuru Tillakawardene, DGM HR, Commercial Bank; and Roshan Kulasuriya, Director HR, Singer Sri Lanka.

With regard to education, "There exists a mismatch between jobs and the people looking for work," according to Ravi Peiris. The 'top down' approach of education as prevailed in earlier times is not appropriate for this day and in the future. He said that it is 'unfortunate that there is still emphasis on qualification' as it is not prudent to educate for achieving test scores but to have students who are equipped to deal with the future world of employment. Entrepreneurship is a much-needed skill. This meshed with Justin Brunskell's position that 'problem solving skills, practical skills, more than the purely academic' meet the need of the present, equipping students for any industry. A framework for skills as part of education is now a necessity.

Chitral Amarasiri a top international HR Specialist who joined the conversation noted that in relation to Sri Lanka 'education has to be tied with an improved economy and increased productivity' but that this is not to be seen in the country. Priority has been confused and the skills gap seems to be widening and the disruption in educational institutions and fragmentation of the sector adds to this. Ultimately, industrial growth suffers and manufacturing industries sometimes struggle with seeking people to work for them.

While some areas like tourism might have people, others are suffering a lack of able people in the labour market. He too underscored the need for the private sector to be involved with the design of curriculum in universities, training institutions and in standard-setting.

When asked about the experience in India, a nation that has been able to supply much talent in the world of technology, as to what change was affected in education, P. Dwarkanath said that a long while ago, the government of India decided to revamp and re-calibrate its education policy. Political will was exercised and the process took 10 years in India. The decision was taken to start at the grassroots level and in the case of India, the Chambers of Commerce and Industry were involved in creating the framework for the education policy which in time would equip the emerging generation to be able to fill the needs in burgeoning trends in industry and technology.

To which Watawala added that all vice chancellors in the universities in Lanka should be held accountable for the quality of the product that is being released from their universities. He said that accountability will ensure that the universities create the talent base for what is actually needed for the country to progress without wasted money.

With regard to re-skilling, Dwarkanath spoke of issues that had to be met in India, and the establishment of the Rural India skills program to ensure that education is not a purely urban benefit. Traditional skills in carpentry, gems and jewellery design, etc., can also be applied in Lanka he believed. The government alone cannot handle this type of skills development and the private sector has to be engaged. There are 37 skills centres established all over India, and industry leaders are actually engaged with the Management Institute of India in validating and establishing the standards as required by them.

The equipping of talent is not limited to assisting persons in getting a job; rather, the goal is to enable or empower the talent to establish themselves in self-employment. Re-skilling and re-learning will help to keep pace with change.

Kaushal Mendis referred to innovation on the part of Pizza Hut when it engaged with the Government to create the needed skills to supply the need for staff. The centres were able to have around 2,500 certified persons who were employable as a result of such training.

Sujeewa Rajapakse, when asked about professional skills training, indicated that professional training institutions need to be better organised to actually focus on the professional ethos, with a student-based structure rather than a teacher-oriented one, where the teacher imparts and students passively absorb what is handed down. Creativity, critical thinking, collaboration, flexibility and stress management are examples of what is needed in training. The need for these 'soft skills' was repeatedly emphasised by the panellists.

Tied in with skills and re-skilling, Isuru Tillakawardene's view was that the banking world has changed rapidly from being in retail to now encompass digital services. Agility is needed, with staff being able to cope, even as fresh skill sets are vital. Robotic process automation is also part of this 'shift'. This requires a whole new approach in education, skills and HR, in creating the right team and the capable personnel to thrive in the future. Mahesh Ranasoma agreed, observing that the right people must also be in the right seats to ensure business continuity, drive transformation and ensure excellence in execution.

This idea was endorsed by Prakhar Tripathi, when he said that technology is in itself an integral part of the service that is now needed in the workplace, and this will only grow, sparking the need to redesign jobs and careers. He also referred to cloud computing and cybersecurity as being areas that education and skills providers have to consider in order for Sri Lanka to remain relevant.

Isuru Gunasekera supplemented this by warning against over or under-engineering, suggesting that 'every business must determine the most suitable level of technology that is required for it' although technology plays an absolutely critical role. He explored some of the challenges such as cost, security and practical functionality. Skills in technology and the ability to continuously learn and upskill will be a differentiator, he observed.

Roshan Kulasuriya pointed out that psychometric analysis is now applied, and behavioural change is affecting with coaching, enhancing learning agility. Mahesh Nanayakkara pointed out that HR has a responsibility to recognise 'that intangible space where it has the power to generate tremendous energy' and the authentic requirement of the organisation to encourage people to rally around the organisation in a challenge.

N. Ahmedali observed that in the pharmaceutical industry in India, all manufacturers are on a level playing field as a result of the pandemic. Doctors refused to meet with medical representatives, so the organisation resorted to digital marketing and reps adapted and were trained in fresh initiatives, HR needed to find an innovative way of measuring how persons were working from home and meeting targets. With these challenges, how is the corporate culture to be held together? Communication is vital and HR has to be fully engaged as this hybrid model will be the model for the future.

Further he noted the success of the Indian Pharma industry is largely due to the education system and specialist skills are a must for the growth of the industry. Surani Amerasinghe underscored the importance of recognition, rewarding and celebration of the successes and positive behaviours of employees, along with the support and care needed in the current context.

Talent migration was also considered and practical measures that can be installed to deal with this exigency. Communicating development plans with personnel, adequate and deserved remuneration and even future-focused employment laws and practices were also suggested by panellists. As the regulations, industries, educators and businesses transform, HR has a critical role to play, evolving to embrace technology, encourage collaboration, build skills, and vitally – to be the human connection through empathy and empowerment.

The panellists highlighted several times the importance of education for economic development and broadly on improving people's lives. Chandi Dharmaratne and Dinesh Weerakkody moderated the Q&A session.