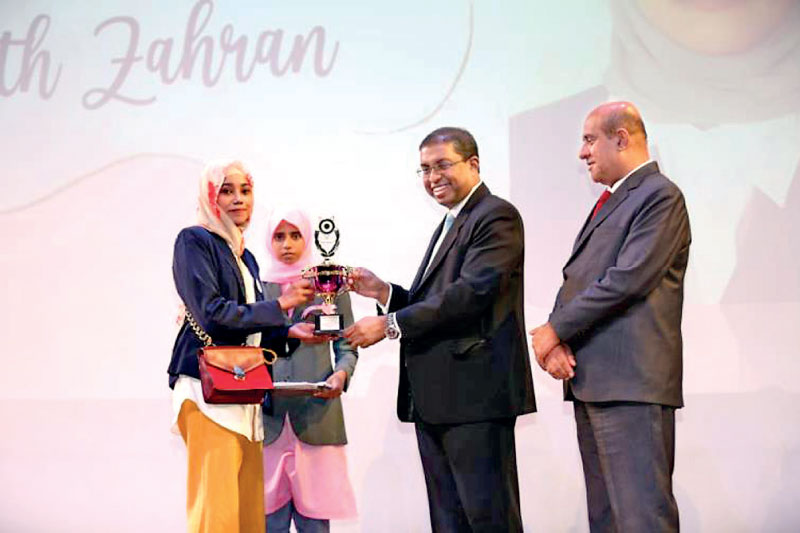 Rahmath Zahran receives the award for the highest marks in Sri Lanka for Religious Studies at the Edexcel IGCSE Examinations.
---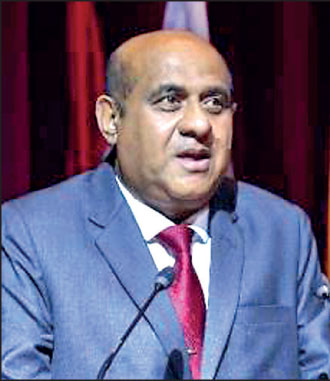 HIS Chairman Ahamed Rheyas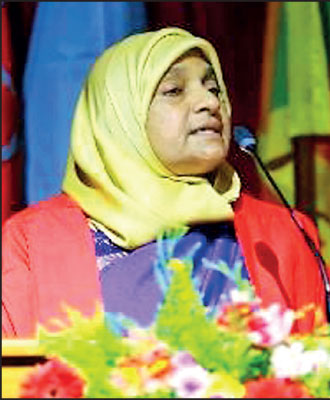 HIS Principal Farzana Jabir
---
The Annual Awards Day 2021/22 of Harcourts International School was held recently at the Royal Institute International Auditorium in grandeur.

The Chief Guest for the occasion was Bar Association of Sri Lanka Immediate Past President Saliya Pieris PC, and the Guest of Honour was former Mayor of Colombo Omar Kamil.

Over 200 awards were presented, and the occasion was graced by VIPs, Principals of the invited schools, past principals of the school, well-wishers, parents, and past pupils of the school. The event had a variety of cultural performances in English, Sinhala and Tamil.

The principal of the school Farzana Jabir gave an impressive and informative report with the events of the annual year 2021/2022, which highlighted all the significant occasions of Harcourts International School.

Chief Guest Saliya Pieris in his speech commended the management and the principal of the school for the splendid performance and the decorum that was maintained throughout. He specially commended the organisers of the entertainment that has exceeded his expectations, he also mentioned the entire program was well organised and congratulated the awardees, academic staff, the members of the Past Pupils' Association of Harcourts International School and the parents as a whole for their commitment towards the development of the school.

Chairman Ahamed Rheyas in his address mentioned that people are the most important asset in an organisation. He further stated that Harcourts was privileged to be an institute growing and prospering because of its people. He paid the highest tribute to the Principal, Vice Principal, the academic staff and the past pupils association for their contribution. He also stated that Harcourts International School, transformed from Crescent Girls School, is entering its 40th year of operation in October 2023.

Rheyas further enlightened the need for recognition of performance and went on further stating that recognition is more than kingdom and is the best form of motivation to mankind.

Guest of Honour Omar Kamil was also delighted to be there and highly commended the principal, staff and the members of the past pupils association who significantly contributed towards the success of the event.