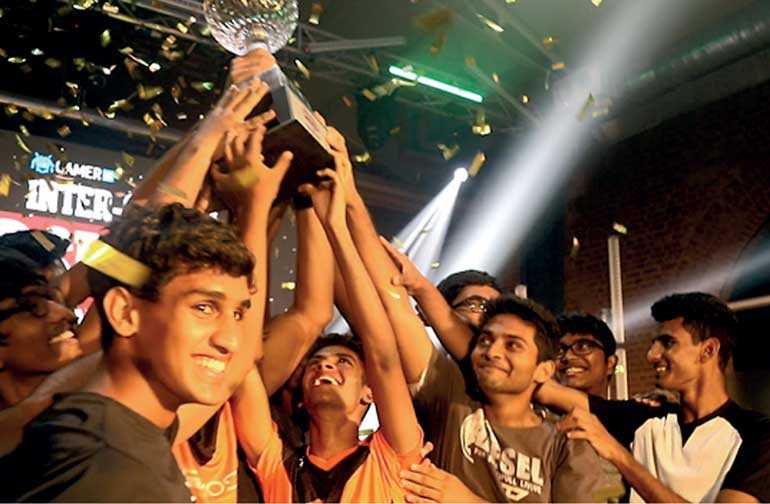 Over 100 schools are expected to take part in this year's Inter-School Esports event making it one of that largest school sporting events in Sri Lanka
Gamer.LK, the leader in Esports and Digital Entertainment experiences in Sri Lanka, is bringing the thrill of competitive video gaming to schools across Sri Lanka with the Inter-School Esports Championship – powered by Dialog Gaming. The Championship being organised for the third consecutive year will be held on 22 and 23 September at Trace Expert City and is open to students from any schools (government or private) in Sri Lanka.

Considered one of the largest school sporting events, the event has provided a unique platform for participants to compete for the prestigious Championship trophy and represent their school across a number of team games (Call of Duty 4: Modern Warfare, Counter Strike: Global Offensive, Dota 2, League of Legends, Overwatch and Special Force 2) and individual games (FIFA 18, Injustice 2, Project CARS, Tekken 7, Clash Royale, Fortnite, Fruit Ninja and Subway Surfers). In addition a Women's Championship (featuring Mario Kart 8 and Need for Speed: Most Wanted) will be held with its own Championship trophy that will recognise the best female student-cyber athletes in the Esports field.

In addition to the competitive titles, participants will also be able to take part to compete in finding Sri Lanka's Fastest eRacer. Complete with Red Bull racing seats, racing wheels and pedals, large-screen TVs and the tracks on Project CARS, this is a brand-new concept devised by Gamer.LK and aimed at promoting simulation racing in the country.

The Inter-School event which began in 2016 with the intention of bringing out the positives of structured competitive video games, saw over 75 schools taking part last year, with students from national schools such as Royal College, D.S. Senanayake, Nalanda College, Isipathana College, Ananda College, Zahira College amongst them as well as participation from international schools such as Gateway College, Lyceum International School, Colombo South International and many more that participated and were well-prepared to bring pride to their school in the field of Esports. After some exciting encounters, Gateway College emerged the Champions for the second year running with Royal College coming in second whilst Nalanda College and Zahira College came in joint third. Schools have begun to embrace Esports by establishing their own Esports societies to rally their teams and players under.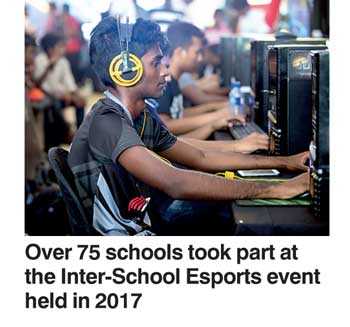 Electronic Sports is the competitive play of video games – a fast growing sport across the globe with a strong following in Sri Lanka. Esports is currently officially recognised by the National Olympic Committee of Sri Lanka and will be recognised by the Ministry of Sports this year. Esports athletes from Sri Lanka were able to earn national colours and represent their country at the recently concluded 18th Asian Games held in Indonesia, with the sport on track to be a medal event in the 2022 Asian Games in China. This opens up the possibility for Sri Lankan Esports athletes to bring a medal for competing in video games.

With video games being perceived as a problem for school children today, Gamer.LK is striving to take the passion and hours that children put into casual gaming and mould it into a constructive, team based, regulated, sports activity. The benefits of Esports are many, with studies showing increased cognitive growth, better hand-eye coordination, enhanced communication skills with team members, and increased critical thinking for problem solving. Esports in Sri Lanka has received the support of organisations such as the Information and Communication Technology Agency of Sri Lanka (ICTA) and Federation of Information Technology Industry Sri Lanka (FITIS) for its promotion of Information Technology, with Esports being considered a gateway to computer literacy and a career in the IT industry.

In this regard, this year's event will showcase workshop sessions covering a range of topics including game-development and design by Sri Lankan game development studios, robotics as well as initiatives organised by ICTA, such as Educate to Innovate (aimed at enhancing teachers with new teaching approaches) and Thakshe (covering the main aspects which a girl should consider in selecting IT as a career) being brought to light at the event.

The Inter-School Esports Championship is organised by Gamer.LK, who are also the organisers for successful annual events such as Play Expo (featuring Sri Lanka Cyber Games and Colombo Comic Expo). From 2016, Gamer.LK took the initiative to branch out Esports and digital entertainment into the three tiers of School, University and Mercantile as well.

The Inter-School Esports Championship is powered by Dialog Gaming, who over the years have provided vital support towards the development of Esports in the country. Dialog Gaming is also promoting the competitive title Special Force 2 at the event. In addition, they will be kicking off the Dialog Gaming League later this year, for which the Special Force 2 champions at Inter-School Esports will qualify. The overall winners of the League will get the chance to represent Sri Lanka at international tournaments.

MSI is on board as the Technology Partner for the event. MSI officially launched their 8th generation high performance laptop series in April. The latest MSI laptops will be on display at the MSI experience stall at the event, with participants being able to test and feel the sheer power and capabilities available on an MSI laptop.

Honda is the Motorbike Partner of the event. Honda is starting out a brand new season of the Rider Rush championship where they offer a free Honda NAVI to the winner. If the winner is underage to ride a motorbike, it will give be given in favour of their parent or guardian.

HyperX marks its entry into the Sri Lankan Esports scene as the Silver Partner for the event. HyperX is a high performing gaming brand, featuring best-in-class components that have delivered superior performance, quality and aesthetic design for more than a decade, HyperX products are the choice of top-rated gamers, tech enthusiasts and overclockers worldwide.

Trace Expert City is the Venue Partner for the event. Trace aspires to transform Sri Lanka into an economically sound, knowledge based, techno-centric, sustainable business hub by promoting innovation, entrepreneurship and professionalism by technologically reawakening our culture of excellence.

The Inter-School Esports Championship is supported by the Official Radio Partner Kiss FM, National Partner ICTA, Digital Media Partner ReadMe, Audio-Visual and Lighting Partner Elektro Revo and the Photography and Videography Partner LetMeKnow.

For more information on the event and to register visit school.gamer.lk and get in touch with Gamer.LK on facebook via www.fb.com/gamerlk for any clarifications.