CICRA Campus Group Director/CEO Boshan Dayaratne (left) and Melbourne Polytechnic Vice President International Development, International Partnership Timothy Gilbert exchanging the partnership agreement at Melbourne Polytechnic, Australia
CICRA Campus has partnered with Melbourne Polytechnic, one of the largest TAFE providers in Australia to deliver a Bachelor of Business pathway Program in Sri Lanka.

CICRA Campus will offer Melbourne Polytechnic's fully accredited Certificate IV in Marketing and Communications leading to the Diploma of Marketing and Communications as stand-alone offerings in Sri Lanka.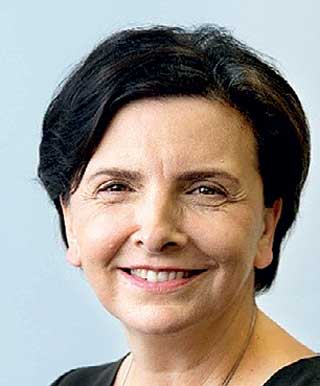 Melbourne Polytechnic Chief Executive

Frances Coppolillo


CICRA Campus Group Director/CEO Boshan Dayaratne said: "Students with O/L results can now complete the pathway Program at CICRA Campus and obtain direct entrance to the 2nd year of the Bachelor of Business at the Melbourne Polytechnic in Australia. This collaboration will save time and money for Srilankan students seeking to study in Australia and also prepare them well in advance prior to starting their degree progression in Australia with Melbourne Polytechnic. I am delighted and look forward to welcoming students to our campus in Colombo." The Bachelor of Business pathway Program consists of a certificate level and a diploma level study in Marketing and Communications that could be completed within an accelerated one year period. Both the certificate and diploma are fully accredited under the Australian Qualification Framework.
The students completing the pathway Program at CICRA Campus can apply to study at Melbourne Polytechnic subject to meeting visa and financial eligibility criteria set by the Australian Government for international student applicants. Further as per the current Australian immigration rules, students who complete a two years undergraduate program earns a three-year post study visa leading to career progression.

"We are proud to work with CICRA Campus and look forward to supporting Sri Lankan students pursuing their dreams to study in Australia and gain a qualification with industry relevance," Melbourne Polytechnic Chief Executive, Frances Coppolillo said.

Speaking at the ceremony in Melbourne, Timothy Gilbert, Vice President International Development | International Partnership of Melbourne Polytechnic, said, "Melbourne Polytechnic had a long history of supporting Sri Lankan students achieve their dreams in Australia and valued their Sri Lankan connections."

Melbourne Polytechnic has been delivering vocational training since 1912 and is one of the largest providers in Victoria, Australia is registered with Australian Skills Quality Authority (ASQA) – National Regulator for Vocational Education and Training and also registered as a higher education provider with Tertiary Education Quality and Standards Agency (TEQSA) of Australia. In addition, Melbourne Polytechnic is a Registered Training organization (RTO) from National Vocational education and training Regulatory (NVR).

It is accredited to deliver over 300 nationally recognized qualifications and more than 400 Institute accredited courses. These programs include pre-apprenticeships, apprenticeships, certificates, diplomas, advanced diplomas, associate degrees, bachelor's degrees, and master's degrees. Melbourne Polytechnic delivers its study programs across seven campuses and additional specialist training centers in greater Melbourne in the State of Victoria in Australia.

The collaboration between CICRA Campus and Melbourne Polytechnic was facilitated by AusEduco, Melbourne.