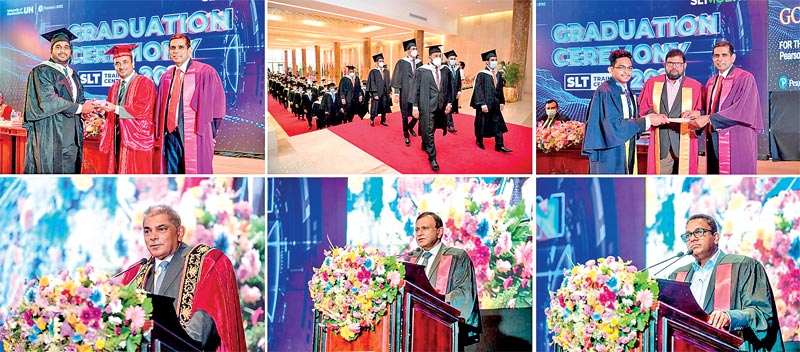 SLT Training Graduation
---
SLT-Mobitel, the National ICT Solutions Provider's education arm, the SLT Training Centre (SLTTC) hosted the graduation ceremony for 2021 recently at the Main Conference Hall of the BMICH, celebrating the successful completion of another batch of students obtaining the University of Hertfordshire's BEng (Hons) Engineering Degree and the Pearson BTEC HND in Electrical and Electronic Engineering.

The ceremony was graced by IET Sri Lanka Network Chairman Dr. (Eng.) Lalith Liyanage as the Guest of Honour as well as SLT-Mobitel Group Chairman Rohan Fernando, SLT-Mobitel Group CEO Lalith Senevirathna, SLT COO Priyantha Fernandez, and senior personnel. Also present were academic staff of the centre, parents and well-wishers.

At the graduation ceremony, 38 students were awarded the University of Hertfordshire's BEng (Hons) Engineering Degree. Two students received the Best Student Award; R.L.H. Fernando for the BEng Honours Electrical and Electronic Engineering degree and Gihan Madusanka Hewage for the BEng Honours Electronics and Communication Engineering degree. 12 students also received 1st class Honours demonstrating their mastery of the subject as well as field of knowledge.

Addressing the graduates and audience, SLT Group Chairman Rohan Fernando stated, "Today, I see before me a group of young men and women who have understood the value of learning and are ready to embark on their dream careers. We at SLT have set forth the springboard. There are no barriers to learning and I encourage you to continue to learn, explore, invent and ascend to the top. SLT will be involved in two very powerful techno parks among those to be developed in Sri Lanka in the future. With these initiatives we are also looking at generating employment opportunities not only in Sri Lanka but also in Asia and the global market for our young graduates and engineers. As you receive your degree and diplomas, you will have the world at your feet. I wish you the very best; pursue your best self because if you think you can – you most certainly will."

The ISO 9001:2015 certified training institute is the sole franchiser for the University of Hertfordshire's BEng (Hons) Engineering Degree programs in South Asia. The university is accredited by the Washington Accord and recognised by the University Grants Commission in Sri Lanka.

During the graduation ceremony, 29 students were presented the Pearson BTEC HND in Electrical and Electronics while the Gold Medal for the best academic performance was presented to Tuan Vinod Salim. The purpose of Pearson BTEC Higher Nationals in Engineering is to develop students as professional, self-reflecting individuals who are able to meet the demands of employers in the rapidly evolving engineering sector and adapt to a constantly changing world.

Sharing his views at the event, Guest of Honour, IET Sri Lanka Network Chairman Dr. (Eng.) Lalith Liyanage stated, "I would like to offer some words of advice to these fresh engineers. From tomorrow onwards you are no longer students but professionals and will have to apply the theoretical knowledge you have acquired towards resolving practical issues and problems. I am aware that you may have ambitious hopes and highly demanding expectations about your qualifications, but I am sure you understand that the competition is very high in this field with many engineering graduates qualifying from various institutions. Thus, make sure you do not let your pride stop you from seeking opportunities to rise up the ladder and strive to achieve a valuable learning experience – start small and dream big."

SLTTC's affiliation with esteemed institutions such as the University of Hertfordshire, Pearson in UK, Academic partnership with the EC Council Asia Pacific region, CompTIA South Asia and Red Hat LINUX supports its recognition as a premier educational institution, empowering the youth by developing knowledge and requisite skills sets in pursuit of affordable higher education while also contributing significantly to building the nation's ICT ecosystem.

To-date, SLTTC offers a range of courses to choose from such as the Pearson BTEC International Level 3 Foundation, the Pearson BTEC HND in Digital Technologies and the Pearson BTEC HND in Business.

In addition, students also update their skillset obtaining a Certificate in Applied Information Technology, Telecommunication Technician NVQ Level 3/4, Optical Fibre Courses, Network Security Courses, Data Com, etc.

The new Pearson BTEC International Level 3 Foundation Diploma in Engineering Course (Level 3), from the world-recognised, UK education body, enables students who have completed their O/L examination to keep alive their dream of becoming an engineer a reality.