The winners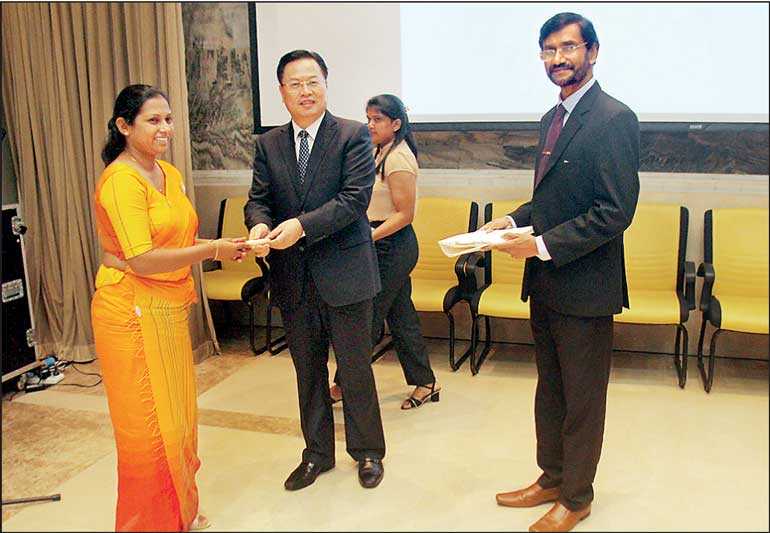 Awarding of scholarships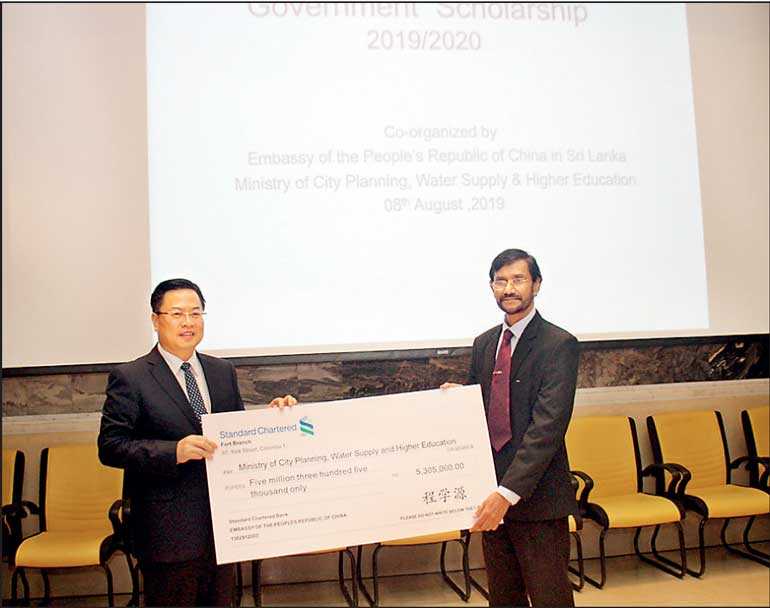 Chinese Ambassador presenting a scholarship
---
Chinese Ambassador Cheng Xueyuan recently awarded the Chinese Government Full Scholarship to 24 Sri Lankan students, at an award ceremony held in the Chinese Embassy in Sri Lanka.

Ministry of Higher Education Additional Secretary Madhawa Dewasurendra, and Ministry of Foreign Affairs Additional Secretary Amb. Periyasamy Pillai Selvaraj, attended the ceremony together with the winners and their family.

Among the 24 Scholarship winners, 10 were for Bachelor's degrees and 14 for Doctoral degrees in different fields like medicine, architecture, translation, e-business, psychology, food science and engineering etc. The awardees will go to China this September to continue their higher education in well-known universities like Dalian Medical University, Beijing Language and Culture University, Huazhong University of Science and Technology, Wuhan University, and others. The full scholarship will cover the tuition, lodging, living allowance and medical insurance throughout the whole academic years, which values up to Rs. 2,500,000 annually.

At the ceremony, Ambassador Cheng Xueyuan also presented a cheque to Additional Secretary Madhawa Dewasurendra, for another donation of Rs. 5,305,000 for the "Chinese Ambassador Scholarship" annual program 2019, which was first launched in 2016 to award those academically excellent undergraduate students in Sri Lankan universities. So far, 231 students have been awarded, among which 54 students in 2016, 55 in 2017 and 122 in 2018, with Rs. 40,000 per student. The Embassy is now implementing this program for the fourth consecutive year, awarding 106 students with Rs. 50,000 each in 2019.