The Galle Face Hotel once again boasts its pioneering traditions by bringing home the Turkish Food Festival to Sri Lanka. Vividly coloured dishes from Turkish cuisine would be featured at the event. A continuation of the cuisine of the Ottoman Empire, Turkish gastronomy displays a unique fusion of spices and cuisines from many regions.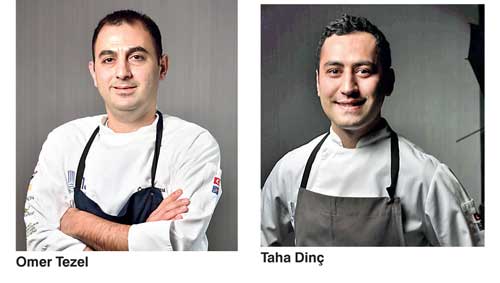 The Verandah Restaurant of the Galle Face Hotel would serve a fascinating range of dishes from Turkish cuisine starting on 29 October to coincide with the National Day of the Republic of Turkey until 4 November, courtesy of world class chefs Ömer Tezel and TahaDinç from Istanbul, Turkey.

Chef Ömer Tezel began his journey from the Culinary Institute of America, the top culinary institute of the world. He has worked wonders at top rated restaurants in New York City for six years before joining Master Chef Carlo Bernardini in Istanbul. Further, after his tenure as an Executive Chef at Ve Restaurant, Istanbul Turkey, he joined Mutfak Sanatlari Akademisi (MSA) as an instructor chef for the team for Professional Culinary Arts Program in January 2013. In addition, he immensely enjoys delighting foodies with his romance for cheese by serving as the head instructor for Artisan Cheese-making programs.

With a culinary arts qualification from Anatolian University under his belt, Taha Dinç went on to serve as a pastry chef at Mama Shelter hotel before opening his own restaurant 'Mutfakkitap' in 2014. Since 2015, he has been a pastry instructor chef at the Culinary Arts Academy.

Turks are passionate about their food and Turkish cuisines is one of the most appetising and rich cuisines of the world. Diversity of dishes and flavours make Turkish cuisine well known. It is influenced by Turkey's rich history and each region of the country has its own specialities. A sophisticated experience, the richness of Turkish cuisine is based on its origins in Ottoman Palace cuisine, and influenced by geographical characters that shaped the Turkish culinary culture, vast cultural interactions and the wide variety of products cultivated on the lands straddling Asia and Europe.

One flavourful delight is Meze, the appetiser, which is sometimes served alongside the main course. It is a small, colourful dish, which when translated to English means 'taste'. There would be numerous mouth-watering salads and exotic olive oil dishes that would leave the taste buds craving for more.

The refined heritage of Turkish cuisine would be on display with a scrumptious range of savoury and sweet pastries. A fabulous array of exiting desserts awaits the enthusiasts.

An exclusive Turkish gourmet dinner, paired with wines that compliments and enhances the Turkish food experience, awaits the food lovers on 3 November at the 1864. The five-course menu converges the tantalising flavours of the cuisine for a memorable dinner experience.

At the Turkish Food Fest, a range of home-made Turkish food will be available for purchase. These are freshly made, following highest hygiene standards and purchased in small numbers from the producers to guarantee the quality. They are healthy, nutrient rich, delicious products that could be enjoyed by the whole family. A special selection of food will be available for vegetarian food patrons.

Alongside the food festival, a tribute to the 150 years of Turkish legacy in Sri Lanka would be on display, at the hotel museum.