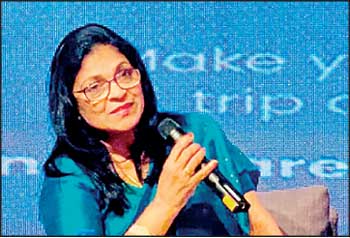 Ambassador of Sri Lanka to Belgium, the European Union and Luxembourg Grace Asirwatham was invited to speak at a book launch on 'Lockdown Journeys', which carried 200 recipes from over 60 countries across the world.

The book, which was authored by Dr. Pick Keobandith, who is an expert in art and cultural diplomacy in Brussels, featured the recipe of Pol Sambol from Sri Lanka and the beverage, Ceylon Tea. The book launch was held at the Russian House Auditorium in Brussels on 2 December and was attended by Belgians and diplomats from several countries.

While congratulating the author on the successful compilation of recipes from various countries, Ambassador Asirwatham explained the uniqueness of the Sri Lankan cuisine, which is predominantly based on coconuts and spices, and is much sought after by travellers. The Ambassador also said that Sri Lankan spices were distinctive, so meals with these condiments enriched flavour, fragrance and medicinal properties.

On the topic of Ceylon Tea, the world's finest tea from Sri Lanka, the Ambassador explained that Ceylon Tea was reputed for its unparalleled taste, aroma and outstanding quality, and added that Ceylon Tea presented a story of rich culture, heritage and identity.

Ambassador Asirwatham recommended the audience to select Sri Lanka as their next holiday destination and experience the cuisine of, not just one, but four different cultures that all blend impeccably into a type of cuisine that can only be defined as distinctively Sri Lankan. Highlighting the limitless variety of flavours and textures of Sri Lankan food, Ambassador Asirwatham said that Sri Lankan cuisine was an exciting gastronomical adventure.

The Ambassador also used the opportunity to share information on the reopening of Sri Lanka for world tourism under the hashtag 'Hello Again' and presented the overall aspects of Sri Lankan tourism to the enthused audience.