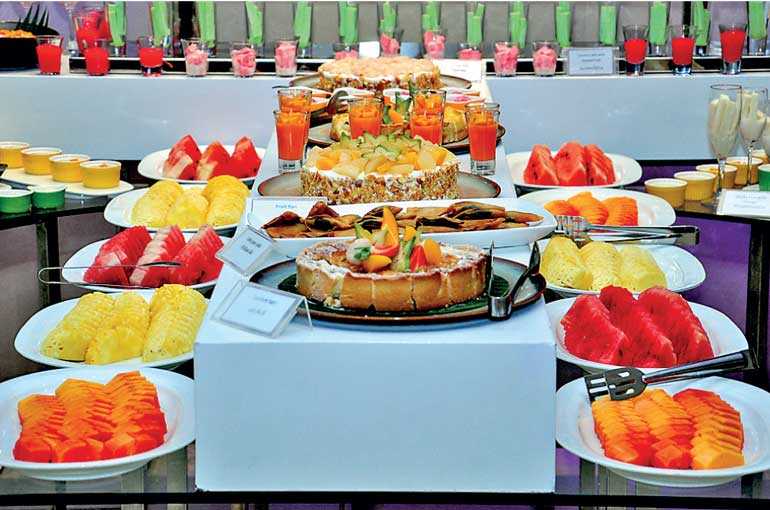 By Madushka Balasuriya

The Cinnamon Lakeside Thai Food Festival returned last week for the third straight year, this time with over 80 items to choose from.

Running from 18 to 28 October for dinner (7 p.m. to 11 p.m.) at the Royal Thai restaurant and terrace, all the usual suspects made an appearance as a buffet spanning the entire spectrum of options – salads, appetisers, soups and mains, were available alongside a seafood and grill corner, lagoon crab section, kebab and satay stations, and action stations for hot dishes and desserts – was set up overlooking Lakeside's gorgeous pool and the Beira Lake.

At Rs. 2,700 nett per person it is also considerable value, especially when you consider the general calibre of cuisine on offer at Royal Thai. The spread includes some of Royal Thai's most popular dishes, while other new additions round out the selection. As such, we at Daily FT made our way down to Lakeside to try it all out, and break down all the must-haves.


Soups and Salads

The Soup Station hosts the famous Thai Tom Yam as well as a noodle soup action station. Eight varieties of noodles are on offer, while seven different types of seafood (Prawn, Calamari, Octopus, Clams, Sea Crab, White Fish, and Calamari Head) leave diners with no shortage on choice.

The salad station meanwhile has a spread of options such as the spiced minced chicken salad, Thai pineapple salad with roasted coconut, BBQ Thai beef salad, and traditional Thai papaya and mango salad.

The salad bar also doubles as an action station, and as such we opted for a customised Mango salad. The mango was just the perfect level of ripe, while the chef handling the station balanced out the chilli and lime with precision. What really sold it to me however was the option to add crushed peanut to my heart's content. A word of warning however about the chilli, it's tasty but potent – don't make the mistake of asking them to make it spicy!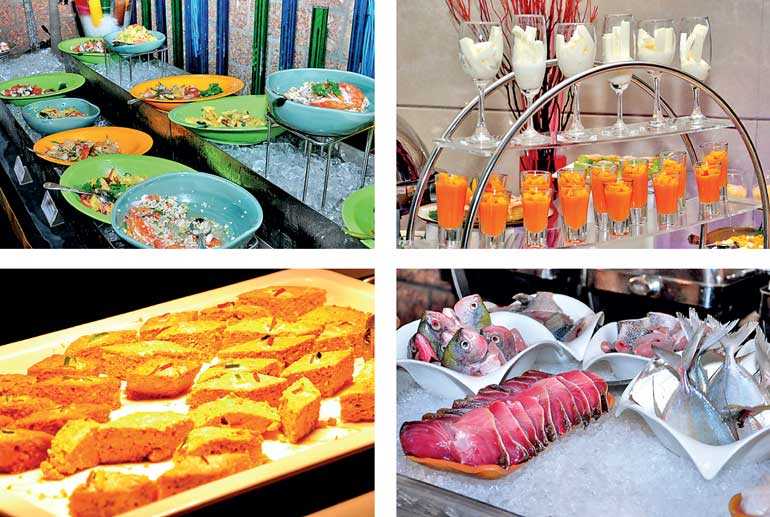 Action Stations

Without a doubt, the main attractions of the festival are the numerous action stations. Nearly numbering in the double digits, almost every type of meat is covered by its very own station. And from among this vast plethora of choices our favourite was hands-down the Pork Station.

On offer was pork cooked four ways – five-spice Thai marinated BBQ pork ribs, crispy fried pork belly with Thai tamarind sauce, Spiced honey pork ribs, and Wok Fried pork with Black Pepper sauce – with two variants in particular standing out.

The black pepper pork was seasoned to perfection, and provided an able accompaniment to any of the rice or noodle dishes on the menu. The crispy belly pork was simply a masterclass in execution, with the top layer of fat so delicately toeing the line between crispy and melt in your mouth; crispy dishes of any sort tend to get a bit hard or rubbery if not cooked correctly, but this was exquisite and had the flavour to match.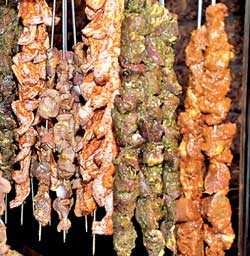 The ribs too were good, though for me personally they were a little bit on the sweet side.

A close second to the pork was the Crispy action station. These were technically starters, but honestly, you invariably end up having so many of the bite-sized options, it might as well be a meal! Springrolls, Prawn and Fish Cakes, Prawn Toast, and Sesame and Coconut Seafood balls were the options available, with our favourite being quite easily the Prawn Toast which, if you're not careful, has the addictive potential to fill you up before you even start your Thai cuisine sojourn - especially when paired with the delicious sweet chilli or chilli lime sauces. Meanwhile the prawn and fish cakes were another a favourite, both of which were accompanied by a tangy, sweet plum sauce.

In terms of pure array of choice, the seafood station was the clear winner with some 12 different varieties being served up, all of which can be grilled to order at the action station. In fact, we would actively advise diners to ask for freshly grilled items, as opposed to risking the cooled down and somewhat stale fare from the chafing dishes - piping hot is definitely the way to go!

This rule of thumb actually holds true for most of the grilling stations. The satays, which were exquisite in the first place, were immeasurably improved when had freshly made. The same goes for the crab dishes, which I would say should only be had freshly made. And don't forget the sauces.

I would highly recommend pairing the grilled items with the noodle station which hosts everyone's favourite Pad Thai, as well as Spicy Basil Seafood Flat Noodles (for those who aren't a fan of the sweet-elements in the former). The noodles were a favourite of ours, with neither one straying too much into the extremes when it comes to either spice or sweetness. Pro tip: add the crushed peanut from the salad section to your noodles for enhanced texture.


Mains

While everything described so far could technically be considered a main, there is also a separate section of temperature-controlled chafing dishes with Thai staples such as Red Curry Chicken, Minced Lamb with Hot Basil and Chilli, Fried Fish in Tamarind Sauce, and Spicy Thai Fried Rice, to name but a few.

This section tends to go somewhat unnoticed at the far end of the buffet, especially with all the eye-catching elements up front, however to miss out would be a grave mistake. Our favourite dish of the night in fact was the lamb; with the temperature-controlled chafing dish preserving and stewing the meat and infusing the flavours, it was just oozing with flavour and that wonderful basil aroma. A truly spectacular effort.


Desserts

Finally we come to the dessert station, and since everyone probably wants to know about the mango sticky rice first, I'll start with that. Served in either small palm-sized plates or, if you want more, straight out of large bowl, there's plenty to go around. The mango is premium quality, while the coconut cream infused rice hits all the right notes without ever being too sweet. The only gripe would be that it can get a little dry sitting out all night. That said, an easy and quick remedy is to simply add some moisture with a dollop of the truly excellent coconut ice cream.

The other stand out desserts were the lychee infused creme caramel, as well as the rather eccentric mung bean pudding. The banana fritters meanwhile were a nice, familiar touch to end our meal.

All in all, a thorough examination of Thai cuisine, taking in the gamut of all the varying flavours and ingredients that make Thai food such a favourite among Sri Lankans. While the buffet is only on for dinner, Royal Thai also has a special lunch offer from 12 noon to 3. p.m., with a set menu available at Rs. 1,955 nett. Make your reservations early to avoid disappointment, call 011 249 1945.

Pix by Sameera Wijesinghe