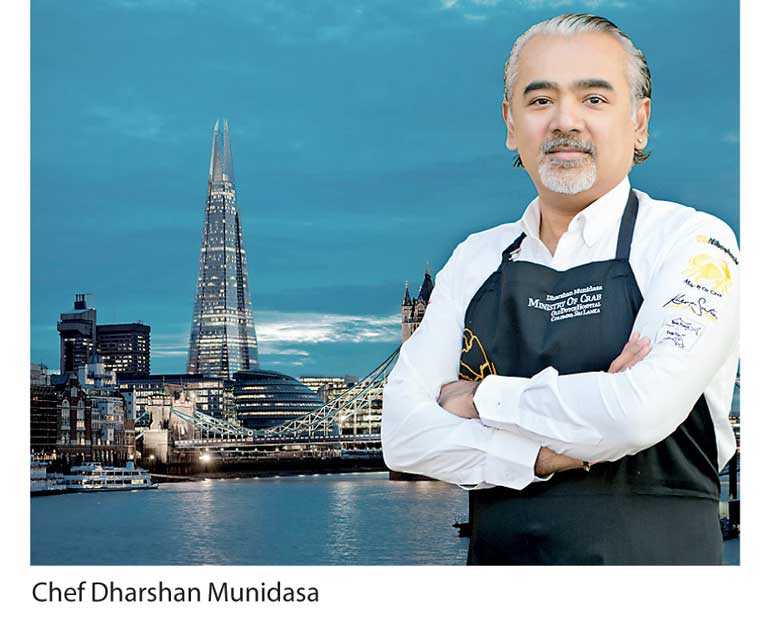 Two years after his one-night only event at the Shangri-La Hotel, At the Shard, London in 2016 Celebrity Chef Dharshan Munidasa returns to the UK for a three-day Ministry of Crab pop up event which began yesterday.

Hosted in TĪNG Restaurant and Lounge and Ren Ballroom, the Ministry of Crab pop up features a three-course menu of its signature dishes, starting with the Baked Crab that's akin to a crab risotto, the ever-popular Garlic Chilli Crab which is Chef Dharshan's unique creation, and the legendary Pepper Crab, which is a combination of two ingredients so prevalent to Sri Lanka's cuisine.

Paul Brackley, General Manager of Shangri-La Hotel, At the Shard, London said: "We're delighted to be hosting the Ministry of Crab pop up with Chef Dharshan. The delicious crab dishes bring a taste of Sri Lanka to TĪNG Restaurant. With stunning views across London's skyline, amazing service and authentic cuisine, the event is set to be a success."

On his return to London, Chef Dharshan had this to say, "I am very excited to be back at Shangri-La Hotel, At The Shard, London with this pop up, especially as it allows me to create Ministry of Crab's signature dishes using the amazing English Brown Crab which is so similar to our Mud Crab."

Ministry of Crab: Sri Lanka's first restaurant dedicated to serving export quality lagoon crabs is the brainchild of celebrated chef and restaurateur Dharshan Munidasa, who partnered with Sri Lankan cricketing legends Mahela Jayawardane and Kumar Sangakkara. Sourced and served in Sri Lanka, there is no way these crabs could be served to you as fresh anywhere else in the world. In fact, the restaurant employs a daring no freezers policy, sourcing all its produce locally with daily deliveries, as the co-owners believe that freezing both detracts from the taste and renders redundant the use of fresh produce.