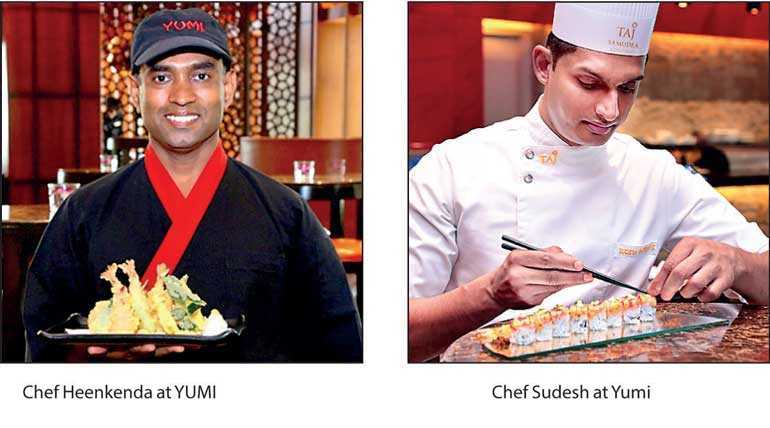 ---
YUMI, known as an efficient and a longest archery bow in the history of Japan, is now a name that serves the epitome of Japanese cuisine in the heart of Colombo at the Taj Samudra!
This February, YUMI, the much sought-after Japanese resto-bar unveils unlimited sushi for Rs. 4,200 nett for lunch from 12:30 p.m. to 3 p.m. Treat reasonably for your cravings for Sashimi, Maki and Nigiri at YUMI in Taj Samudra Colombo, a five-star city hotel where luxury indulges.
Tuna (maguro), salmon, prawn (Ebi) and modha are prominent in the menu. Many go for the salmon added sushi and salads in this 'All You Can Eat Sushi' menu. One popular pick is comes from the most famous sashimi range. Salmon sashimi served with slices of fresh salmon with horseradish and pickled ginger – is strong enough to fulfil that ultimate taste of a classic Japanese meal with its taste in par with excellence.
Another popular pick is the Salmon Salad with fresh salmon with tempura crunch in chef special sauce. A symbol of typical Japanese sushi is the 'roll-wrapped' Maki spread, Avocado Maki, Rainbow Maki which is an extended version of Dragon Maki (batter fried crispy prawn in roll wrap with avocado) with fresh tuna, salmon and modha – are some favourites. A Sri Lankan style Tuna Maki with spicy sauce awaits for those who enjoy a fine mix of Sri Lankan and
Japanese flavours.

---
For those who prefer the seafood and sticky rice combination, Nigiri with fresh tuna, salmon and prawn usually paired with seasoned rice balls are worthy trying.
Must try out are the Signature Sushi – YUMI's signature California Maki with crab sticks, avocado, cucumber and lettuce in a roll of seasoned rice comes in both veg or non-veg options and adding a zesty note to your lunch is the Volcano Maki with spicy crab meat, crispy tempura shrimp and tanuki in chef special sauce. Do not miss the specialty salads – Yu-mi salad and Sushi Chefs Signature Crunchy Spicy Sashimi Salad.
A selection that delights the guests with the taste they desire.
Probably, garnishing does a good amount of silent appealing, confirming the satisfaction of guests.
Using top-notch ingredients and the preparation prowess do a great deal to the success of this scrumptious sushi story. Sushi recipes cannot compromise on certain key ingredients such as tuna, salmon and sticky rice to keep up with standards. These ingredients are sourced from Australia and Norway, the leading and reputed markets. The preparation by the Sri Lankan chef duo Heenkenda and Sudesh who with their culinary expertise ensure that the 'All you Can Eat Sushi' menu at YUMI is unmatched to the quality and taste of authentic Sushi.
Made in Sri Lanka to the flavours of Japan. What else do you need when all you can Sushi?
Opened daily from 12 noon to midnight, the ambience at YUMI is plush, cosy and spacious to seat about 80 guests with a choice for alfresco dining facing the poolside.
Lunch at YUMI in February, is all about Sushi.
Be a part of this Sushi story.
Reservations recommended. For inquiries and reservations please contact 2446622.