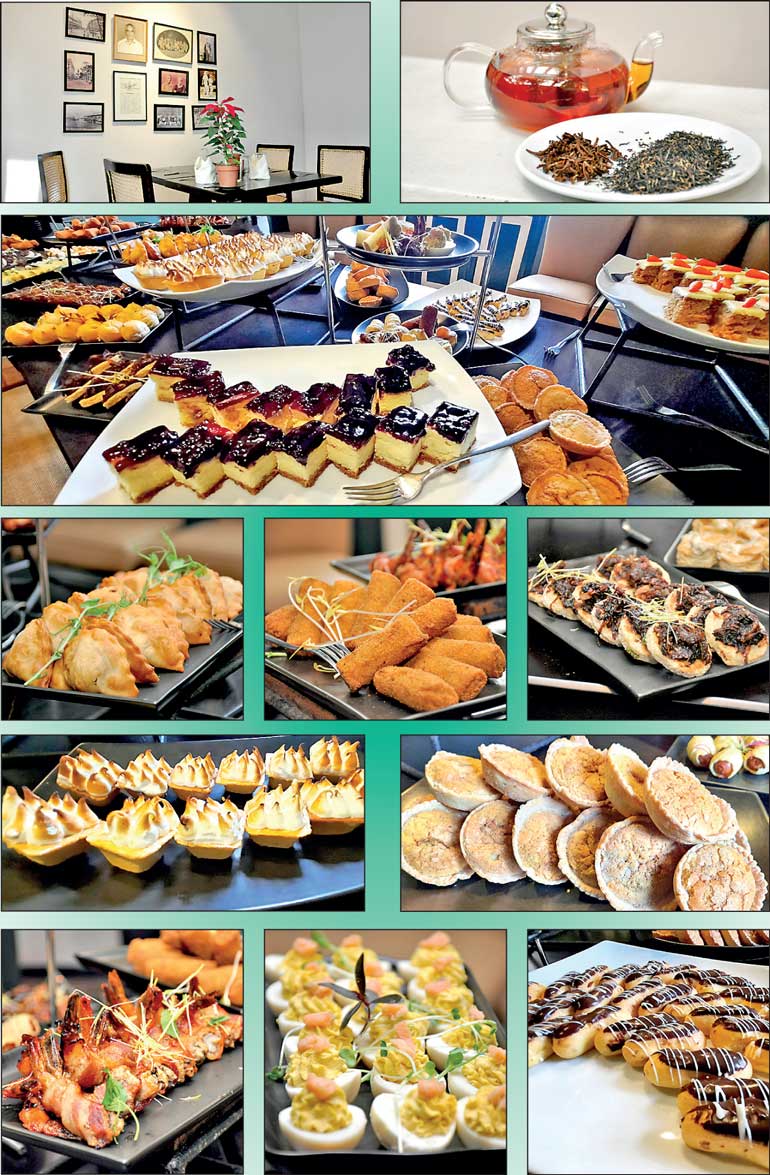 The legendary Cyril Rodrigo Restaurants, under its brand name Green Cabin, has unveiled an innovative range of new and exciting menus at its flagship 7, Visaka Road, Bambalapitiya, Colombo 4 outlet for high tea daily and brunch during weekends.

The high tea menu has a selection of carefully selected savoury and sweet cabin specials and is perfect for a relaxing evening, served daily from 3 p.m. to 6 p.m. and priced at Rs. 2,200+ for two.

The brunch menu is ideal for the late starter on a weekend or mercantile holiday, where all your local favourites are freshly made and served, priced at Rs. 1,400. Meanwhile, a special Festive Menu will be available on the 24, 25 and 31 December, ringing in the season with your favourites, priced at Rs. 1,400+.

In the high tea menu there are 30 items. Savouries include asparagus roll, stuffed eggs with smoked salmon, fishy patty, mushroom vol au vents, chicken bouchee, mutton roll, stuffed dates, pawkies in puff, prawns wrapped in bacon and pol roti with seeni sambol. Sweets include lemon meringue tartlets, cabin cheese cake, chocolate éclair, blueberry cheese cake, carrot cake with cream cheese frosting. Beverages include Lumbini Valley single origin tea, hot or iced tea or iced coffee or virgin passion fruit mojito.

Brunch menu includes – Beverages – Fresh fruit juice or smoothie or fresh fruit or king coconut, single origin tea or iced coffee or coffee. Savouries include a selection of hoppers/egg hoppers/kiri appa, string hoppers, pol roti and road paan. Curries include chicken curry, fish ambul thiyal, beef curry, pork curry and mixed vegetable curry. The accompaniments include kiri hodi, polos curry (seasonal), dhal tempered curry, katta sambol, pol sambol, pol mallum and seeni sambol. Separately an egg station with chicken sausage and bacon is available too. The sweets offering include jaggery appa, curd and treacle, pineapple upside down and pol pani pancake.

"Maintaining traditions of our forefathers and sharing those values and experiences is the reason behind us launching the newly opened restaurant," stated Cyril Rodrigo, fifth generation family member and Executive Director Chirath Devasurendra. "Walking into the restaurant, you are transported to your childhood. It's like walking into your ancestral home – one that is filled with happiness, laughter, memories – and of course, delicious traditional food served by a loving family," he added.

Family is at the core of the venture, be it with customers or their very own staff. At the restaurant, each employee is a part of their extended family, some of whom have been serving the restaurant for four generations. Ivor Garth recently celebrated 50 years of service, while Tuani has worked in the restaurant for over four decades.

The restaurant includes an air-conditioned private dining room which accommodates up to 15 pax. Outdoor seating is also available and customers have the option of reserving the entire venue, which can host around 50-60 guests for a private event. Guests are also welcome to BYOB at the restaurant.

Cyril Rodrigo Restaurants, under its brand name Green Cabin, continues to be a Sri Lankan household name. The outlets continue to serve their famous items, along with seasonal goodies for this festive season such as breudher, Christmas cake, and other delights.

Paying tribute to Cyril Rodrigo himself, the all-new Cyril Rodrigo's Green Cabin restaurant serves from a 100-year-old house, refurbished to reflect his own unique personality and blend both traditional and modern dining experiences.

True to its mantra of 'Old Meets New,' Cyril Rodrigo's Green Cabin restaurant serves up their traditional fare along with some of their oldest family recipes with a modern twist. These include starters of hot butter karawila and mains which include Green Cabin's famous flower-shaped hot and crispy hoppers.

Other dishes include Seeya's Jaggery Beef Curry or the famous Achchi's Chicken, two iconic generational recipes that have been perfected over the years. They serve up giant prawn with kottu and the traditional baked crab, not forgetting the popular Green Cabin lamprais.

For those with a sweet tooth, butterscotch pudding with salted caramel and passionfruit pavlova will be ideal. Each meal can be paired with drinks such as the refreshing karapincha lime twist and a selection of Lumbini Valley Single Origin teas.

Green Cabin currently has cabins located at Chatham Street, Vauxhall Street, One Galle Face, Colpetty, Vajira Road, Nawala, Rajagiriya, Ethul Kotte, Delkanda, Pepiliyana, Templers Road, and Boralesgamuwa. Further plans are underway to open five new outlets by the end of 2022.

Cyril Rodrigo's Green Cabin restaurant serves customers for both dine-in and takeaway, 11 a.m. to 11 p.m., 365 days of the year from their branch at 7, Visaka Road, Bambalapitiya, Colombo 4.

In 1884 Mudaliyar Thomas Rodrigo laid the foundation for one of the country's most legendary restaurants. Some years later, his son Cyril Rodrigo took over and founded Cyril Rodrigo Restaurants. Under its brand names, Pagoda, and Green Cabin, the restaurant has created fond memories for Sri Lankans for over a century.

Considered one of the very few generational family-owned restaurants that has withstood the test of time, the chain is currently managed by its passionate fifth generation, who strive to continue the tradition and legacy set by its founding fathers.
Pix by Lasantha Kumara