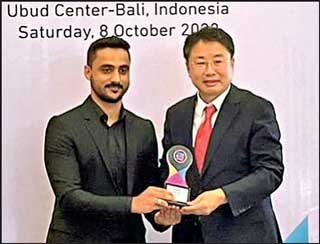 Crepe Runner founder Abdus Salaam has won the 'Asia's Top Outstanding Youth Marketeer of the Year 2022' award recently from Asia Marketing Federation.
"Having been chosen as one of the awardees among nominees from 17 countries it's an honour to represent Sri Lanka. Thank you, Asia Marketing Federation for this recognition," Crepe Runner Founder Abdus Salaam said.

YWN Award is an annual award given to those who achieved the highest performance for outstanding and trailblazing efforts in the marketing of products and services. It recognises individuals in the Asian region for marketing excellence that will reflect admirable qualities of versatility, innovativeness, and ingenuity.

The YWN Award was organised by the Asia Marketing Federation (AMF), the foremost governing body in Asia for marketing. Its member countries include Bangladesh, Cambodia, China, Hong Kong, Indonesia, Japan, Korea, Macau, Malaysia, Mongolia, Myanmar, Nepal, Pakistan, Philippines, Singapore, Sri Lanka, Taiwan, Thailand, and Vietnam.