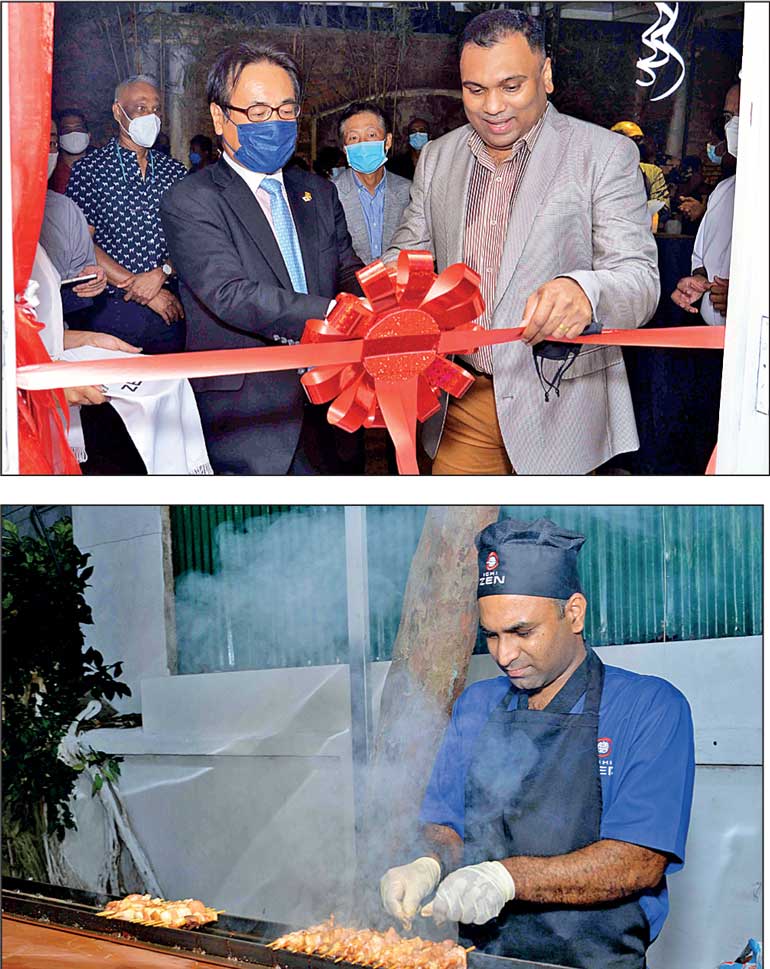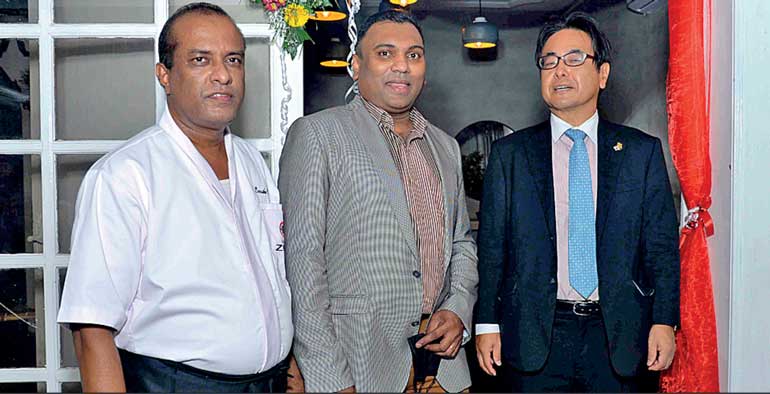 Executive Chef Manjula Kurunduwatta, Ichi Zen Japanese Restaurant Chairman Chandana Silva and Japanese Ambassador to Sri Lanka Mizukoshi Hideaki
---
Ichi Zen, Colombo's latest Japanese restaurant, was opened last week by the Japanese Ambassador to Sri Lanka Mizukoshi Hideaki at 63/2, Ward Place.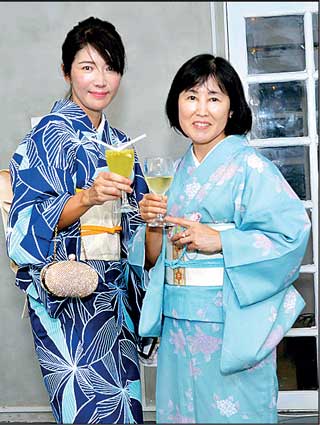 The brainchild of Chandana Silva, the Chairman and CEO of Ichi Zen Japanese Restaurant, it presents a selection of classic and modern sushi specialties as well as a large selection of cold and warm Japanese cuisine for those who crave Japanese flavours.

Chandana, who has gained vast experience in ownership of restaurants in both Japan and Sri Lanka, is supported by a team of experts in Japanese cuisine, driven by the Executive Chef Manjula Kurunduwatta, better known as the 'Sushi Master'. Manjula Kurunduwatta adds his value to Ichi Zen with his experience of over 20 years and passion for Japanese cuisine, as the best of traditional and fusion food of Nippon are presented to satisfy the taste buds.

Ichi Zen presents an extensive range of Japanese lunches and dinners, which includes food items ranging from sushi rolls to tofu and dim sum. The Sushi Master and Ichi Zen present sushi of a quality rarely found outside of Japan. Their secret: high-quality ingredients and the experience of the chef.

Besides cooking and serving a wide range of well-known Japanese dishes, Ichi Zen also focuses on introducing Westerners to all of the various meals that the versatile Japanese culture has produced over the centuries. Besides being delicious, all of the ingredients used for preparing the dishes at Ichi Zen are fresh and absolutely healthy.

Ichi Zen is open seven days a week from 12:00 a.m. to 10:00 p.m. for dine-in or delivery. For further details, contact Ichi Zen Japanese Restaurant on tel: 0112 664 999, email: contact@ichizenjapan.com or WhatsApp: 076 303 3435.