The graduate class with trainer Nirodha Jayakodi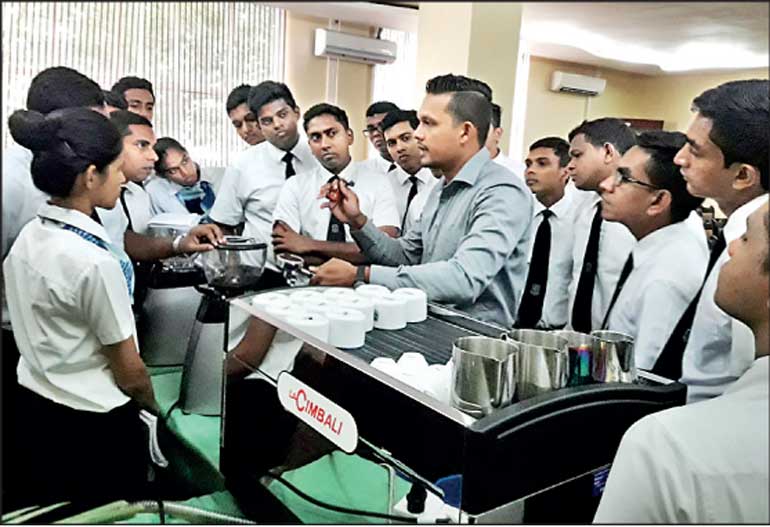 The training in session
---
The Colombo Coffee Company continues to stand by its commitment to uplift the quality of coffee and baristas across the island and marked its fifth consecutive year of providing complimentary barista training course for the graduates of the Sri Lanka Institute of Tourism and Hotel Management on 25 March.

The training was held by Coffee Connoisseur and Training Manager Nirodha Jayakody at the Colombo Coffee Company Head Office in Colombo 05. Nirodha is actively involved in improving the quality of training and creating interactive and informative courses the trade or those interested in brewing the perfect cup of coffee in the comfort of their homes.

In an attempt to uplift the industry and provide hoteliers and food and beverage managers a thorough understanding of coffee, its origins, and the best methods of brewing a perfect cup of coffee, this program has been carefully curated to equip aspiring baristas and F&B managers with the required skill and knowledge to manage a successful coffee operation, either in a hotel or in stand-alone cafes and restaurants.

Speaking with Training manager CCC and National Judge in Barista category Nirodha Jayakodi he said: "We saw a gap in the food and beverage industry in Sri Lanka. So, we decided to provide a complimentary training program for each graduate of SLITHM to make sure that we raise the standards of coffee and build a strong coffee culture in Sri Lanka."

The program focuses on providing a clear understanding on coffee and its origins, a step-by-step guide to brewing perfect espresso, advanced milk frothing techniques, advanced milk steaming techniques, advanced coffee recipes, troubleshooting equipment and the tools needed to run a successful coffee operation. By providing both practical and theoretical knowledge and empowering future talents with the qualifications and knowledge they need the Colombo Coffee Company is committed to doing its part to ensure the professionals in the hotel industry can hold their own against cafes and restaurants around the world.

Colombo Coffee Company is the flagship carrier for Lavazza coffee in Sri Lanka and the only Total Coffee Solutions provider in the country. Boasting of a proud track record of over eight years with clients across Sri Lanka, Colombo Coffee Company is the largest coffee supplier to hotels, restaurants, cafes and offices. With over 120 years of expertise and producing over 100,000 tonnes of coffee annually, Lavazza is one of the largest coffee roasters in the world. With over 50 training centres worldwide and sustainability programs through which the coffee farmers are developed and taken care of; Lavazza is one of the top contributors towards the upliftment of the coffee industry worldwide. As a brand, Lavazza is one of the most sought-after brands worldwide and is known for its consistency in high quality and wide range.

The Sri Lanka Institute of Tourism and Hotel Management (SLITHM) is the only Government approved premier Institute in Sri Lanka, established by the Government in 1964 to train young men and women in the complex field of Hospitality and Travel Industry, and is managed by The Ministry of Tourism Development and Christian Religious Affairs. Further, to facilitate students island-wide, provincial schools have been set up in Anuradhapura, Bandarawela, Pallekelle, Koggala, Ratnapura, and Kurunegala.

Over the years SLITHM has fine-tuned its programmes to meet the specific needs of Sri Lankas and Asia's changing industry wide market needs and new schemes of training are introduced frequently with opportunities to specialise in industry specific areas. The scheme allows students to be more flexible in the choice of training and provides multiple entry – exit points. It also recognises prior learning, which benefits those who have gained hands on experience in the industry and who wish to acquire further knowledge through a sound professional qualification.