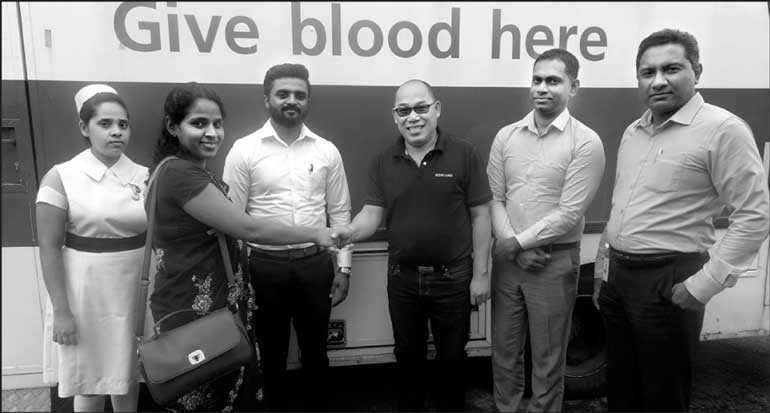 NBTS staff representatives with Ocean Lanka Managing Director Dr. Austin Au, Assistant General Manager Finance and IT Saman Bandara and Assistant General Manager, Sales and Marketing Ruwan Mudalpath
Ocean Lanka Ltd., Sri Lanka's largest weft knitted fabric manufacturer recently announced its endowment for the National Blood Transfusion Service (NBTS) staff welfare activities for the second consecutive year. In addition to the financial contribution, over 160 OCL employees contributed donations to the blood and eye tissue drive hosted at the factory premises.

Commenting on this, Ocean Lanka Managing Director Dr. Austin Au said, "Being a long-time supporter of the NBTS, we wanted to contribute to the wellbeing of its most prolific staff and volunteers,

who time and time again come to the rescue of those they'll never know or meet. And we hope that this contribution will ensure that they are properly feted, and help them in their continuing quest to assist and comfort those in need."

Ocean Lanka has a reverential respect towards the overall wellbeing of employees, society and the environment.

The company continuously strives to make a profound impact in the community in which it operates, by joining hands with active public and private sector organisations committed to economic, ecological, and social sustainability.