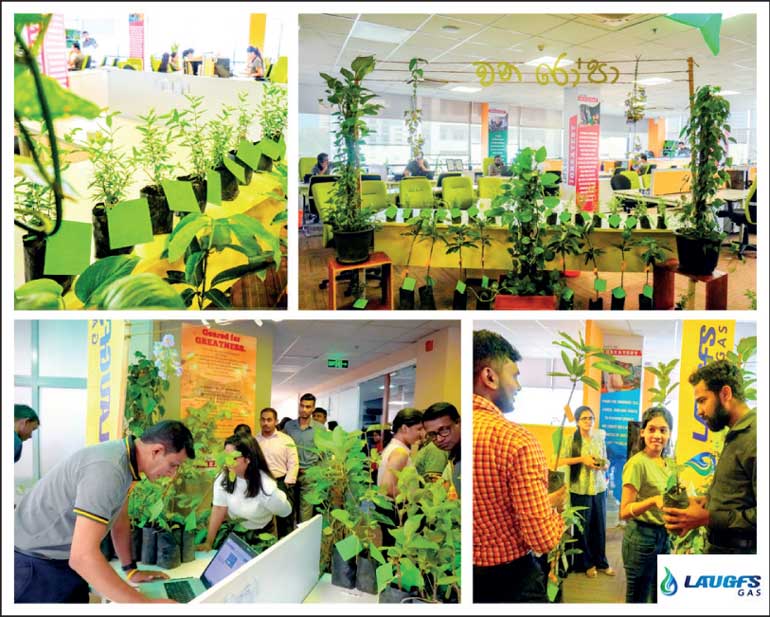 LAUGFS Gas, the only private LPG provider in Sri Lanka, proudly announces its recent Corporate Social Responsibility (CSR) event 'Wana Roapa' in celebration of Environment Day.

In a remarkable initiative, the company distributed over 300 fruit-bearing plants at their Head Office on Maya Avenue, Colombo. This event showcased LAUGFS Gas's commitment to environmental sustainability and fostering a greener future.

The fruit plant distribution initiative carried out by LAUGFS Gas holds immense significance as it promotes the importance of preserving and nurturing the environment. Unlike traditional ornamental plants, all 300+ plants distributed during the event were carefully chosen for their produce-bearing capabilities. This deliberate selection ensures that each plant has the potential to grow into a mature tree, contributing to the reforestation efforts and providing valuable fruits to local communities. The distribution of produce-bearing fruit plants reflects the company's dedication to sustainability, encouraging individuals to play an active role in greening their surroundings.

LAUGFS Gas CEO Nalinda Kurukulasooriya expressed his enthusiasm for the event, stating, "We are delighted to celebrate Environment Day with this fruit plant distribution initiative 'Wana Roapa'. It exemplifies our commitment to environmental sustainability and emphasises the power of collective action. By involving our employees, we aim to create a culture of environmental responsibility and inspire positive change within our organisation and beyond."

Through this noteworthy event, LAUGFS Gas aimed to encourage its employees and stakeholders to actively participate in creating a more sustainable future. To ensure the long-term success of the initiative, LAUGFS Gas recorded all employees who accepted a plant, creating a sense of accountability and fostering a collective commitment to nurturing these plants into flourishing trees. This collaborative effort demonstrated the company's unity and shared vision, as employees from all departments came together to support their colleagues across various Strategic Business Units (SBUs).

Further on the above, LAUGFS Gas Cluster CEO Dr. Niroshan J. Peiris highlighted the significance of the initiative, stating, "At LAUGFS Gas, we strongly believe that small actions can make a big difference. By distributing fruit-bearing plants to our employees, we are fostering a culture of sustainability and creating a positive environmental impact. Wana Roapa serves as a testament to our commitment to protecting the environment for future generations."

The LAUGFS Head Office premises was transformed into a charming forest-like setting, reflecting the company's dedication to promoting a greener environment. The decorated office space served as a reminder of the significance of preserving nature and fostering biodiversity. This initiative fostered a sense of unity and purpose among the LAUGFS Gas employees, reinforcing the company's values and commitment to sustainability.

LAUGFS Gas is a leading energy solutions provider in Sri Lanka, specialising in LP Gas distribution and allied services. Committed to environmental sustainability, LAUGFS Gas actively promotes energy-efficient and eco-friendly solutions to reduce carbon footprints. With a focus on innovation, reliability, and customer-centricity, LAUGFS Gas strives to deliver excellence in the energy sector while nurturing a greener tomorrow.