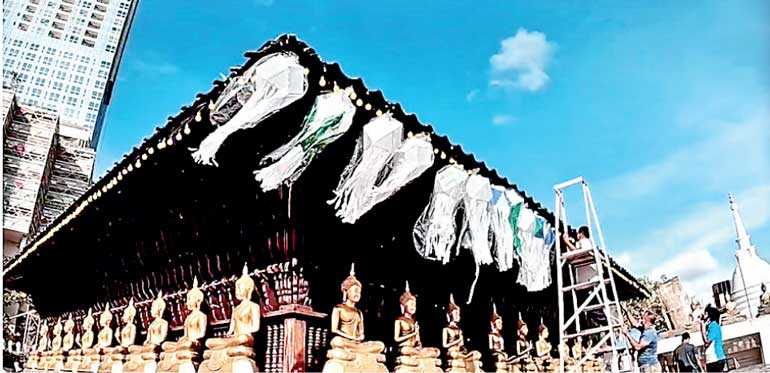 Leading Sri Lankan e-commerce store Kapruka recently executed a successful islandwide operation to keep the spirit of Vesak alive as citizens across the island prepared to commemorate the birth, enlightenment, and Parinibbana of Gautama Buddha.

Over the days leading up to Vesak, Kapruka gifted a free package containing neatly placed bamboo sticks and crepe paper, enough to build two Vesak lanterns, to each of its customers who are unable to procure these materials themselves due to curfew imposed as a result of the COVID-19 pandemic in the country.

Kapruka's delivery team then went back to each house and collected one out of the two lanterns prepared by each family, while taking good care to follow all necessary precautionary measures recommended during this time.

Each of these lanterns, bearing a wish of good health and fortune, was then collected and used to decorate the much-revered and breath-taking Gangaramaya Temple in Colombo. On Vesak day, the temple shone bright with the heartfelt wishes and handiwork of many Sri Lankans, across all races and religions celebrating Sri Lanka's rich cultural diversity and the spirit of Vesak.

Intended as a warm gesture of love and gratitude, Kapruka's initiative was actioned during a time when Sri Lankans who usually celebrate Vesak with much colour and festivity were confined to their homes due to the pandemic that has halted much of the normal regimes of civilian life in the country.

Kapruka still remains deeply committed to extend their fullest support during this time of crisis, to ease the lives of all Sri Lankans, in particular to those at the forefront of the battle against this unprecedented health crisis in Sri Lanka.