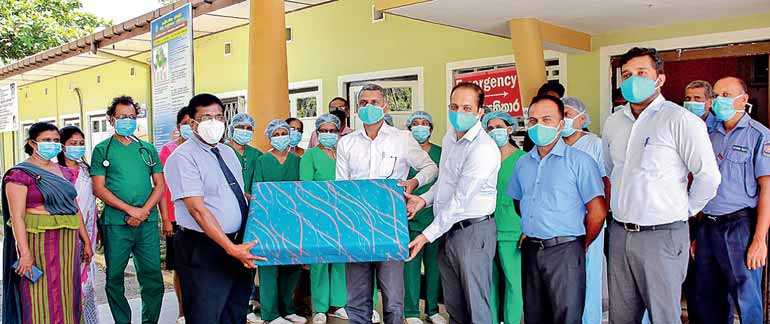 From left: District Medical Officer Dr. Thilak Ranasinghe, Hemas Consumer Director Supply Chain Chandana Weerabahu, Hemas Consumer Senior Manager Human Resources Mahinda Wijesekera, Hemas Consumer Junior Executive Admin Lasantha Kalupahana, and Hemas Consumer Manager Compliance and Systems Sanjeevan Easparanathan

Hemas Consumer Team donating several essential items to Dankotuwa Base Hospital's COVID ward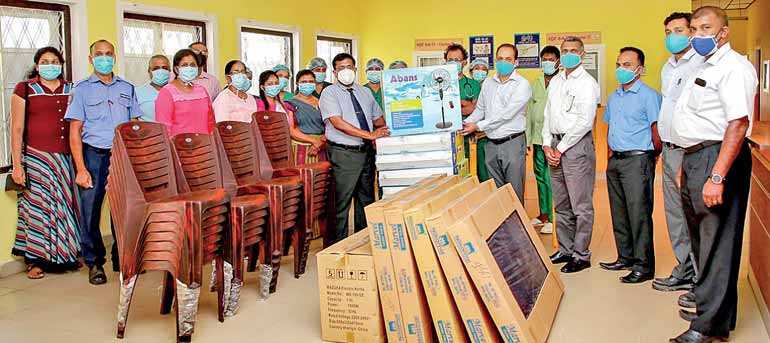 ---
Hemas Consumer, a leading manufacturer in Sri Lanka's Home and Personal Care sector in yet another community support initiative has made notable donations to Dankotuwa Base Hospital's COVID ward, aiming to enhance the patients' facilities.

Hemas came forward to donate several essential items to the hospital so that it can better serve the patients. Amongst the items donated were water heaters to ensure that the patients had access to warm water for drinking which is much needed at this moment in time.

The donations took place at the hospital premises with the participation of Hemas Consumer Director Supply Chain Chandana Weerabahu, Hemas Consumer Senior Manager Human Resources Mahinda Wijesekera, Hemas Consumer Manager Compliance and Systems

Sanjeevan Easparanathan, District Medical Officer Dr. Thilak Ranasinghe, other doctors and staff at the Dankotuwa Base Hospital.

Commenting on this charitable initiative, Hemas Consumer Director Supply Chain Chandana Weerabahu said, "At Hemas, we always champion healthful living and are committed to play our role in uplifting lives in every possible way. We are in the process of contributing to create a better society and now is one of the most important times to be helping our communities. In this scenario, we eagerly wanted to ensure that the needs of the patients are fulfilled and to create a safer environment for them who need the foremost attention right now."

Hemas is at the forefront of community support initiatives continuously helping to uplift the living standards of people, communities and the environment.

Hemas Consumer, a leading manufacturer in Sri Lanka's Home and Personal Care sector is a subsidiary of Hemas Holdings PLC. Established in 1948, Hemas started with a simple intent: to help families live healthfully. This core belief has informed our growth for over 72 years. Today, as a leading public quoted company with over 4,500 employees, we bring healthful living to life through a portfolio of world-class products and services in the Consumer, Healthcare and Mobility sectors. Woven into the socioeconomic fabric of Sri Lanka, Hemas has also expanded regionally with operations in Bangladesh, West Bengal and Myanmar. In our onward journey, we will continue to invest in diverse and passionate teams, create meaningful offerings, cultivate trusted partnerships, and champion a more inclusive world, so that we continue to create positive impact for all our stakeholders.