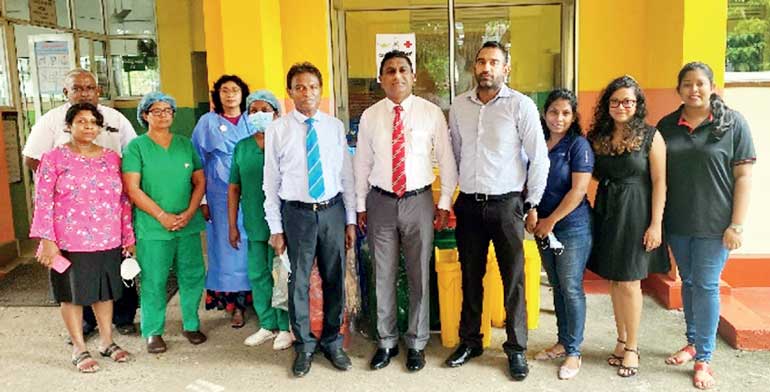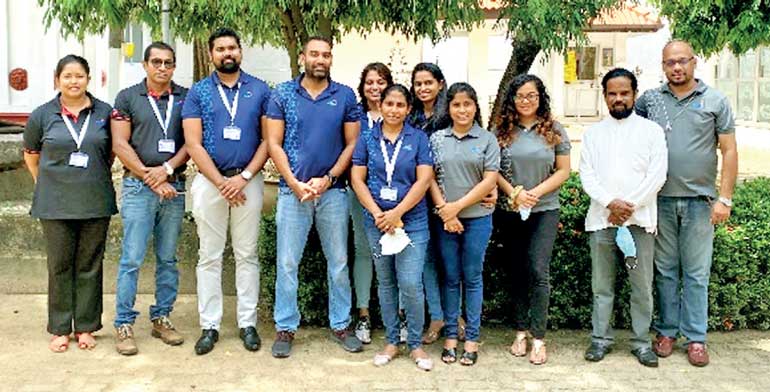 The Epic team with the Gramasevaka Officer of Thalangama North (left) and the staff of Divisional Hospital Thalangama
Touching the lives of over 70% of Sri Lankans daily through innovative digital transformation and fintech solutions, Sri Lanka's best and most trusted ICT solutions provider Epic Lanka celebrated its 24th anniversary recently with community service projects to support low-income families and the Regional Hospital in Thalangama where the Epic head office is located.

Each year, Epic celebrates its work anniversary with a CSR initiative joining hands with its 350 employees. This year, the company chose to support its own neighbourhood in Thalangama, Battaramulla. With the patronage of the local Gramasevaka Office, the company donated 100 packs containing essential food items and dry rations to 100 low-income families in the area. The beneficiaries of these packs included single-income earners, pregnant women, and single parents. Epic also donated Rs. 500,000 worth of equipment and appliances to the Divisional Hospital, Thalangama to ensure that the hospital can continue its daily operations and facility management efficiently.

Established in 1998 with less than 10 employees, Epic today is the undisputed leader in digital transformation, e-government solutions, workflow management, secure electronic payment automation, information systems security, and mobile enterprise automation solutions in Sri Lanka. In recent times, the company has extended its innovations into the digital consumer solutions space with the Life by Cipe gas and smoke detector and Cipe power surge protector. Helaviru Digital Economic Center, a Cloud-based Digital Marketplace that facilitates trading activities (buying and selling) of agro-produce and commodities, was launched in 2020. During the same year, Epic launched the DLB Sweep app – a smartphone application that allows consumers to purchase lottery tickets – for the Development Lotteries Board of Sri Lanka.

During its 24 years of undisputed legacy, Epic has completed more than 100 projects for multiple organisations representing diverse industries and has digitally transformed more than 75 state and private enterprises. Recently, Epic won the coveted 'National Overall Gold Award' and 19 other accolades at the National ICT Awards 2021 (NBQSA). Epic has won the National Overall Gold Award four times and taken home multiple awards at NBQSA for its ground-breaking, 100% Sri Lankan made Fintech products to enable local and global banks and financial institutes. 24 years down the road, Epic has secured more than 80 awards, including the first-ever Asia Pacific ICT Alliance (APICTA) Gold award for Sri Lanka.

Epic Technology Group Founder and Executive Chairman Dr. Nayana Dehigama said: "It has been a long but exciting journey for us at Epic with so many milestones celebrated along the way. We feel blessed to be at the forefront of digital innovation and be recognised for it even after 24 years. Having said that, we first and foremost want to see ourselves as responsible and caring human beings who want to help our neighbourhood and society at this critical time."

Epic Lanka Managing Director/Chief Executive Officer Viraj Mudalige stated, "CSR is an integral part of the Epic business model. We strongly believe in giving back to the community and the people of this country who have inspired us to be in this business and design innovative solutions. We wanted to make a difference in the lives of the low-income earners in our neighbourhood in any way possible. We are grateful to the Divisional Hospital, Thalangama and the local Gramasevaka office for giving us this opportunity to make a difference."

The Divisional Medical Officer (DMO) of the Thalangama Hospital said, "The Divisional Hospital plays a vital role in the community by providing medical care for the residents in the Thalangama area. Our job is to look after them during their stay in the hospital. We are grateful to Epic for approaching us and providing much needed equipment and appliances to improve the hospital facilities and thereby contributing towards the benefit of our patients."

Epic's innovative technology solutions are designed and developed by over 350 in-house engineers and experts. The company also owns an ultra-modern office infrastructure which houses a modern Research and Innovation Centre as well as software development and recreational facilities that enable employees to work and utilise their skills passionately and creatively. Epic heavily invests in continuous knowledge assimilation and competence building, which they believe to be the pillars of their success over the past 24 years. It has provided internships to many university students over the years where they have gained professional IT knowledge and domain expertise as preparation to face the real-world.