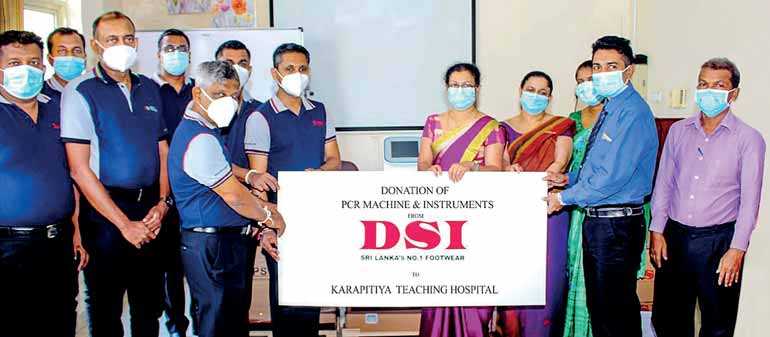 From left: Representatives of D. Samson Industries – Supply Chain (Technical) Executive Ajith Hemantha, Chief Finance Officer Renuka Bandara, Executive Director Bhathiya Amarakoon, Chief Operating Officer Lakmal Dharmaratne, Executive Director Dilshan Rajapaksa, DSI Samson Group Emeritus Chairman Kulatunga Rajapaksa and DSI Managing Director Kasun Rajapaksa Representatives of the Karapitiya Hospital – Consultant Virologist Dr. Vigeetha Withanage, Deputy Director Dr. Harshanie Ubesekara, Deputy Director Dr. Nishanie Ubesekara, Director Dr. Priyantha Jeewarathna and Consultant Micro Biologist Dr. Bhagya Piyasiri
---
D. Samson Industries Ltd. in an effort to alleviate the effects of the coronavirus pandemic which has hit the country hard, donated a PCR unit to the Karapitiya Teaching Hospital in Galle. The gesture reflects DSI's solidarity with its stakeholders as they seek to meet basic needs and mitigate the effects of COVID-19.

Representatives of D. Samson Industries Ltd., doctors at Karapitiya Teaching Hospital and representatives of Analytical Instruments Ltd. were present at the occasion.

DSI is committed to making a lasting impact in the communities where our associates and customers call home. We recognised the needs of our disaster-impacted community and hope to contribute towards recovery from this pandemic and build resiliency among the community.

DSI's mission is to transform lives by providing hope, dignity, and a sense of renewed possibility to individuals, families, and communities impacted by disasters or other challenging life circumstances," expressed DSI Managing Director Kasun Rajapaksa.

"The coronavirus continues to cause new fatalities every day in Sri Lanka. To help fight the pandemic, a coordinated effort was made by our project team to procure and deliver this much-needed unit to the Karapitiya Teaching Hospital. As part of our responsibility to be good corporate citizens, we stand by our employees and customers in good times and in challenging times, and hope the worst of the pandemic's impact passes over Sri Lanka quickly," stated DSI Executive Director Dilshan Rajapaksa.

D. Samson Industries Ltd. is the largest footwear manufacturer in Sri Lanka with over 3,000 employees in the footwear plants; while DSI Samson Group provides over 10,000 direct jobs. The group also provide over 5,000 indirect jobs by way of sub-contracting and support services across its 25 companies.