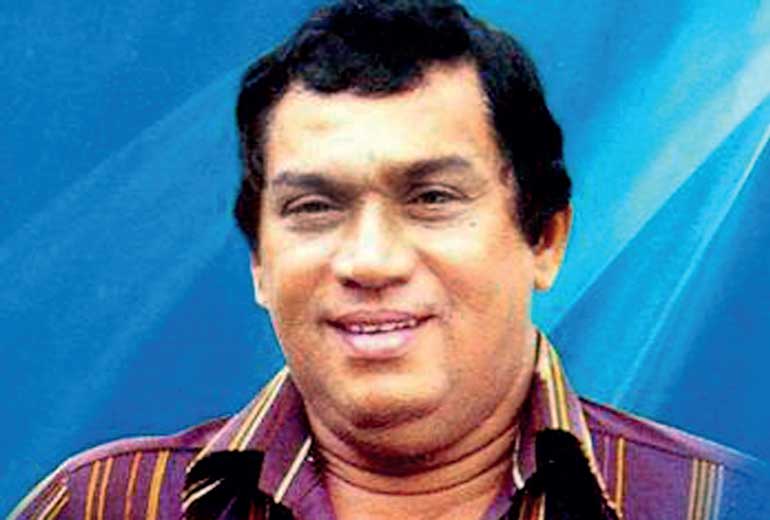 Beyond doubt H.R. Jothipala was the most recognised popular playback singer in Sri Lanka whose image has become immortal. The miraculous fact is that the name of this innate talented singer with an unsurpassed singing excellence and incredible humility still shines at the zenith of its glory even after 30 years of his demise. Here is a revelation of certain hidden stories behind Jothi's life to coincide with his commemorative 30th death anniversary falling on 7 July.

Born on 12 February 1936 in Ketawalamulla, Dematagoda, Colombo to a middle class family, this future giant play-back singer Hettiarachchige Reginald Jothipala or H.R. Jothipala displayed his innate talents of vocals since his boyhood. His mother was H.K. Podinona Perera and father Hettiarachchige Reginald Jamis was a tailor by profession. He studied at St. Lawrence College, Maradana and St. John's College, Dematagoda. As the family did not own a radio, he was tempted to visit a Tea Kiosk in his area very frequently to listen to music. Since his salad days he was fondly called by abbreviated name Jothi which later became incredibly popular.

He was fortunate to be born in Maradana area because it had become the central location where most of the famous Radio artists met at various places. The environment was so encouraging that the artists used to spend the evenings leisurely associated with one another. Jothi utilised this golden opportunity of meeting favourite artists at the time.

There are many stories spread on the first step of Jothi's entry in to music field or Kala Lokaya. According to the information gathered from a soundful face book paged called 'Supembara Jothi' created by certain group of his fans led by Harindra Lakmal, first formal attempt was participating the completions conducted by Ceylon Broadcasting (now Sri Lanka Broadcasting Corporation). A book named 'The Dignitary of Malays' has quoted that the famous musician late Stanley Omar was in the same room with Jothipala in Maligakannda, Maradana and Jothipala was introduced to Ariyadasa Pieris by Omar for an opportunity to sing in 'Adhunika Peya'.

'Adhunika Peya' conducted by Ceylon Broadcasting (now SLBC) and sponsored by Regina Losingers Company in 1952 was his first step in his endeavour which became incredibly a success. One of the hot favourite Hindi film songs 'Sukriya' sung by Talat Mahamood was the song sung by Jothi at this competition for which he was awarded the first place with a parcel of sweets from the sponsors. Subsequently, in presenting his innate indisputable singing skills at Jayagrahaka Pelapaliya, he was crowned the Best Singer for which he was awarded a Parker 51 pen by the organisers.

His first song 'thotiyo thotiyo' was mainly sung by Wasantha Sandanayake in the latter part of 1954. It was only three words 'thotiyo thotiyo thotiyo' sung by him. However 'Lebeiee Sithalada Ale Kale' is considered as his first full song sung with G.S.B. Rani Perera in 1954. Again in 1955 he sang a duet 'Ada Ada Eyiee Maruwa' with Wasantha Sandanayake in 1955. Joth's first solo was 'Mage Ran Rajaniee' with the music of Stanley Omar in 1955.

There is a very interesting story on Jothi's entry to Music world (Kala Lokaya). This story was told by Darshani Chandrasena, the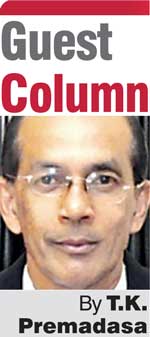 daughter of R.A. Chandrasena, a legendary maestro Music Director who introduced a number of singers who later rose to the apex of popularity. The significant factor is that this story was told by Darashani with the historical documents including a letter written by Jothi in his own handwriting as proof of evidence to a true story.

A get-together of musical evening (Peduru Sajje) was organised by famous journalist Sisira Kumara Manikkaarchchi at his residence Nugegoda on 13 February 1953 on the occasion of the popular female playback singer G.S.B. Rani Perera's marriage with Anton Perera. Music was directed by the great musician R.A. Chandrasena. At this friendly event, an invitee who was a famous personality from Maradana introduced a young amateur singer to Anton Perera and requested to give him an opportunity at this evening. It was a magnificent opportunity for this amateur to impress not only the audience but also R.A. Chandrasena by his masterly performance of singing with his mellifluous voice. He was none other than H.R. Jothipala who later became the indomitable playback singer in Sri Lanka.

Since then Jothipala became closely attached to Chandrasena and Sriyani Chandrasena who treated him as their own son. The letter written by Jothipala in 1954 to Chandrasena who was in India for Mathabhedaya recordings addressed as 'My friend and Teacher' is a case in point. He in early days always respected both Chandrasena and Chandrasena at his best.

Chandrasena in recognition of Jothi's talents continued to help sing at his fully packed musical events like Chathurangani and Panchangani and also selected him to sing in his films.

Chandrasena selected Jothipala to sing in the Film Mathabhedaya directed by B.A.W. Jayamanne. It was his first experience of Chandrasena as a music director of a film directed by himself. B.A.W. Jayamanna mostly preferred to use Mohideen Baig as the male voice in his films. One day Chandrasena visited to B.A.W.'s residence with Jothi to discuss music on film Mathabedhaya with a hidden objective to make a path to young Jothipala to entre play back singing of films.

Chandrasena was so nice to influence B.A.W. Jayamanne for young singer Jothipala to sing in Mathabhedaya directed by B.A.W. Jayamanna in 1955. Chandrsena took much interest in having rehearsals with Jothi for the song 'Ginnaki Hada Mage' at his own home. Chandrasena requested Jothi to get prepared to fly to India for recordings. As advised by Chandrasena Jothi reached Ratmalana Airport on a specific date with his bag and baggage but he did not have his passport. His ignorance unfortunately missed a golden opportunity that would have changed his singing career in becoming the playback singer for Mathabhedaya.

His determination to traverse against numerous challenges with strength and courage helped him achieve his potential. These stories begin with film Perakadoru Bena. He was then later selected by the music director B.S. Perera to sing in 'Perakadoru Bena', a chance he again missed by an adverse comment made by film director A.B. Raj who dismissed his voice as unsuitable for recording.

Failing to sing in Mathabhedaya and Perakadoru Bena, Jothi was introduced by musician T.F. Lathif to Film Director Sirisena Wimalaweera. Jothi was invited by Sirisena Wimalaweera to sing a duet with G.S.B. Rani Perera in the film Podi Putha. He missed this opportunity too as his voice was decided unsuitable after audition by the Sound Engineer and Sirisena Wimalaweera. On release of the film he went to watch the film proudly with his friends. He was surprised to notice that Haroon Lanthra and Rani Perera had later recorded the song 'Oh Kiri Muhuda Kalamba' for the film.

Jothi's dream to be a playback singer became a reality with the release of Surathalee in 1956, a triumphant achievement of a long experienced struggle through hurdle after hurdle. Once when Jothi approached the Giant Film Producer Jabir A. Cader with support of Jothi's influenced friends, Carder had asked Jothi to see him back with a recorded song before he decides the suitability of the voice. Musician Stanley Omar was so generous to encourage Jothi with Rs. 35 which was high in value at the time. Jothi was able to do a recording accordingly. In recognition of his talented skills in vocals after listen to the song, Cader generously opened the avenue of opportunity to sing in Surathalee, a film produced by Carder.

Subsequently, Jothi joined Cyril P. Abeyratne Director and the cast of the film to fly to India for filming and recording for Surathalee. But again he faced another challenge in his attempt to prove his talents in vocals. His voice was rejected by Indian music director T.R. Papa as unsuitable for recording. At this moment Jothi had informed Abeyratne of this incident over the phone. Abeyratne in return had phoned her husband Director Cyril P. Abeyratne. She had pointed out that the film would be screened in Sri Lanka and not in India. It was Sri Lankan music fans who would enjoy his miraculous voice and not Papa and Indians. She had firmly requested to let Jothi sing in the film. As a result of an informal struggle of this lady Jothi became the most indomitable voice of the music world. Finally he sang three songs for the film. The songs were famous 'Siriyame Sara', 'Aloka Deya', a duet with Suwarna Abeyrathne, and 'Pudumeki Loke', with Dharamadasa Walpola, Rani Perera and Suwarna.

Two years after Surathalee, Jothi was selected to sing a song 'Bole Yakada Yakaa' in film Ekamath Eka Rataka in 1958 directed by Sirisena Wimalaweera who earlier rejected Jothi. He had recorded songs in around 400 films, some of which were released after five years of his death. Another important factor of Jothi's popularity is even after 30 years of his death his film songs and songs recorded for other purposes are being used as playback songs in many a films.

Jothi won the Sarasavi Awards in 1983 and 1986 for his performance for songs 'Sara Sande' for film 'Mihidum Sela' and song 'Palu Susaane' for film 'Obata Divra Kiyannam' respectively. In addition Sarasavi awards Jothi won the Dipasika Award in 1972 as the most popular play back singer. Nearly 3,000 songs have been sung including film songs during a period of 1954 to 1987.

Almost all the recognised songstresses were happily partners who sang with Jothi. Rani Perera, Sujatah, Anjallen, Rukmani, Srimathi and Indian artists like K. Rani, Jammuna Rani are among the key partners. After his death some of his duet songs were dubbed with voices of new songstresses entered in decade 2000 with their voices. This proves the need of Jothi's voice to become popular. Due to unknown reasons Latha did not sing with Jothi till 1978. With the duet Latha and Jothi sang 'Sihina Veile' in Anupama film created a new chapter of Jothi. After that they sang a number of songs which became popular among Sri Lankans. If they sang together from the '60s the fate of other female singer would be changed. Another important note is that some reputed songstresses who got help from Jothi refused to sing with him mainly branding Jothi as not playing good songs.

A tale has spread through that Jothipala sang Sinhala songs to Hindi melodies before he met Khemadasa and Amaradeva. The truth is that he displayed his vocal skills both in classical and indigenous songs even in the latter part of 1950s. It was fortunate for him to have worked with great musicians like Shelton Premarathna, Edwin Samaradiwakara, P.V. Nandasiri and Sunil Shantha in his early days for films Sandeshaya, Daskama Pini Bidu and Vedibima.

The high level classical song 'Ridi Walakulen Ebi' recorded with Srimathi Thilakarathna for the film 'Devana Pepase' in 1965, music directed by P.V. Nandasiri, was a proven example of his talents. Later this song was sung by P.V. Nandasiri and Srimathi for musical events.

Jothipala whose handsome and attractive physique opened the avenue of opportunity for him to become an actor, was fortunate to play a minor role in Daskama screened in 1958 displaying his skills in acting. After five years he was offered to play characters in Sudu Sande Kaluwala, Sulalitha Sobhini and Sithaka Mahima. Playing the main role in Ethulweema thahanam in 1966 as his fifth film was a significant milestone in his contribution to Sri Lankan cinema. Furthermore, he played the major role in the film Sumithuro which was produced by Jothipala himself. Jothipala proved his acting skills in playing characters in 33 Films starting with Daskama and ending with Kirimadu Wel from 1958 to 1985.

In conclusion it reminds me of the comments made by Professor Walter Marasinghe on Jothi at the ceremony of the centennial birthday of Sunil Santha, indisputable respected musician singer. Professor Marasingha emphasised that Pruthugeesi karaya, the melody composed by Sunil Shantha on high scale note based on baila tune for Sandeshaya was undoubtedly a difficult song sung by Jothipala and Sydney Attigala. Professor Marasinghe further articulated that even if Jothipala was famous for singing Sinhala songs to Hindi tunes, he displayed his innate talents of a maestro in vocals through Pruthugeesi karaya admired by the entire nation. He would have achieved his potential to emulate even Mohammed Rafi if Jothi had studied classical music.
(The writer is retired former Head of Corporate Affairs and Communications – Sri Lanka Export Development Board and Ex-Director of Sri Lanka Trade Centre in Maldives. He can be reached at t.k.premadasa@gmail.com).