Case in point: Thailand Tourism
The new ethos of business is that by monitoring best practice in the market we can sharpen our strategy, much more than going to any business school globally, the logic being that the dynamism of the world has left academia unable to keep abreast with the dynamism of the business world.

It's strange, but if we take some of the businesses in the world – AirBNB is worth almost 25 billion dollars or FB to name a few, the value of the company is stronger due to the concept and brand name rather than tangible assets the company has.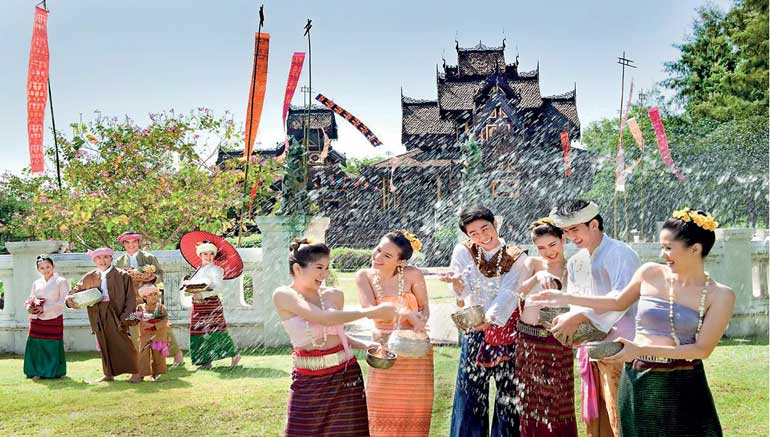 The 2016 marketing strategy of Thailand Tourism hinges on retaining the 'Amazing Thailand' branding logo as well as the "Thainess" identity


STP?

If one examines why such strong companies have made it, one of the best practices they have actioned is called the STP approach to business. I yet remember the words of a former Marketing Director of Indian origin. He said move away the sexy side of marketing and always practice strong basics – STP. One of my gurus, the late Prof. Uditha Liyanage, gave us this advice many times: "Be brilliant in the basics". Let me throw light to this concept.
Step 1: Segment your market – There are different ways to segment your target markets. Demographic – By personal attributes such as age, marital status, gender, ethnicity, sexuality, education, or occupation. Geographic – By country, region, state, city, or neighbourhood. Psychographic – By personality, risk aversion, values, or lifestyle. Behavioural – By how people use the product, how loyal they are, or the benefits that they are looking for.
Step 2: Target your best customers – Analyse the profitability of each segment. Which customer groups contribute most to your bottom line? Analyse the size and potential growth of each customer group. Is it large enough to be worth addressing? Is steady growth possible? And how does it compare with the other segments?
Step 3: Position your offering – This is done by identifying the unique selling proposition and drawing a positioning map to understand how each segment perceives the product, brand or service. Thereafter one needs to identify the wants and needs of each segment, or the problem that the product solves of the target consumer. The objective being to create a value proposition that clearly explains how the product offering will meet this requirement better than any of the competitors' products.
Thailand tourism practices STP strongly – The 'Discover Thainess' campaign is a classic example.


Thailand Tourism

Given the insight by Harvard Development Center Professor Ricardo Haussmann that Sri Lanka today is Thailand way back in 1962, let me take the case in point Thailand Tourism to demonstrate the STP process of marketing in action.

The 2016 Thailand Tourism marketing plan was the focused promotion by the kingdom as a 'Quality Leisure Destination through Thainess'. The uniqueness of the strategy of 2016 was that the industry theme was 'Synergy for the Best' with the entire tourism industry joining hands to work together to be able to achieve the country's goals. The overall working value system was on the promise 'Promote close collaboration among all stakeholders with transparency, synergy and quick action' – a very interesting work

ethic.


Integrated communication strategy of Thai Tourism

I liked the manner in which the country practiced the concept sustainable and integration in the tourism industry of Thailand. It was focussed on the 3 Rs:
Repositioning: Gearing towards tourism quality (quality leisure destination).
Restructure: Identifying new target markets in terms of geography/customer segments.
Rebalance: Attaining a balance between economic, social and environmental development by better spreading the benefits of tourism across Thai society, and reducing the social, cultural and environmental impact.


Objectives 2016 – Thai Tourism

In line with good marketing practice, the 2016 objectives set by Thailand Tourism was focused to remain in the top three ranking in terms of international tourism receipts in the Asian region, with revenue earnings to be up by 8% over the projected earnings for 2015 or at 2.3 trillion Baht, which is above the growth projections for the overall Thai national economy for 2016. This clearly linked the industry to the national picture.


Marketing strategy – Thai Tourism

The 2016 marketing strategy of Thailand Tourism hinged on retaining the 'Amazing Thailand' branding logo as well as the "Thainess" identity – concentrating on niche markets such as, golfers, weddings and honeymoons, health and wellness visitors and 'Halal tourism' for Muslim visitors and skew on female travellers. What was also unique about Thailand Tourism was the clear targeted secondary strategy of balancing the growing domestic tourism business with the international.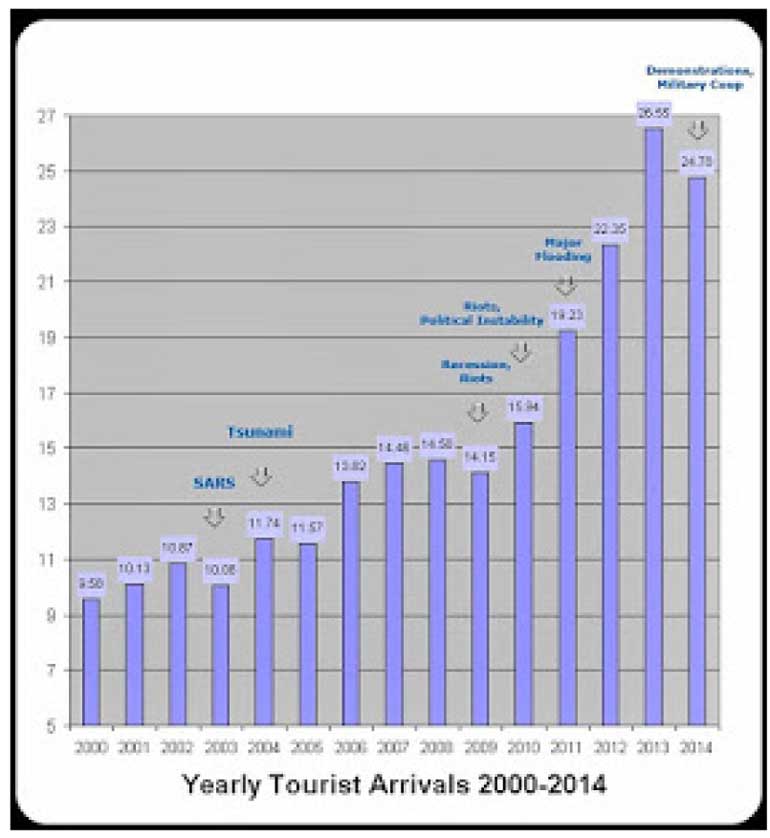 KPI – Thai Tourism

The KPI set by Thai Tourism was out of the box. Moving away from quantity, as measured by visitor arrivals, and a total shift to quality, as measured by visitor expenditure, average length of stay, and the overall quality of the visitor experience which is an interesting pick up to Sri Lanka in my view.


Last year's performance – Thai Tourism

Given that the 2016 strategy extends from the 2015 strategy, let's look back on the 2015 performance on the STP approach of marketing. Asian tourists surged arrivals with visitor arrivals in 2015 hitting an all-time record of 29.88 million (+20.44%) and generated around 1.44 trillion Baht, up 23.39% over 2014 in Thai tourism revenue. From 21,275,750 visitors, or a 71.20% market share, sourced from Asia, which generated about 821 billion Baht in revenue. This clearly explains the target market selected. In fact the Thailand Tourism Authority scaled down the European offices which is the ruthlessness of practicing STP.


STP at its best – Thai Tourism

We also saw how the strategy was working with the Asian markets dominating the country's top 10 list performers in 2015. China gained the top spot for the second year in a row generating 7,934,791 visitors, up 71.14% on 2014; Malaysia in second place delivered 3,423,397 arrivals representing an increase of 30.99% over 2014.

Four more Asian 'plus million' markets followed: Japan (1,381,690), Korea (1,372,995), Lao PDR (1,233,138), and India (1,069,149). Singapore followed in eighth place supplying 937,311 visits up 11.04%. Russia, despite a decline, closed the year in ninth place with 884,085 visitors. The regional overview placed East Asia, which includes ASEAN, top with 19.87 million visits representing a market share of 66.5%. This region generate nearly 760 billion Baht in income to Thailand. South Asia was third with a market share of 4.70% on 1.4 million arrivals generated income to Thailand at 61.27 billion Baht (+22.55%) which was synergy at its best between theory and practice.


Rest of the world

Despite the economic situation Thai Tourism did not forget traditional Europe, which remained second with a market share of 18.84% or 5.63 million visitors with 408 billion Baht in revenue. Italy recorded an 11.90% increase to 246,066 visits; Spain with 150,940 visits improving 29.03%; Germany with 760,604 visits up 6.34%, and France 681,097 visits up 7.25%.

The Americas region recorded with a performance of 1.23 million arrivals (+12.31%), generating revenue of 77.86 billion Baht for the country, an increase of 15.82% over 2014. The Middle East also had double digit growth at 10.07% to 658,129 arrivals and generated over 46.31 billion Baht, up 17.67% in revenue.


Pick up for Sri Lanka

In 2015, even with the record 1.8 million tourist arrivals experienced in Sri Lanka, the numbers of the formal sector struggled while the SME segment thrived with an outstanding performance. We also see how brands like Cinnamon Red are yielding results due focussed marketing. I guess this calls for strong basics to be practiced with concepts like STP just like what Thailand Tourism did years back.

A point that needs highlighting is the 'positioning' of a destination brand. This can only be done with strong and focused creatives which need duty of thinking that only a professional advertising agency can bring to the table. I yet believe that Sri Lanka can ensure policy influencing business and thereby attract the top end tourists into the country rather than just the organic growth we see today. But for this one must practice brilliance in basics – STP.


(Writing is a hobby that the author pursues and strictly comprises his personal views. He can be contacted on [email protected])