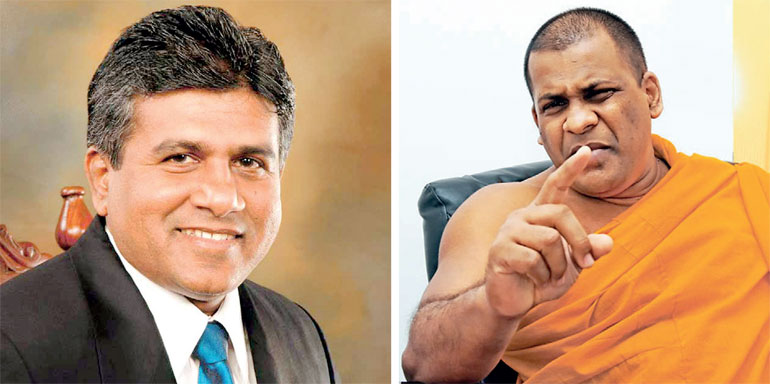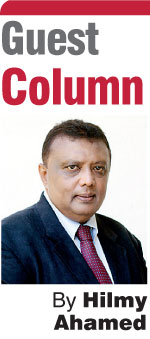 Justice and Buddha Sasana Minister Wijeyadasa Rajapakshe is seen as a blatant liar by the Muslim community. He has become Yahapalanaya's unofficial patron of Bodu Bala Sena (BBS) and its controversial leader Ven. Galagoda Aththe Gnanasara Thero.

He has elevated this thuggish prelate (who was once fined by the Court of law for drunk driving) to the levels of the respected and most Venerable Malwatte and Asgiriya Mahanayakes, to be accorded the privilege of sitting at meetings with the President and other highly-respected religious leaders of the country.

Wijeyadasa Rajapakshe's fabrications include racist and malicious accusations targeted against the Muslim community, which he promotes through his Facebook page by paying for boosting his posts amongst the Buddhist community. This is clear evidence of his political hatred of the Muslim community and subscribing to extremist Buddhist racism.

Wijeyadasa Rajapakshe's lies include defending of the frequent racist accusations by Ven. Galagode Aththe Gnanasara Thero targeting the Muslim community of destroying Buddhist archaeological sites and trespassing in archaeological reserves. Being the Justice and Buddha Sasana Minister, he shamelessly declared that a Muslim had forged the deeds of a temple in the Batticaloa District and sold it to a Tamil who had destroyed a chaitiya.

Why did he choose to make public statement to the media without taking recourse through his Attorney General and the justice system? Being a President's Counsel and a leading lawyer, he is well aware of laws related to forgery. If anyone had forged a deed, the law has to take its course, whether they are Muslim, Sinhala or Tamil.

He is also sympathetic to the other extremist Buddhist monk in Batticaloa, Ampitiye Sumana Thero (who has been charged for pirating electricity) who is on a rampage against the Tamils in the area, publicly threatening Government officials with death. Another clear evidence of his racist agenda in support of his masters in the anti-minority camp to drive the minorities away from continuing their support for the Yahapalanaya administration.


Islamic State

Earlier, he courted controversy by claiming under Parliamentary privileges that there were 32 Sri Lankan Muslims who had joined the Islamic State, formerly known as Islamic State of Iraq and the Levant or ISIS, (also known as Daesh, ISIL or simply Islamic State). The IS is an extremist violent militant group in Iraq and Syria influenced by radical movements with ulterior political agendas. It claims as its objective – to establish a caliphate, or Islamic state in Sunni majority regions of Iraq and Syria. There has been widespread suspicion that Western governments, Israel and USA, finance the Islamic State.

Wijeyadasa Rajapakshe's claim of Muslim IS participation caused a huge uproar within and outside the Parliament. Muslim Parliamentarians from the Government benches (where Wijeyadasa Rajapakshe sits) tore his accusations to pieces, implying that he was lying in support of a political agenda against the Yahapalanaya. Many of the Parliamentarians and civil society have called on the President and Prime Minister to remove him from the post of Justice Minister.

Former Rajapaksa strongman and Defence Secretary Gotabaya Rajapaksa is on record saying there is no evidence of IS activity in Sri Lanka. Four overseas Sri Lankans (Muslims) have gone to Syria on humanitarian work with their families. Two are suspected to have joined the fighting forces and one was killed in June 2015. The defence intelligence units have confirmed this and Wijeyadasa Rajapakshe had access to this information, yet he chose to cause controversy and mislead the nation. Many Sri Lankans suspect Wijeyadasa Rajapakshe of playing to the dictates of Mahinda Rajapaksa to destabilise the Government and bring him back to power by forcing the minorities away from Yahapalanaya.

Social media reports have highlighted his connection to Avant-Garde and Gotabaya Rajapaksa with photographic evidence of his family trip with the family of Avant-Garde Boss Nissanka Senadhipathi to Disney World in California, United States of America, supposedly sponsored by Avant-Garde Maritime Services. Wijeyadasa Rajapakshe on numerous occasions has vowed that he will not allow the arrest of former Defence Secretary Gotabaya Rajapaksa for any excesses during his term as Defence Secretary during the decade-long Rajapaksa rule.


Bodu Bala Sena

The Bodu Bala Sena (BBS), which had gone underground with the election of President Maithripala Sirisena in January 2015, resurfaced with their racist agenda by coming forward to contest the Parliamentary elections. The majority of the peace-loving Buddhists rejected them and a mere 20,337 voted for them islandwide. It was clear evidence of the rejection of the hate campaign targeted towards Muslim and other religious minorities by the vast majority of Sinhala Buddhists.

It has been rumoured that Wijeyadasa Rajapakshe has teamed up with extremist Buddhist groups to support the Rajapaksa camp to drive away the Muslim votes from the current administration by his actions as a Government Minister, implying that the Government of President Maithripala Sirisena and Prime Minister Ranil Wickremesinghe is sympathetic to Buddhist extremism.

The Attorney General's Department (AG) and the Inspector General of Police (IGP) have not taken any action on the five complaints made at Police Headquarters and 44 cases in the Aluthgama Magistrate's Courts against Ven. Galagoda Aththe Gnanasara Thero on the Aluthgama violence.

The radical extremist head of Bodu Bala Sena, Ven. Galagoda Aththe Gnanasara Thero continues to create hate and blaspheme the Muslims, Islam, the Holy Prophet and Almighty Allah. In a video released to social media on or about 1 December, Galagoda Aththe Gnanasara Himi stated as follows:

"Kuragala is a historically important place where over 12,000 monks resided. Some consider this place the Diva Guhawa because there is a beautiful plane there. But Sailani Muslims took over this place. Now this is a bloody problem. There is no God. This God doesn't even have a face. So we ask what testicles are they showing? If I put it simply, since we have to speak in 'pure Sinhala', which is understood by everyone. What is this religion? This place has a name given by the Whites. They've destroyed all the Buddhist countries like Afghanistan. They've come here now to pray saying they're praying to God. They say that this is close to our culture. They make us feel that their faith is like ours, that there is nothing wrong if they too pray there. This is a trick they're playing on us. This is how they caught Kuragala.

"During the season who comes there? Princes and princesses from the Middle East. They take over this place. Then they make a connection from Kuragala to Sri Pada (Adam's Peak). They will say this is Diva Guhawa where God urinated. Then they'll say God kept His foot on Adam's Peak. Because, Allah is a big octopus. Allah is a big octopus. He urinates in one place. He defecates in another place. That's what they say. They say the whole world is Allah's. We cannot let this fairy tale continue. We say this has to stop. No matter which powerful person intervenes, we will go on. We ask the Government not to test the patience of our youth."

This again is clear evidence of extremists who are at the beck and call of political animals who are hell-bent on destabilising the hard-earned peace and reconciliation under the Yahapalanaya Government. The Muslim community who were under extremist attacks throughout the Rajapaksa regime breathed a sigh of relief on 9 January with the election of President Maithripala Sirisena. Almost the entire minority community voted en-block to defeat the Rajapaksa regime mainly due to their support for Buddhist extremists, their racist campaigns and alleged corruption.


Sri Lanka Thowheed Jamaath

There has been widespread suspicion that the defence intelligence masterminded many controversies of racial hatred during the regime of Mahinda Rajapaksa. In addition to handling the Bodu Bala Sena, it is suspected that they also helped and were handling the Muslim group called the Sri Lanka Thowheed Jamaath (SLTJ), which follows the Tamil Nadu Thowheed Jamath headed by its controversial leader P. Jainulabdeen.

In April 2013 SLTJ's Abdul Razick raised ethnic tension in Sri Lanka with his verbal abuse of the noble religion of Buddhism and Lord Buddha in particular. His charge of cannibalism by Lord Buddha and ridiculing the Triple Gem to mean just three stones landed him in Court based on a complaint filed by Ven. Soranathota Chandrarathana Thero with the Colombo Crime Division (CCD). The allegation was that the SLTJ released video footage which insulted Lord Buddha and the Sinhala Buddhist community.

A little-known fact that did not attract any media attention was that the All Ceylon Jamiathul Ulema and Muslim Civil Society also intervened in Court and pleaded with the Magistrate to sentence Abdul Razick and six others with maximum punishment. Gotabaya Rajapaksa confidant and President's Counsel Ali Sabry appeared on behalf of the Muslims against Razick.

Azath Salley, the Leader of the National Unity Alliance, too intervened through his Attorney N.M. Shaheed and appealed to the Magistrate not to grant bail to Abdul Razick for inciting hate. He was remanded and later released on bail with strict orders to apologise to the Mahanayake Theros. Again, Abdul Razick caused controversy with his abuse of Ven. Gnanasara Thero during a protest march in November. He was arrested and remanded on charges of violations of his bail condition.

Islam forbids hate mongering and Abdul Razick's hate mongering has no place in Islam or amongst the Muslim community in Sri Lanka. Sri Lankan Muslims have vehemently condemned his verbal attack towards the hate-mongering extremist Ven. Galagoda Aththe Gnanasara Thero as un-Islamic. Razick certainly has no sympathisers amongst the Muslim community.

It has long been suspected that the national intelligence unit of the Ministry of Defence had sympathisers of the Sri Lanka Thowheed Jamath within who encouraged the SLTJ to incite the larger Buddhist community to hate Muslims to achieve the last Government's political objectives. Against the plea of the Muslims, the Magistrate granted Abdul Razick bail, which led to even more suspicion that forces in the Government had sympathy towards the SLTJ.


Attacks against Muslims

The first wave of attacks against the Muslims in post-war Sri Lanka started in September 2011 at Anuradhapura, a UNESCO world heritage site. The Muslim shrine was over 400 years old. A group of Buddhist monks led a crowd that demolished the Muslim shrine in the presence of senior Police personnel. No one was arrested and no action was taken against the monks. Since then, there has been over 600 incidents of hate, violence and intimidation of Muslims.

The Muslim Council of Sri Lanka (MCSL) initiated a petition to the President and the Prime Minister in November, which was signed by the 21 Muslim Members of Parliament calling on the administration to act on the blasphemous statements of Ven. Galagoda Aththe Gnanasara Thero.

The President who was elected on the considerable votes of the minorities, has totally ignored the call by Muslim religious, political and civil society leaders to address the re-emergence of the hate campaign by some Buddhist extremists. Instead, he has elevated racist elements like Ven. Galagoda Aththe Gnanasara Thero to the level of the Ven. Malwatte and Asgiriya Maha Nayake Theros and invited him to sit in at meetings at the Presidential Secretariat.

The Muslims are set to send a strong message to the Government at the forth-coming local government elections that their votes cannot be taken for granted. The likely beneficiary would be the Janatha Vimukthi Peramuna (JVP).