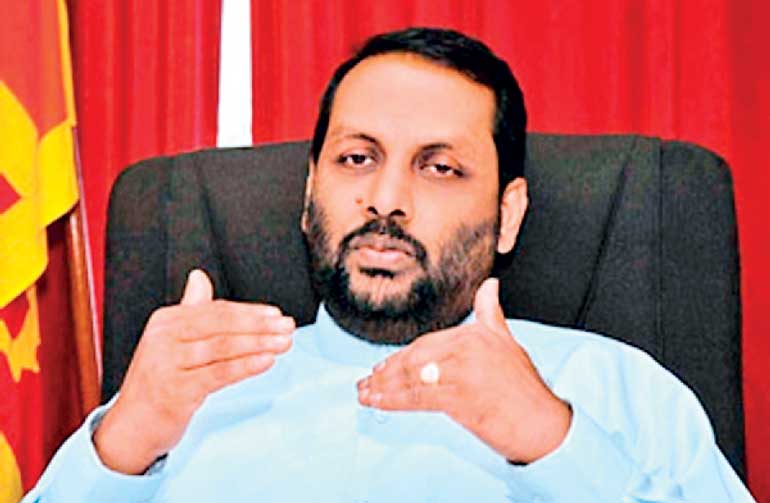 General Secretary of the United People's Freedom Alliance and Minister of Fisheries Mahinda Amaraweera
Attracting a large number of people for a political rally is not sufficient to form a government, said newly-elected General Secretary of the United People's Freedom Alliance and Minister of Fisheries Mahinda Amaraweera.

The Minister pointed out there is political enthusiasm in the country once again and as a result people attend rallies organised anywhere in the country. "President Maithripala Sirisena has another six years and the Government has five years to remain in power. No one can topple the Government before that."

Following are excerpts from the interview:
Q: What action will be taken against the SLFP Parliamentarians who participated in the Hyde Park rally?

A: A decision has not been taken regarding those Parliamentarians yet. The Central Committee of the Sri Lanka Freedom Party (SLFP) will take a decision when it meets again.



Q: When is the next SLFP Central Committee meeting?

A: We have not scheduled the next meeting. No date has been fixed yet.


Q: As the new General Secretary of the UPFA, what changes are you hoping to make?

A: Under my stewardship I want to ensure unity among all the parties in the UPFA. I will meet anyone who is disheartened by the present situation in the alliance or the SLFP. I will make sure nobody leave the SLFP or the UPFA. I want all factions, all groups, to come together and work as one team. I don't encourage anybody to have any factions. I want all constituent parties in the UPFA to get together and work as one team.

Our only goal should be to face the 2020 election and form a government. That should be our only target. We must start working now itself to achieve that target. I have invited everyone; members of the SLFP and all constituent parties in the UPFA. Let's get together and start working for the 2020 election; we will form a government.


Q: Do you agree that the Joint Opposition's Hyde Park rally was a success?

A: The UNP had a similar rally and there was a massive crowd. It was a successful rally. There are rallies organised at village level. We hear people attend these meetings in numbers. Once again there is lot of interest among people in the country. I attended more than eight meetings during the last few weeks. All these meetings were held indoors and all meetings were packed with people. There were people standing outside those halls. I personally think politically there is lot of enthusiasm among people. When they hear about a meeting they just go to listen to what the politicians have to say. Due to that all the rallies held can be rated as successful rallies. We cannot isolate one rally and say it is the most successful rally. That is wrong.



Q: What are your remarks about Mahinda Rajapaksa participating in this rally? Did you expect he will attend the meeting?

A: It was organised by the Joint Opposition. I don't think it was a surprise to see the former President attending the rally. In fact on several occasions Rajapaksa said he would take part in the rally and invited the people to be there.


Q: But in previous instances Rajapaksa didn't take part in rallies organised by the Joint Opposition?

A: In previous instances he never pledged he would participate. But this time, Mahinda Rajapaksa said he would attend the meeting three weeks in advance. Like I said before, he invited people to come to the rally.


Q: Don't you think the Hyde Park rally proves that the majority of the SLFP is with Mahinda Rajapaksa?

A: No I don't agree with that. Mahinda Rajapaksa has been the Leader of the SLFP for nearly two decades. People still love him and respect him. It is not a secret. Although he lost the presidential election, people still see him as a leader. They will always respect Rajapaksa for ending the war. These things will never change.

What we need to keep in mind is that just because there were a large number of people at a meeting or there was a massive welcome for Mahinda Rajapaksa, they will not be able to form a government.

During the last presidential election we had thousands of people attending our meetings. But did we win the election? We were confident thinking people were with us but when the election result came we had lost. That is the truth. No one can think attracting a large number of people for a meeting is sufficient to form a government.


Q: The cost of living has gone up. The economy is at a critical juncture. Farmers have taken to the streets. The fertiliser subsidy has been cut. There is chaos in issuing free school uniforms. Who should be held responsible for the current situation in the country?

A: People blame the Government for climate change. They think it is the Government's fault that there is no rain. They put the blame on the Government for the unbearable heat too. Blaming the Government for every single problem the country has to face is a habit of the people.

What people need to keep in mind is that the Government has done its best. We have a very clear vision and we will continue with that. Social media implies that the Government will be toppled tomorrow. But that will not happen. The reality is that President Maithripala Sirisena has another six years and the Government has another five years. Until that time no one can topple this Government. If there is going to be any change it will be after this Government and the President complete their terms.


Q: But that is not what the people expected from President Sirisena or the present administration. People wanted a change and it is for that change that they brought this Government to power. Do you agree?

A: I can't answer that question. You have to ask that question from the people who voted for this Government and those who wanted a change. We never said we would change the system. Don't forget we worked for Mahinda Rajapaksa and we campaigned to form a government under his leadership.


Q: But you are part of the Government, you are a responsible Minister in this Government?

A: Yes, we are part of this Government, but we didn't contest from this Government. We are with them because the party decided we should help the UNP to form a National Government. We are holding these Cabinet Ministerial posts not because we wanted the positions. It was a decision taken by the Central Committee of the party. If the party decides tomorrow that we should resign from the ministerial posts and walk out of the Government, we will not hesitate to do that. These positions mean nothing to us. If our resignations are beneficial to the country or the party, we will not hesitate to give up everything. It is as simple as that.


Q: The Prime Minister and Finance Minister have openly accused the previous Government of being responsible for the grave situation in the country. As a Cabinet Minister of the previous regime, what are your thoughts about these allegations?

A: They have been criticising our Government from the day we came into power. Everyone knew about the debt situation. Nobody can say they were not aware of such a thing. True, we have taken a massive amount of loans and as a result the country is today is in a debt trap.

But we should also keep in mind that the entire world is going through a difficult time where the economy is concerned. Sri Lanka is not the only country experiencing an economic downturn. It's a situation common to most nations in the world.

I am not going to say if these allegations are true or false. There is some truth and there is some falsity as well. Let me tell you one thing. We are in this Government to work. Every time someone criticises the previous regime, we will not make statements to say who is right and who is wrong. We have better things to do. People who are jobless will have more than enough time to accuse others and sling mud at others. But we have work; we are here to serve our country. Our only focus is that.


Q: Do you think the SLFP has the strength to compete at the upcoming election?

A: Definitely. We have the strength and everything that requires facing a future election. There is no doubt in that. Any party has its ups and downs. All I have to say is wait patiently. We will rise; we will rise like the phoenix. Remember, no SLFPer wants to divide our party. Every genuine SLFPer wants to see their party united. If there is anybody who tries to divide the party, they are only trying to fulfil a contract of the UNP, because only the UNP wants to see us divided.

I recently participated in some meetings. They all said the party shouldn't be divided. They wanted all of us to work together. That is what the SLFP wants. They have vowed to stay with the party no matter what happens. That is the spirit.


Q: If the Central Committee decides to take action against the 46 MPS who took part in the Hyde Park rally, how will it affect the party's future?

A: We haven't decided what we need to do about those Parliamentarians, so I am unable to answer those questions.


Q: Is it true that your son was among the boys who forcibly entered to two girls' schools in Colombo during the big match time?

A: That is an absolute lie. Those are mere rumours and there is no truth to those rumours. This was reported in some gossip website. My son was involved in organising this year's event. Someone who was jealous must have created this story. But I once again tell you my son was not involved in such an act.

We know the website which first reported this lie. It is a website run by a political group. If my son was involved in such act I will personally make sure that strict action is taken against him. He may be my son but if he has done something bad I will not hesitate to punish him. If anybody can prove my son was involved in this, before the Police takes action, I will personally punish him.


Q: Why did the two principals of the girls' schools later denied the story – speculation is rife that some top members in the Government intervened trying to cover up the incident?

A: My son did not enter any girls 'schools, the news was about some other boys. My son is not involved in that. I don't want to comment on this, because I honestly don't know what the two principals have said. I contacted the Principal of the Royal College, he said my son conducted the organising work successfully and he praised my son. That's all I can say.