Great is truth, but still greater, from a practical point of view, is silence about truth. By simply not mentioning certain subjects, totalitarian propagandists have influenced opinion much more effectively than they could have done by the most eloquent denunciations, the most compelling of logical rebuttals." - Aldous Huxley in his revised forward to Brave New World.
Two things happened last week that made me tear up the few pages I had written and start anew. Both events compelled me to reappraise the zeitgeist we live in. Zeitgeist is one of those German words that crept into English usage to express the spirit of social change, the bewildering unpredictability that characterise a period, a generation or an age.

First was an encounter in the form of a conversation. The second was a piece of learned writing that dealt with the public imagination of our time.

I spent last Sunday afternoon in the company of an ambitious, articulate, US-educated professional (when in college in the US, he was a member of the Young Republians. As part of his Political Science degree program at a prestigious university, he interned under a Republican Congressman). He was rancorously critical of my judgmental and condemnatory remarks concerning the views of Major General Kamal Gunaratne in his book 'Rana Maga Osse - Nandikadal' in my article ViyathMaga - reverting to the dictator state.

His censorial riposte brooked no retaliatory reasoning. "You simply don't understand what we went through. You can now afford to pontificate because such illustrious soldiers who fought for our nation delivered us from evil that has no match in human history."

I made a tentative reference to the funeral of former terrorist and Deputy First Minister of Northern Ireland Martin McGuiness. I pointed to the words of the pastor at his funeral. "There are people in this church today whose presence would have been unthinkable only a generation ago." That was the wrong thing to say.

The intensity of the expletives, the profanity of opinion it elicited had to be heard to be believed. Benedict Anderson was right when he said that nations are imagined communities. The vehemence, the energy, the fanaticism with which he defended the war hero and savaged my urbane multi-culturalist worldview convinced me that ours is a nation that is singularly and universally more imagined than any other nation on this planet.


Public imagination
The second encounter was more rewarding. I read the recent essay by Dr. Dayan Jayatilleka published in Global E Journal of the Center for 21st Century Global Dynamics of the University of California, Santa Barbara.

Dr. Jayatilleka in this paper deals with Public Imagination, albeit in a global sense in the age we live in. He starts off with characteristic gusto. "In the construction of a new public imagination, as in every other form of human endeavour, you are caught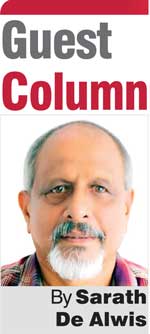 between two realities: you have to go back to where you got it wrong, but you can't go back home again."

Indeed! We have to go back to where we got it wrong. In retracing our steps, we need not go back home. But then, what was our home and where was it?

Then, it dawned on me. This subject of our public imagination had a direct bearing on my earlier encounter with the unabashed and avid admirer of Major General Kamal Gunaratne - the war hero who claims that his soldiers advanced against the enemy with "loaded weapon in one hand and a book on human rights and rules of engagement in the other, with hearts brimming with affection and love for the people they were to protect and safeguard."

In our public imagination they carried a loaded weapon in one hand and the book of human rights and rules of engagement in the other. Post-war triumphalism has no doubt contributed to an equally ambidextrous public imagination.

Here we speak of our post-war public imagination. The Rajapaksa tribal order appropriated our public imagination. It was done cleverly and with great élan. In fairness, I must say that Dr. Jayatilleka was not always the naïve nativist that he has turned out to be or pretends to be in his new incarnation of in-house ideologue of the Rajapaksa family in general and the theoretical tactician of the Gota for President Movement in particular.

Dr. Jayatilleka, our Ambassador in Geneva during the time hostilities ended and author of Long War, Cold Peace, knew where our public imagination was headed to and who steered its direction.

The publisher of Dr. Jayatilleka's Long War, Cold Piece describes the purpose of the book. Long War, Cold Peace deals with politics and its extension: war. Most wars generate in their aftermath, a process of reflection. "This book is an analytical interpretation of what led to the war, what the most significant lessons of that experience were and what could prevent a recurrence of conflict."


Praise for Gota
Now to return to the subject of public imagination and what happened to our public imagination after the war ended, we need go no further than the first paragraph of the preface which Dr. Jayatilleka writes. Of the need for reflection after conflict he says: "It is the practice, one may say the duty of the state and civil society, of artists and analysts to do so. It is usually the case that the period after a war, is one of profound ferment and productivity in the intellectual, artistic and policy realms. From WW II Europe to post Vietnam America that has been so. Sri Lanka for the most part, seems a sad exception. We have almost ceased to analyse, to think." (Emphasis mine).

Our public imagination was choked. But there were short, sharp grasps for fresh air by some intellectuals. Prof. Nira Wickremesinghe of Leiden University is one.

In October 2013 she published a paper - Producing the Present: History as Heritage in Post War Patriotic Sri Lanka. Who choked our thinking? Who trampled on honest analysis?

Here I must again thank Dr. Jayatilleka. His recent statement that Gotabaya will create a 21st century technocratic state surpassing the grandeur of a pre-Chola Lanka rang memory bells as loud as the bells of Notre Dame reminding me of the percipient, predictive study of the Rajapaksa- ruled patriotic state by a Sorbonne-educated Lankan academic.

Prof. Wickemesinghe wrote that in post-war Sri Lanka, more than ever, nostalgia permeates heritage practices in Sri Lanka. She disentangled the state-sanctioned ideological construct of the triumphant Sinhala-Buddhist state celebrating its victory over un-national secessionist forces.

Nearly four years ago she warned us that "banal nationalism" could easily alienate cultural minorities. Today not a day passes without us hearing of the smart patriotism of Gota that escapes the grasp of dumb jackasses such as this writer.

Who shapes the public imagination in Sri Lanka? A footnote in her paper provides a clue. "In the popular press it is no longer historians who discuss matters relating to the past but amateur historians who write without abiding by the protocols of the profession. Among these are Bandu de Silva, a former diplomat who frequently contributes to the English language newspapers The Island and Daily News and Nuwera Eliya Hemapala and Ellawala Medananda, who write for the Sinhala dailies. Jürgen Habermas is a political philosopher who has grappled with historical questions from Nazism and student movements of the 1960s to the early phases of globalisation. He makes an observation relevant to our discussion in the form of interventions of what he reads as historical public imagination that leads to the harrowing history of Germany in the 20th century. It is worth listening to him.

"We have an intuitive knowledge of the intricate relations among past, present and future where the individual is concerned; but it is far from obvious how to apply that knowledge to a collected actor like a nation."


BBS
The Bodu Bala Sena, which is a fairly substantial reflection of post-war public imagination, was conceived promoted and sustained by the state, which in the opinion of this writer, in its entirety is Gota-conceived, Gota-promoted and Gota-sustained. It is a substantial reflection of our post-war public imagination.

Prof. Wickremesinghe frames her paper with a quote from anthropologist Michael Herzfeld: "The state – actually a shifting complex of peoples and roles…"

The BBS is an instrument of our contemporary public imagination. It served and serves a Sinhala Buddhist entrepreneurial class.

To return to the pivotal theme of this essay, there is no doubt that Dr. Jayatilleka is one of our brightest, smartest political commentors enjoying international repute. This writer can only endorse the editors of the Global E Journal of the Center for 21st Century Global Dynamics. His essay on Public Imagination in contemporary times is outstanding, compelling and provocative.

I turn 75 this year. I was 18 when the world learnt of the subject of his Doctoral Dissertation Moral SieraMaestra. He inherited at birth the positives and negatives of the legacy of Moral SieraMaestra. So I have no quarrel with him if he says that Fidel Castro approximates Nietzsche's Roman Caesar with the soul of Christ. Not true, but it can pass. But I have a quarrel with him when he attempts to tell us that Gotabaya Rajapaksa possesses even an inkling of the soul of a Siddhartha.

The time has come for Dr. D.J, the son of Mervyn De Silva, who coined the phrase 'Mongrel Nationalism', to choose between moral universalism and an immoral nativism.