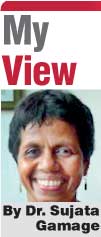 The doctors have opened a can of worms with their demands for super popular schools. On close examination, the popular school concept as practiced violates the principle of free education, but the practice continues as if by silent conspiracy. Now admissions to popular schools are receiving more scrutiny.

By definition, a national school should admit children from across the island according to merit or other defined criteria, but what has emerged after work-around by influential public servants and old boy-old-girl networks is a system which admits three other types of students – distance-based, past-pupil parent based and special public service categories based. These additional criteria have made admission to popular schools wrought with inequities.

For example, from about 1,000 students entering Grade Six in Royal College, it not clear how many places are awarded to merit-based admission to scholarship qualifying students from out of town. While across the country nearly 300,000 10-year-olds cram for an exam with their parents aspiring for Royal College or Vishaka Vidyalaya , say, when the Royal or Vishaka bus comes to their stop it is already more than half full with children admitted under other criteria.

The problem of competition for popular schools is one of the toughest public policy problems. As a former secretary for education noted, failure of previous administrations is due the fact they spend an unnecessary amount of time on school admission issues. It is time the present Ministry of Education realised that it cannot solve the problem alone. The mad scramble for popular schools is the result of larger socioeconomic issues with implications for infrastructure management and urban planning in particular. The Ministry needs to work with urban planners and others to rationalise the school system.

Megapolis plan

The Megapolis master plan identifies six challenges –Haphazard land use and unchecked sprawl, Increasing traffic congestion, Gentrification pricing out low and middle income earners, Overstressed garbage management systems, Complex administrative structures and bureaucracy impeding development and Environmental degradation. It is not clear whether the planners looked into the issue of metropolitan Colombo serving as a school education hub and negative implications of the phenomenon. In fact, location of large number of schools in the city can be traced as a cause for all the other challenges listed.

Negatives of Colombo being a school education hub

Colombo as a higher education hub makes sense. Higher education institutions are proven to be drivers of economic growth by virtue of direct or indirect economic activity. Top universities in USA periodically prepare economic impacts studies showing how much revenue and impact on cultural and social life that they bring to the cities in which they are located. To my knowledge, there are no such economic impact studies for schools, but, visually we can see the traffic congestions problems caused by school sprawl in Colombo.

In 2015, the Ministry of Education made public the Grade Five scholarship examination qualifying mark or cut-off marks for 224 schools. The ranking method is not clear, but now there seems to be an effort to include more regional schools because the current number is more than double the number of 100 or so published a decade ago. Of these original 100 or the current 224, 15 popular schools are located in the Colombo Municipal area. Add the historic private schools such as Musaeus, Ladies, St. Peter's, St. Joseph's, Carey and Welsey and others which are now mega schools and the emerging number of mega international schools, Colombo has become a school education hub, with its negative implications not being given adequate attention.

Need for a meaningful typology of schools

Planners need to look beyond the traditional Type 1, II and III categories of schools and look at the schools from urban planning and quality of life issues. Education policy making is expressed in terms of projects that are funded through external assistance. The Isuru program is one such. Isuru funding was based on schools agreeing to cater to Grade 6-13 only and serving as a hub for other feeder primary schools. Later the program was renamed as '1000 Schools' project with technology labs included as part of the package.

Due to resistance from past pupils and other interest groups we have are only few such hubs developed to date. Most schools are comprehensive schools still serving Grades 1-13. The Metropolis planners need to work closely with education planners to understand the effect of these different types of schools on traffic congestion, fatigue for children other quality of life issues to come up with a suitable policies for each type.

National hub schools

Ideally, national schools in Colombo will serve hubs catering to collegiate level (i.e. Grades 11-13) or even Grade 10-13 students only, and serve as feeders to lower secondary schools nationwide. These older students can get to and from school on their own if better transportation facilities are available, relieving congestion on city streets.

National comprehensive schools

Almost all popular schools with the exception of Devi Balika and a few others are comprehensive schools serving Grade 1-13. The transportation problem caused by these schools where an SUV may enter and leave the city four times to transport a tiny peanut of a tot back and forth, is a problem that should be studied.

Local hub schools

The hub concept has worked to some extent in school zones outside of metropolitan school zones. Few years ago, I was able to witness the blossoming of Waturana Primary in Matugama education zone from a previously closed down school to a primary school serving as a feeder to the locally popular Kamburawela Central College. The Meegahatenne Primary school saga in Matugama involving colorful MP Palitha Thevarapperuma is a case where hotchpotch admission criteria has led to frustration among parents and emotional reactions from everybody concerned.

Local comprehensive schools

Even in outstations, parents, past pupils and other interests groups prefer their schools to remain comprehensive. They may have their reasons, but these school lead to concentration of schools in urban areas and closing down of school closer to home for many who are not able to get admitted to these larger schools.

Megapolis planners and other city planners should work with education planners to define typology of schools that reflect socio-economic realities and account for their burden of infrastructure.

Role of professional associations

It is not reasonable for a medical doctor getting a transfer to Morawaka, say, requesting a national school in Colombo when Morawaka has a national school. The school may be national in name only, but doctors or any other professionals should work through their respective professional associations to give a hand to schools in the vicinity of major hospitals, tourist hotels and other venues for which there is much in and out transfer of professionals.

These schools will flourish even with a small percent of children from professional families attending them. If some of the professionals choose to send their children to private schools in cities, that is their choice, but national policy should be developed to sustain regional schools and relieve the burden on urban infrastructure, and not to cater to the agendas of various professions or interest groups.