The Sri Lanka Government is a trillion rupee company for which we perpetuate the myth that it is owned by the people
Sri Lanka has enough talent when it comes to producing the variety of players needed to constitute an internationally renowned cricket team, but we fail miserably when it comes to the expertise we need to run the Government.



The Sri Lanka Government is a trillion rupee company for which we perpetuate the myth that it is owned by the people. People are allowed to elect a board of directors every four or so years. The 'board' selects executives largely on personal loyalty or contributions to political campaign finance considerations.

The result is a senior management comprising of a family and friends network, with merit a second consideration. Lower level employees are considered an annoyance except when additional positions can be created to absorb lower level loyalists. And we wonder why our Government does not work.

Sometimes even the Government feels compelled to get things done and then they have to rely on foreign consultants. Since friends and family cannot keep up the consultants, the consultants can have a free reign. There are rumblings from career-track senior Government officials about consultants running the show. They have nobody but themselves to blame, in my opinion.

As a small country we cannot necessarily have a pool of experts on every topic, but we need a pool of officials and intellectuals who can repurpose themselves to manage foreign consultants. Our officials, intellectuals and politicians have to ask themselves whether they have done enough or are doing enough to prepare themselves.

I write this column from the annual Communication Policy Research South (CPRsouth) conference which our organisation LIRNEAsia has orchestrated for the last 10 years in various locations in Asia and Africa. The conference is an initiative to develop in situ policy intellectuals on ICT policy regulation from across Asia and Africa.

Today thanks to CPRsouth we can find individuals who can influence ICT policy in their respective countries. It is up to the governments to use these people, but, we prepare local policy researchers to become better at taking their research to policy from within or outside of government. Other scholarly or professional associations should pay more attention to preparing policy intellectuals in their own fields of study or expertise.

Limited capacity of Government officials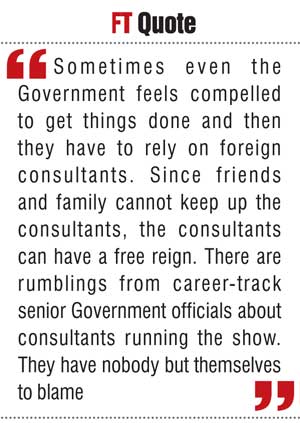 The variety and the weight of subject matters that a senior officials with a take-home home pay of Rs. 45,000 or so (not counting perks of a vehicle and fuel) encounters on a daily basis is astounding.

One day it can be a 250 million dollar contract for a construction of a Government institution for which the officer is a key person in the evaluation committee, and one of the contenders has the unofficial backing at the highest levels. The next day it can be shady public-private partnership, again with the backing of higher authorities.

There are two types of reactions to these conditions. One is to succumb to pressure from above and work-around AR/FR to do the bidding of the bosses. The other is do the right thing according to AR/FR, keeping public interest in mind. In either case it is not as difficult as it sounds. A good knowledge of AR/FR and a conscience to support the action is all you need. Those with a good conscience will risk their jobs to do the right thing. Others will compromise.

Policy reforms are a different matter. Policy reforms require thinking out of the box while keeping political realities in mind. It requires depth in the subject matter and breadth of knowledge and a passion to accomplish. A typical Government official is not prepared for policy reforms or they are kept too busy with trivialities.

Electoral reforms as a case in point

Electoral reforms are a case in point. Formal discussion on electoral reforms have been going on in this country since 2003 when a select committee in Parliament was formed for the purpose. After years of deliberations, the committee came up with an Interim report that contained dissenting opinions from the Parties representing ethnic minorities. A final report was never published.

The contrast between that report and the 1943 Report of the Special Committee on Education in the State Council of Ceylon, or the C.W.W. Kannangara report as it is popularly known, is like night and day. The Kannangara report is a comprehensive document with data, foot notes and in-depth analysis worthy of a PhD dissertation. The 2007 interim report is a bunch of opinions with a partisan politics based formula of a solution.

Politicians are not expected to be technical experts. Dr. Kannangara was a unique politician in that regard. Politicians just to need to know that they need inputs from experts. Experts are not necessarily neutral. Their opinions are coloured by their ideology. In an effective policy process, different political groups would use the best expertise available for the best political outcomes

During the first 100 days of the Maithripala Sirisena presidency, many of us volunteered to study ways of taking his promises forward. Changing the electoral system to a mixed-member system that does away with competition for preferential votes and making some of the MPs accountable to a constituency was one of promises that attracted a lot of attention.

At that time, if I am not mistaken, there was not a single person who could address the topic with the depth of knowledge that was required. Overtime, through hard work some of us acquired that knowledge. Today electoral reforms are back on the agenda as one of the topic under consideration by the Constituent Assembly of the Parliament of Sri Lanka. The steering committee itself is handling electoral reforms and the manner in which the Committee is using foreign or local experts need to be examined and corrected.

External exposure to officials

Inter-Governmental organisations dedicate a substantial portion of their of donor funds for building the capacity of Government officials, but it is doubtful whether these efforts have resulted in little more than foreign trip junkets for officials.

There should be a day set aside every month in Government departments for knowledge sharing by officials. Those who return from capacity building trips should be required to present what they learned to others. This requirement will not work if Ministers do not respect that day of learning and not summon everybody to the ministries at short notice when they feel like.

Role of universities

Universities are places for scholars who can repurpose themselves to handle new topics and train the next generation. We have a departments of political science with or without a public administration specialties in every university, but they have not been able to contribute to the electoral reforms process except as un-researched opinion pieces in the press.

Scoping out talent

Sometime back a group dedicated to good polices was formed. In my opinion that is the wrong approach. Policies cannot be formulated in a political vacuum. The best that policy researchers can do is to do the research and make it available for take-up and debate. However, the work that the group did in scoping out talent is a good start.

Importing local 'talent'

According to the Foreign Bureau of Employment, we have one million Sri Lankan working abroad. This does not include the professionals working abroad. Some of the Sri Lankan professionals living abroad would be happy to return fully or partially to work here. Whether we have tapped their talent sufficiently is a question.

With expatriates you can get the 'ugly expatriate phenomenon' where they behave as if locals don't do anything right in this country and they have the solutions. The 'work in Sri Lanka' initiative by Sl2College is example of a platform which can address some of these problems and smoothen the transitions.