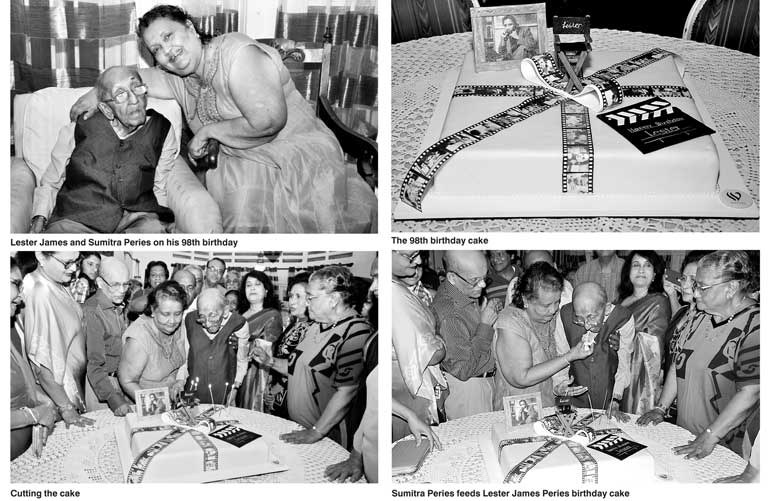 The doyen of Sinhala cinema celebrated his 98th birthday on 5 April

If I were to pose the question "Mirror, mirror on the wall, who is the best Lankan filmmaker of them all?" to my personal magic mirror, the answer would be in three words – Lester James Peries!

Though Sri Lanka has produced many brilliant film directors over the years – and I do enjoy their movies – I have always been of the firm opinion that the greatest director of Sinhala cinema is Lester James Peries. There was a time when my friends used to have fun at my expense by belittling Lester's films as second-rate mediocre stuff. I would retort angrily and they would laugh gleefully. The doyen of Sinhala cinema celebrated his 98th birthday on 5 April 2017. Celebrating the 98th birthday of any personality is indeed a joyful event. It is more so in the case of Lester James Peries. The 'Spotlight' column that was dimmed for several weeks shines brightly again to focus on the birthday boy as befitting the occasion.

This article is a birthday tribute to the nonagenarian Lester now basking in the serene, golden twilight of his illustrious life. I have already written many articles about the man and his movies in the past. Still, one does not tire of writing about a favourite subject again and again. Besides it always feels good when writing about Lester James Peries.


Meeting Lester and Sumitra

Let me begin on a personal note with a confession of sorts and an anecdote. Despite my enormous appreciation of Lester, I have met him (and wife Sumitra) only once in my life. Lester James Peries was someone whom I have always wanted to meet in person but never got the chance.

Though I have met a lot of creative artistes from Sinhala cinema and drama ranging from Vasantha Obeyesekera to Kapila Kumara Kalinga in the company of departed colleagues of The Island, Ajith Samaranayake and Bede Claudius Perera, I never got a chance to meet Lester while I was in Sri Lanka. Ajith who knew how much I admired the director would often ask me to join him when he went to meet Lester and Sumitra but I was so much in awe of the man that I would refuse. This is something that I have bitterly regretted later on particularly after I re-located to Canada.

The opportunity for me to meet Lester James and Sumitra Peries in person materialised in the latter part of 2013. I was in the land of my birth after being absent for 25 years. With the deadline for my return to Canada drawing near, I thought of getting two books autographed by Lester and Sumitra before I left. Daily FT Deputy Editor Marianne David kindly obliged by securing an appointment with the Peries duo through the help of Lester's biographer Kumar de Silva. All that I wanted was a few minutes to shake hands and say "hello", pose for the camera and get the books autographed.

When we reached the house after being delayed due to traffic snarls the time was neither noon nor evening. It was somewhat in between. We were very late. Sumitra was editing her film in the making. Lester the nonagenarian was resting. I was feeling quite awkward. But I was in for a pleasant surprise. Both Lester and Sumitra came out to welcome us. I was flustered when Lester hugged and kissed me. I was overwhelmed by the gesture and later Marianne was to tease me about it saying I had suddenly become speechless.

Since we were already late I did not want to take up too much of their time but they were both relaxed and engaged in amiable conversation. We spoke about many things relating to cinema and Sri Lanka. I was extremely happy to discover that both Lester and Sumitra had read quite a lot of my political articles and not merely the ones on cinema in general and of Lester in particular. We also spoke about a few of our mutual friends and acquaintances like Ajith Samaranayake, Vasantha Obeyesekera, Titus Thotawatte and Gamini Fonseka. Lester also told me that ace cameraman Willie Blake was living in Canada. I had thought he had migrated Down Under.

Naturally for a man in his nineties Lester was frail and appeared to be quite different to the dapper director I had admired from afar in the not-so-distant past. His intellect however was razor sharp despite the age. His memory power was formidable as he regaled us with anecdotes. It was also discernible that Lester yet retained the wry sense of humour he was famous for.

We bade au revoir after a very interesting conversation with both husband and wife lamenting the fact that I was leaving Sri Lanka in a few days. They graciously extended an invitation that I should visit them for a meal when I next visit Sri Lanka. Both inscribed their signatures along with wishes on the books – one on Lester and one on Sumitra – I had taken to be autographed. The sentiments expressed were close to my heart. I shall treasure them forever. It is my fervent hope and prayer that I meet both on my next Sri Lankan visit.


A national icon

In a film making career spanning more than five decades Lester James Peries has made 20 feature films inclusive of 'Pinhamy' in 1980. The first of his feature films was the path-breaking 'Rekava' or line of destiny in 1956. His final feature was 'Amma Waruney' or an elegy to a mother released in 2006. Lester James Peries has also made 11 short films, most of them in documentary mode. The first of these short films was 'Soliloquy' made in 1949 and the last 'Kandy Perahera' filmed in 1973.

The greatness of Lester James Peries however cannot be measured by the quantity of his output. It is the qualitative nature of his films that elevated him to commendable heights. Lester James Peries is acknowledged as the pioneer of authentic Sinhala cinema. It was he who created in every sense of the term an indigenous cinema in both substance and style. It was also Lester who first gained worldwide recognition for Sinhala cinema. Lester James Peries became a national icon identified with the sphere of Sri Lankan cinema over the years.


'Golu Hadawatha'

'Rekava' (Line of Destiny), 'Gamperaliya' (Changes in the Village) and 'Nidhanaya' (Treasure) are widely accepted as the three finest films made by Lester James Peries. I have seen all three films and they are certainly path-breaking masterpieces of cinema. However the film that I liked (and still like) most among Lester's creations is 'Golu Hadawatha' (Silence of the Heart).

Evocative of Akiro Kurosawa's 'Rashomon,' the story of Golu Hadawatha too was told in flashback sequence with the two chief protagonists narrating their version of events. There were two specific reasons which endeared 'Golu Hadawatha' to me.

Firstly 'Golu Hadawatha' was the first Lester-directed film that I saw. It was after seeing this film that I saw Lester's earlier movies on re-runs at provincial or suburban theatres or at benefit shows in Colombo. 'Rekava,' 'Sandesaya,' 'Gamperaliya,' 'Delovak Athara' and 'Ran Salu' were all films I had seen during their re-runs after I had seen 'Golu Hadawatha,' which I saw during its first round of screening. Being the first Lester movie that I saw, 'Silence of the Heart' has a special place in my heart still.

Secondly, the 'Golu Hadawatha' film story was one that I could easily comprehend and understand because the Sinhala screenplay had been translated into English and was serialised in the Sunday Observer. It was published along with still photographs of scenes. This helped me greatly to understand this film and relate to it. I told this once to Regi Siriwardena who had written the screenplay for the film and naturally, he was very pleased. It was my good fortune to be associated with Regi Siriwardena during the years 1985 to 1988 at the International Centre for Ethnic Studies (ICES) in Colombo.

'Golu Hadawatha' was adapted from a novel by Karunasena Jayalath. The music was composed by "Master" Premasiri Khemadasa. The Producer was P.E. Anthonypillai. Interestingly there was a song connected to 'Golu Hadawatha' that was very, very popular in those days. It was written by Karunasena Jayalath himself and sung by Indrani Wijebandara and Sisira Senaratne. The duet had the lines "Aadarei mama aadarei – Dhammi thavamath aadarei, Sugath thavamath aadarei". But the song was not included in the film.

'Golu Hadawatha' was a romantic story and the fresh-faced couple Anula Karunathilake as Damayanthi Kariyawasam (Dhammi) and Wickrema Bogoda as Sugath Weerasekara (Sugath) made a huge impact. Anula as the vivacious "Dhammi" stole our hearts then.



Satyajit Ray and Lester James Peries

Analogies have often been drawn between the South Asian contemporaries Satyajit Ray of India and Lester James Peries of Sri Lanka. India's greatest film maker Satyajit Ray had burst upon the global film scene before Lester James Peries. Ray's 'Pather Panchali' was made in 1955 and 'Aparajito' in 1956.

Since Lester's Rekava was released in December 1956 many reviewers wrongly assumed that Ray had inspired Peries. Satyajit Ray himself considered Lester to be of the same mould as him and once referred to the Sri Lankan director as his "closest relative East of the Suez." In spite of the creative affinity between the two, Peries was not influenced by Ray when he made his first film.

Renowned writer and scholar, Regi Siriwardena once told me in an interview that Lester had not seen 'Pathar Panchali' or 'Aparajito' when he first made 'Rekava'. Regi, who has worked as scriptwriter with Peries on some films, told this writer that the first Ray film viewed by Lester was 'Aparajito' and that too was only after 'Rekava' was made. "It is a classic instance of two great Asian directors being of the same creative wavelength and proceeding on a parallel course independent of each other," stated Siriwardena then.


What inspired Lester James Peries?

What then inspired Lester James Peries to quit the Government Film Unit along with colleagues Willie Blake (cinematographer) and Titus Thotawatte (Editor) and embark upon the venture to make an authentic and realistic Sinhala film?

Three film factors deeply influenced and motivated Lester in this yearning to make a realistic film amidst a rural setting. Firstly there was the semi-fictional documentary 'Nelungama' made by Lester's boss at the GFU Ralph Keene. Lester had co-written the script and the dialogues for it. While filming, Lester was exposed to village life and longed to make a film in a rural environment. Secondly was the impact of Italian neo-realistic cinema, particularly the films of Vittorio de Sica, Luchino Visconti and Roberto Rossellini. Thirdly was the film 'Do Bigha Zameen' (Two acres of land) by Indian Director Bimal Roy that brought rural life to the screen in a realistic manner.

Lester's early training as a documentary film maker as well as his penchant for creative literature were reflected in his films. According to Regi Siriwardena, the twin hallmarks of Lester's auteuristic film making approach were his stylistic "construction of narrative" and ability to "capture and project actualities in a realistic manner."

Lester's films capture emotions and moods vividly on screen. These expressions are two-fold in the sense that they consist of clearly articulated or manifested emotions on the one hand and also of unarticulated, underlying feelings on the other. Complex relationships, poignant moods, tense undercurrents, etc. are portrayed in auteuristic style that is simple and comprehensible. What is outstanding in his films is the underlying humanism.


Auteur theory and Lester's humanism

Dr. Sarath Amunugama focused on the Auteur theory and on Lester's humanism when he delivered the Lester James Peries Oration in 2012. Here is a relevant excerpt:

"If we adopt the Auteur theory to look at the body of work of Lester, what stands out is his humanism. Humanism has been defined as 'Any system, mode of thought or action in which human interest, values and dignity predominates'. While similar ideologies have prevailed in many regional traditions, we are here concerned mostly about humanism as it developed in western society after the Renaissance and became a strong influence on Lester James Peries. While he progressively delved into Sinhala Society and culture he was also a cosmopolitan intellectual. A similar claim can be made about Satyajit Ray. Philip French calls Ray 'a great film maker rooted in his complex Bengali culture and at the same time a detached cosmopolitan intellectual.'"

Though a citizen of the world with a cosmopolitan background, Lester succeeded greatly in portraying the existential realities and nuances of rural Sri Lanka and its ontological veneer. Lester excelled in transforming on celluloid popular novels and short stories. He also experimented with psychological topics that had not been dealt with before on the Sinhala screen. The nature of his films have been described as the "cinema of contemplation" and his narration the "language of silence" by film writer connoisseurs.

Lester's films do not have a very overt political content. The political message if any is quite subtle. As Lester himself explained it, "I cannot make intensely political films. Politics is there on the periphery, in films like Yuganthaya, where there is reference to the tension between labour and capital. All my themes are about the Sri Lankan family. I use the family as a microcosm through which the problems of a larger world are reflected. I understand my limitations and work within this. To me the battles within the family are more important and far more intense than anything outside of it."

Though he filmed several novels, Lester was able to break away from the bondages imposed by strictures of literature and the stage. Economy of dialogue was a hallmark in most of his films. His narrative style blended cinematic images into the story with telling effect. There are long gaps of silence between dialogue. It is said that Lester had a shooting script but deviated from it as the film was being shot. He improvised with innovative spontaneity as shooting proceeded.


Lifetime Achievement Award

Twenty years ago at a ceremony held to mark the golden jubilee of Sri Lankan cinema, Lester James Peries was presented the Lifetime Achievement Award by then President Chandrika Kumaratunga. After the event in an interview given to veteran journalist Roshan Peiris, a visibly-moved Lester said: "I treasure this award a lot given for my contribution to the local film industry. It is a distinction that does make me feel that my film career has been worthwhile."

Speaking further in the interview, Lester said that in making films one has to decide whether to make commercial films for purely entertainment value or not. He said: "I don't depreciate their value. It is an important and an integral part of the film industry. But at the same time there is the film that communicates experiences, the time in which we live, portrays life and human relationships in the society in which we live. 'Gamperaliya' and 'Rekava' were of this type. They were popular and perhaps appealed to some inner need of the public, to know their own social values. They entertained the people as well. The people had an empathy with those portrayed in the films. I am sure were these films to be shown today there would still be a considerable audience."

He went on to observe: "I must make it clear that the two types of films, entertaining films and serious ones are not contrary to each other or antagonistic. Both are necessary. As in journalism you have both serious and light articles."

When asked by Roshan Peiris what the secret of his successful film making was, Lester replied: "My success I think, is partly due to the fact that I never compromised. I went ahead and did what I wanted to do and did not deviate from that, no matter what the pressures on me were. Also one must have a deep sense of dedication, despite ups and downs."

He mused thoughtfully and went on to say: "Now the cinema belongs to the younger generation. What has been made is made, these films cannot be changed, but I fervently hope the younger generation will have the humility and the good sense to learn from our mistakes."

Lester is methodical and disciplined. He has been careful about his eating habits and began avoiding chilly in curries for many years. It is perhaps this discipline that has enabled him to exceed the biblical span of life by a score and eight years. In an interview published decades ago, Lester was asked to comment on his career. Lester's response reflected his characteristic humility. This is what he said then: "There is an old French saying that in order to understand life you have to see it backwards. This is how I saw through my work. I have done features in the last 40 years and have been in films for 50 years in all. The most important lesson is that you begin to realise how little you know."


Liberator of Sinhala cinema

Consensus is perhaps an elusively unattainable word in the Sri Lankan political lexicon. Mercifully, there are several things about which there is a national consensus cutting across race, religion, caste and creed. One such phenomenon would be in the appreciation of the creative genius of Sri Lanka's foremost film director.

Lester James Peries liberated Sinhala cinema and guided it to new vistas where the medium of film was understood and appreciated. It is widely acknowledged that Lester James Peries was indeed the pioneer who went off the beaten track and proved to be an inspiring beacon for those who followed him.

The Island newspaper of 5 April devoted its editorial to Lester James Peries. I would like to conclude my 98th birthday tribute to Lester by reproducing the concluding paragraphs in that editorial. Here are the excerpts:

"Lester is, doubtlessly, one in a million and it is not likely that we will have a trailblazer of his calibre in the foreseeable future. It behoves the talented Sri Lankan filmmakers and teledrama directors to follow the examples set by Lester and Sumitra and a few others who have emulated the veteran duo. That is the best tribute they can pay Lester, who has lived and breathed the cinema."

"Lester may not be as fit as a fiddle, but his laser sharp mind remains active as we are aware. Nothing will please him more than to see the cinema and the teledrama industry progress."

"Bob Hope it was who famously said one knew one was getting old when candles cost more than the cake. It is our fervent wish that candles will cost Lester much more than cakes in years to come."
(D.B.S. Jeyaraj can be reached at dbsjeyaraj@yahoo.com.)