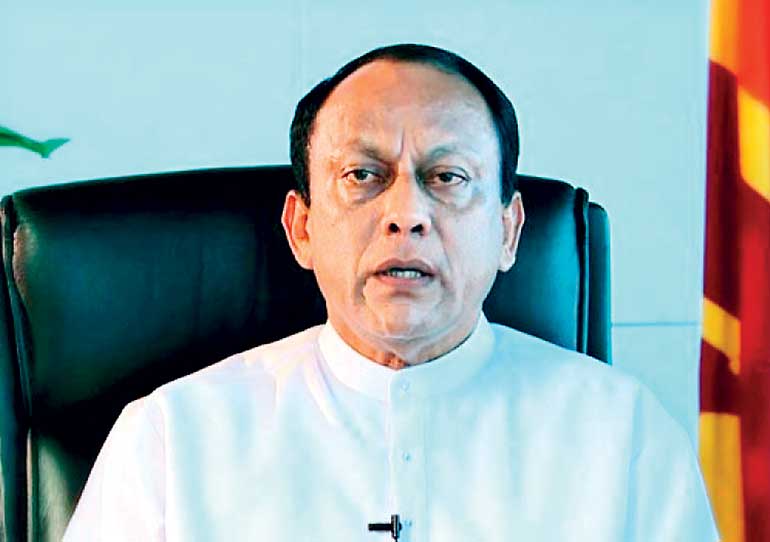 Sri Lanka's economy would have experienced a worse downturn if Mahinda Rajapaksa had been re-elected, State Finance Minister Lakshman Yapa Abeywardena said.

The Minister pointed out that had Rajapaksa won the election, his Government would not have been successful in managing the economy amidst a global economic derailment.

"Working with the United National Party is not easy. But we (SLFP) are doing our level best. Even if Mahinda Rajapaksa came into power, our Government would still have a tough time when facing the global economic downturn. I don't think the World Bank and the IMF will be in agreement with Rajapaksa policies. The situation would have been much worse," Abeywardena explained. Following are excerpts:
Q: Why did the Government revise 2016 Budget proposals?



A: We are currently discussing with the International Monetary Fund (IMF) to obtain a loan. The IMF has instructed that we need to increase revenue. Our revenue is very low. In 1994 we had 19% Government revenue income. It is only 10% at present. This is mainly due to subsidies. This is an unsafe situation. Therefore, the Government was compelled to revise the 2016 Budget.

We had to revise existing taxes and introduce new taxes in order to raise the income of the Government. Several tax concessions will be removed. These measures are the only sensible way to keep the budget deficit and debt under control. We decided to have the value added tax at 15%. We will not burden the poor by taxing essential goods. We have reached a consensus that no matter how bad the situation becomes, we will not raise tax on essential goods. But a Capital Gains Tax will be imposed. Since we decided not to tax the poor, by way of imposing a Capital Gains Tax we can capture the high income earners.

In his speech in Parliament Prime Minister Ranil Wickremesinghe pointed out that through these revisions, the 2016 budget deficit would be 5.4% of GDP and will enable maintaining of economic growth at 6%.


Q: Are you saying this week's tax reforms were to fulfil IMF conditions?

A: No. No, I didn't say that. It was just one factor. We had to act fast to take the country out of this dangerous situation. I had numerous discussions with the Secretary and Ministry officials on how this could be done. During the discussions we unanimously agreed to increase the present 12% VAT to 15%.



Q: Why do you say 'the country is in a dangerous situation'? Are you indicating Sri Lanka's economy is at a delicate juncture?

A: I have to agree that we are going through a tough time. But this is not a condition that is only unique to Sri Lanka. The global economy is experiencing its worst downturn. Not only Asian countries, powerful nations such as United States and especially the Middle East are going through this situation. The IMF and World Bank continue to warn countries around the world about the global economic slide and suggest means to overcome this situation.

In fact the IMF early this week had said the risk of economic derailment had grown and collective action needed to be taken to boost the world economy. The IMF has recommended a combination of monetary and fiscal policy and structural reforms to strengthen and guard against future risks.

Therefore, nobody can point a finger at Sri Lanka and say the country's economy is at a delicate juncture. It's a challenge faced by the entire world and Sri Lanka is not the only country trying out reforms and revising economic policies.


Q: Do you think tax reforms will revive the economy? Or are you going to take more measures to overcome this situation?

A: We need to cut down Government expenditure. That is very important. We will discuss this further during next week. We are hoping to meet officials in ministries and State institutions to get their views. Once again I have to reiterate that this is not something experienced only in Sri Lanka. Cutting down government expenditure is a measure taken by countries throughout the world at present to revive their economies.


Q: Some charge that sweeping tax reforms will only take the country's economy back to the Mahinda Rajapaksa era. Some even claim there is not much difference between the economic policies of the two administrations. Your comments?

A: No, I don't agree with such a thing. It's not true. Like I explained before, the economic downturn is not only in Sri Lanka. It's a global situation. Tax revisions were done in accordance with strengthening the economy and to avoid any future risks.


Q: As a Cabinet Minister of the previous regime, what are your remarks on charges levelled by Premier Wickremesinghe that the Rajapaksa administration is to be blamed for leaving a massive debt burden on the country which is expected to rise further?

A: How can I say anything? I don't want to comment. But we should always keep in mind that it was a Coalition Government. There were different viewpoints and opinions.


Q: What is the latest regarding discussions with the IMF?

A: We are having the final discussions with them. We were initially looking for a loan of $ 2 billion from the IMF. Like I mentioned before, they are very concerned about our low revenue. We will get around $ 1.5 billion in a number of disbursements. However, loan conditions are yet to be finalised. But before June they will have to finalise everything.


Q: As a member of the SLFP, are you in agreement with the economic policies of the UNP?

A: In a Coalition Government, there are various perspectives and opinions. There are instances where we don't agree with UNP policies. The privatisation matter is the best example. As the SLFP we don't want to criticise and oppose all proposals of the UNP.

If we feel it is beneficial to the country, we will support the UNP to carry out such things. If they recommend anything harmful to the country, just because we are in their Government, we will not approve. We will always think about the country. We are not going to make decisions based on short-term political gains. Working with the UNP is not easy, but we are doing our level best.

Even if Mahinda Rajapaksa came into power, our Government would still have a tough time when facing the global economic downturn. I don't think the World Bank and the IMF will be in agreement with Rajapaksa policies. The situation would have been much worse.


Q: Are there any recent developments concerning the SLFP crisis?

A: There is no crisis. We have taken some important decisions within the party which I am unable to reveal at the moment. We are organised all over the country. The party is now organising a series of youth seminars which will be held island-wide. I know many people like to see us divided, but it will not happen. We are much stronger now.


Q: Don't you feel that the majority of the party is with Mahinda Rajapaksa?

A: No, I don't see such a thing. I think people are getting used to President Sirisena. For the last 20 years people have seen Mahinda Rajapaksa as the Leader of the SLFP, but they are gradually accepting the fact that Rajapaksa is no longer heading the party. They are getting to know President Sirisena and they will accept him as the leader of the party.

People, especially SLFPers, should keep in mind that if President Sirisena didn't accept party leadership, he wouldn't have got the majority to carry out what he promised to the people. Without a two-thirds majority, how can he pass the constitutional reforms? His decision was based on what was best for the country. He did not take the party leadership for personal gains.


Q: What is your take on the Economic Technology Cooperation Agreement (ETCA)?

A: There are pros and cons to everything. There are very vital positive features as well as negative points that we need to think about more carefully. My personal opinion is we need to educate people about ETCA and its outcome. Most who oppose ETCA do not know what it really is.